Popsicle Shop by Day, and Shelter for the Homeless by Night
When a bakery and snack shop turns into a shelter for the homeless, an inspired community responds.
"In Manila, many eateries offer 'unli' rice, which means 'unlimited' rice. That's what we call Camille now, because she feeds us without limit," shares Tatay Ayo, a street dweller.
Camille Dowling Ibanes is the owner of Popburri, a small bakery and snack shop in East Kamias, from Quezon City in the Philippines , that sells special popsicles, burritos, and other snack items. When COVID-19 forced Metro Manila to enter a lockdown, Camille was moved to open her heart (and snack shop) to the homeless.
According to a Reuters report in 2018, there are about 4.5 million homeless people in the Philippines, a country of about 106 million people. An estimated 3 million homeless are in Manila, possibly the most in any city in the world.
"With a curfew as part of the lockdown, it became illegal to be out on the streets at night. But what about the homeless? They can't stay off the streets at night, the streets are their home. I had to do something," says Camille.
She goes on to share, "I know what it feels like to be invisible to the world, I know what it feels like to yearn for a helping hand during tough times. So I have decided that anyone needing refuge for the night would find it at Popburri."
Besides providing a roof over their heads and a safe space for rest, Camille also provides free food, a bathing facility and sleeping mats for the street dwellers. Soon, over 70 people were sheltering at the cafe each night.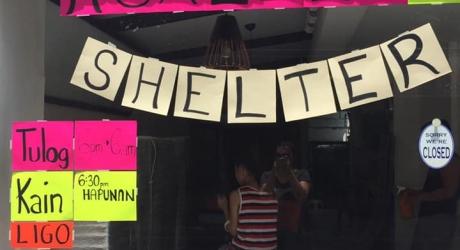 Tatay Ayo shares, "My family would reach the cafe at around 5pm. Once inside, we washed, ate and slept well.
We're used to being ignored on the streets. But Camille and her staff saw us as human beings.
This was not the first time Popburri has offered shelter. When Typhoon Kammuri, dubbed "Tisoy" by locals, raged in December 2019, Popburri also offered shelter and free meals to those who were stranded due to the lack of public transportation.
SHUTTING DOWN DURING LOCKDOWN
Popburri's shelter was a hit, with friends and strangers alike donating food and other supplies in support. Says Camille, "We were lucky. And then we got too lucky."
As the line of people seeking shelter grew each day, so did the number of complaints of safety protocols being violated, even though Camille and her team took precautionary measures as best as they could.
Eventually, the shelter was ordered to close after an official alleged that the establishment failed to follow quarantine protocols against COVID-19, a claim that was intensely debated in the media and online.
In the face of criticism, officials set up a temporary shelter elsewhere. However, less than half of the guests at Popburri agreed to go there, as it was too far to be a viable alternative. Many of them preferred to take their chance on the streets.
"I wish the outcome was different. But I'll keep finding ways to make a difference," shares Camille.
The Popburri shelter may have been ordered to close, but the team continues to provide services to the homeless. Every day, they deliver food to over 200 homeless people.
A COMMUNITY OF HELP
"Sometimes, all it takes to turn a life around is the acknowledgement of your pain, and a helping hand from a fellow human being," shares Camille.
The heartwarming response from the public to the shelter was nothing short of inspiring for Camille.
Customers and neighbours have donated cooked food for the guests, mattresses, toiletries, as well as cash. Even their barangay councillors have also been supportive of the initiative and have lent a hand to help out with guests' medical needs.
Camille's goal now is to build a permanent shelter at Popburri to house the homeless and provide them with employment opportunities.
Says Camille, "We are working with the officials to ensure that we are able to help feed and house about 70 people each night. We also want to connect them to mentorship and job placement programmes because finding them employment is the only way to break the cycle of poverty."
She adds, "Maybe I'm too hopeful. But I know from experience that hope leads to amazing things."
LET'S TALK ABOUT IT:
Have you ever encountered people who are homeless, and do you know of ways to support this cause? Share with us here.
About Popburri
Popburri is a small bakery and snack shop in Quezon City, Metro Manila, that sells special popsicles, burritos, and other snack items. It is also a source of support for the homeless, delivering free meals amid COVID-19. During the pandemic it also housed a temporary homeless shelter until authorities ordered it to close. Owner Camille is now seeking permission and support to open a shelter once more, as well as to create employment opportunities for the homeless.
Contributors
Producer, Artist & Animator