5-minute read
How a Visit to the Women in the Brothels Changed My Life
When I think about the first day I visited a brothel at Delhi's infamous red light area, GB Road in 2012, I remember feeling a sense of trepidation as well as excitement. It was after a long wait that I was offered the opportunity by the National AIDS Control Organisation (NACO) to handle the challenging project and I was more than eager to see for myself what lay behind the stories and veiled walls of that area.
In the beginning, the people in NACO were reluctant to take me to a brothel but when I forced them, they finally took me there. I was a little scared inside, but I really wanted to see.
If you go via Ajmeri Gate, you'll see brothels dotting the right side of the road. On my first visit, I was walking past a slew of hardware shops, while waiting expectantly to pass a dingy brothel. As we walked, my co-worker suddenly asked me to follow him upstairs in one of the shops. The other two colleagues shadowed me from behind. It was almost as if I was being shielded from everybody's stares. Initially confused by this, I realised that we had already entered the brothel. The small room was full of women who were all seen as objects of lust.
As understanding dawned on me, I was shocked to see the exhibition of young girls sitting in mini-skirts, with painted yet expressionless faces waiting to be picked by men. They looked like mannequins, but were actually real bodies on sale.
At around 2pm, an old man entered with chola bhaturas (fried bread) for the women's breakfast. We have often heard that one should have breakfast like a king and dinner like a peasant but for girls of GB Road every meal was a farce. You can't possibly call oily, inedible chola bhatura, however delicious, a meal. With zero nutritional value, they are just a cheap alternative to fill the belly. And the young girls only get a chance to eat once the madams and malkins are satisfied. One would think that after a hard day's work, they would at least get a good night's sleep, but alas! 
I asked them where they slept and they took me upstairs. One cannot even imagine rooms like these. The rooms were so small, one could barely lie down and its low roof made standing impossible. There was no light, no fan and they told me that three to four girls share the room. I realised that not only in the morning but also at night, life for them remained compromised, even with their sleep.
These girls slept at around 4am and then woke up at 11am. Their day starts with queuing for a bath, which is quite a task as the brothel has three washrooms for 30-40 girls. They wait around two hours to take a bath. I really felt like talking to these girls but the malkins didn't let me talk freely except to ask if they are using condoms and whether or not they are aware about sexually transmitted infections, which NACO is working on. I felt very helpless. I wanted to talk to them. I felt one of the girls sitting there wanted to tell me about her story but she was not allowed to do so.
There was a big room, with many small rooms attached where the girls were sitting. There were small wooden compartments called "encounter rooms" on my left, which my coworker told me were where they entertained their clients. How is it even possible to sit properly in those rooms?
When I came back downstairs to the main room, the old ladies made fun of me and said: "Dekh liya hum kaise jeete hain? Ab tum NGO wale kya karoge, sirf baatein hi karni aati hai tumhe." ("Have you seen how we live? Now what will you do? NGO people only know how to talk nicely but they don't do anything for us.") Those sarcastic comments didn't make me feel bad. They made me feel guilty.  They were right. Although I occupied a big position as an officer at NACO, supporting the women in making their lives better was not in my hands. Though my position had power, I felt powerless.
For the next few days I could not sleep properly as even in my dreams I could see the women sitting on the bench, darkness all around, men torturing them. That first visit forced me to visit them again and understand their condition more closely. I made sure that during every visit to NACO GB Road, I go visit the brothels. During those days I realised that these ladies are not living the life of human beings. They have no rights, no freedom, no permission to sleep, drink, eat whenever they want, They were slaves. That was when I promised myself to do something for these ladies to make sure that they live the rest of their lives as human beings with dignity and worthy of respect. To live on their own terms, not with 24-hour pressure or terror. Though I knew that it would be very difficult, I made this promise.
Since then I started talking to people about this idea and after a long search and advocacy, others began to support me. I asked people if we can teach these ladies skills as an alternative livelihood option for the future. A friend of mine agreed to experiment. The next task was to arrange a safe space for them and I contacted Mr Raess, who runs a trust and a nursing home in the nearby area. I discussed my plans with him and he agreed to give me the third floor of his nursing home.
After much hard-work, everything was in place. We just needed to coax the ladies into divulging their ideas and interests. Some of the ladies directly said that they were born to do sex work and would not be able to do anything else. One or two ladies showed interest but did not agree to come out of their brothel. In one of the rooms, all the ladies surrounded us and started blaming us that we have come there because of our own interests. They shared that people come and make big promises but nobody keeps them. We finally managed to convince two ladies to come with us. We wanted to work with them and make them models for others. This way we could actually go back and show the women that we keep our promises. We wanted them to trust us.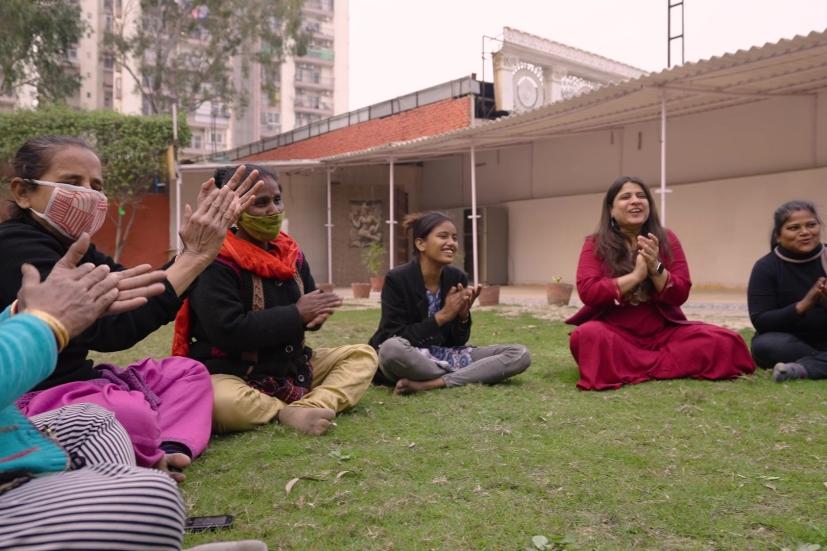 Ten years later, the journey has gone through many ups and downs. Various people have joined this journey and left an impact on us, left an impression on the women, and sowed so many seeds of change! What started with me writing stories on facebook to get volunteers slowly emerged into a full time team, several collaborations and formal interventions in the community. Now the entire community knows us, and trusts us. I'm able to walk through the darkest street in Delhi and feel so much love and safety still. We've travelled a long way, and there's still a long way ahead.