Who do we look for?
Creative minds, big hearts. From filmmaking to photography, to animation, we seek professionals who share our values to grow the field of impact storytelling.
You have the skills
Whether you are seasoned or starting out, share with us your work as a media professional, and your knack for crafting narratives.
You have the heart
Our stories are about people. If you thrive on building bonds with subjects and shaping stories that create understanding and impact, talk to us.
You want to collaborate
Our stories are not about a singular vision but a joint effort, marrying our strengths to bring out the best in a story.
What our impact storytellers say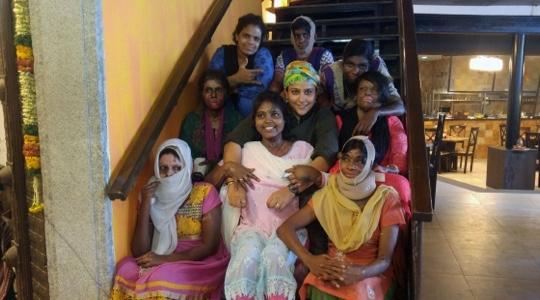 Those three days of my life spent with these women also taught me that we should not be so quick to reject, or hold back from what comes our way. I came to understand that our paths meeting was a part of a bigger change in me.
Read more ...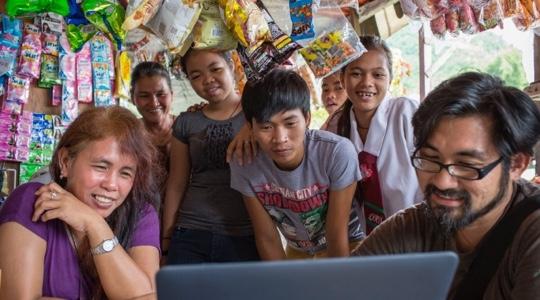 The community had suffered intensely, but Vanessa and her friends decided to channel their pain into something positive to help offer respite...To me, this was the story that they'd like to share with others – not one of pain and pity, but stories of resilience, recovery, and restoration. Read more ...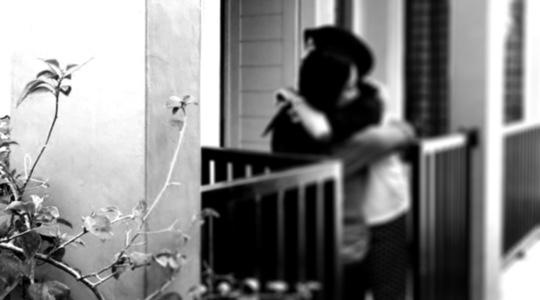 Working on a story like Lilis' first-hand, it changes you. You're never really quite the same after that, and even more so when you witness recovery from human trafficking right before your eyes. It gives you a glimpse of what could be for others trapped in slavery today. Read more ... 
Our Impact Storytellers
Andrew Purchase is a South African who is passionate about Singapore as well as serving society. He loves reading and writing, and self-admittedly has a notoriously poor sense of humour.

Anshul is a filmmaker who finds happiness through cinema. Terrible at reading instruction manuals, he can't find his way without Google maps but loves to travel and be lost. He spends most of his waking hours figuring out how best to tell a story. With Our Better World, he feels he has found a place that he loves and loves him back; where he meets awesome people and gets to capture their beautiful stories.

Archana is as much in her element on the set of a Bollywood blockbusters, as she is behind-the-scenes of a low-budget, indie film. The Indian cinematographer and film and documentary maker has won numerous awards for her innovative storytelling. The former IT specialist keeps busy, writing, producing and directing, and plans to travel the world with her camera, documenting life wherever she goes.

Part of the pioneering group that grew OBW from just an idea, Ashima continues to regularly produce stories with us (and eat our chocolate). A former TV news journalist, she always says she has one of the best jobs in the world, because she gets to hang out with the passionate and dedicated unsung heroes in our stories. When not at her desk or chasing a story, she's underwater, diving with the fishes.

Dave is a passionate and skilled filmmaker for the purpose of inspiring people to make a difference. When he is not behind the camera, Dave is taking care of his plants, his saltwater aquarium and most of all, his beloved daughter, Olivia.

Based in Singapore, Francis is a film director, creative head, designer, artist and passionate cook. A believer in the power of meditation, Francis' self-assurance stems from more than 30 years in the creative industry. Meticulous, methodical and passionate, are qualities comparable only to his obsession with Yogi, his cat.

Gautam Pemmaraju is a Mumbai-based writer, independent filmmaker and creative consultant who has over two decades worked with a wide variety of non-profits, broadcast networks and commercial clients developing and creating advertisements, policy/advocacy films, music videos, and documentaries. He has also written on the areas of history, literature and art. A Tongue Untied: The Story of Dakhani (2017) on the vernacular satire and humour poetry of the Deccan is his first independent feature documentary film, which is currently screening in venues across the world.

Always curious and game for adventure, Grace loves to wander the streets with her camera, in search of stories to tell. A human geographer by training from Singapore, she believes the best way to learn is on the soles of one's feet.

Ivan has shaped an award-winning career over nearly 20 years, producing, writing and directing documentaries and commercials. His clients include, National Geographic, Channel NewsAsia, History Channel and MTV. When not working, he can be found skating along the streets he grew up in Singapore.

James merges his passion for performance arts and filmmaking by documenting the work of renowned artists around the world. Through social enterprise Pangolin Films in Singapore, James also dedicates his time to producing documentaries for NGOs that deal with some of the most challenging social issues of our time.

Juliana is intrigued by fresh and unique storytelling. Based in Singapore, she has witnessed how photographs and films can make a difference, and is inspired to do the little that she can. While not on assignment, she enjoys exploring new cities to learn about history and culture.

Based in Manila, broadcast journalist and filmmaker Kara is a force to be reckoned, producing award-winning TV specials and documentaries that have received acclaim on home turf and the international stage. She is also a dedicated cancer patient advocate, having started ICANSERVE Foundation to promote early breast cancer detection.

Petra's innate talent for storytelling wields the power of film and video to impact communities in unique and positive ways. This dreamer based in Jakarta admits he also has a penchant for the spoken word. So, expect to have your ears talked off, but it'll be worth every interesting second.

An independent filmmaker with 12 years of experience, Pooja was always drawn to telling people's stories from behind the lens. Having produced content on various sensitive and thought-provoking topics, this India native feels it is her way of giving back to her country. Not only does she hope to create social impact with her work, the sense of accomplishment at the end is what keeps her going.

Meet supermom Raisa, who juggles work and motherhood with aplomb. When not making documentary shorts, she runs a photo and video business with her husband, and also teaches part-time at the Philippine Christian University. Raisa's affable personality helps her to capture the raw emotion of her subjects, bringing out the best in the stories she tells.

Stephanie's passion for stories and animals began at a young age, and she has found a good balance working with Our Better World. As a freelancer based in Kuala Lumpur, she edits her videos at home with her dog as an office buddy. During her free time she likes to bake or eat (usually) delicious vegan desserts.

Thomas feels lucky he can do what he feels passionate about: telling good stories. When he's not shooting or editing, he might be on an evening run or trying to find those elusive, quiet places where he can enjoy a peaceful moment, probably thinking up his next story. Having been in Singapore since 2008, the American's become a fan of herbal soup, roti prata, kopi gao and yes, even durian.

Upneet is fascinated by people and their stories. Her desire to refresh tired perspectives has led her to document varied communities – from Romany gypsies and homeless walking guides in England, to migrant workers writing poetry in Singapore, artisan dollmakers in Indonesia and refugees in Malaysia.

An award-winning documentary filmmaker, Mak says he "literally dreams every night". He is drawn to people who sit alone at parties, and enjoys figuring out why people think the way they do. Based in Mexico City, he seeks to tell the stories of people who are rarely heard.

He is known as the storytelling Jedi to his friends, and telling stories is at the heart of Robert's work - from designing, taking photographs, filming, to teaching and speaking at international conferences. He runs a digital content marketing agency in Singapore.