3-minute read
When You Help a Refugee, You Help a Neighbour
There are no refugees in Singapore. But that didn't stop Jonathan from starting his non-profit Relief Singapore and helping refugees and displaced people in Asia.
In the past eight years, I have been to many refugee camps and disaster zones. From the flooded Philippine municipality of Los Banos to the Karen refugee camps along the Thai-Myanmar border. From the Haiyan-battered Tacloban city in Central Visayas to the Syrian refugee settlements in Lebanon's Bekaa Valley. From the earthquake-ravaged Acehnese town of Pidie Jaya to the squalid Rohingya camps in Cox's Bazar.
One key difference between refugees and disaster victims is the nature of their forced displacement. While most disaster victims slowly regain normalcy as citizens within their own country, refugees are less fortunate.
Many of them languish in camps in foreign countries for decades. Some are also stateless, without passports to travel legally and safely. Others lead lives in limbo as IDPs (internally displaced persons) within their own countries, like the ethnic Kachin forcibly displaced from their villages to temporary camps in their home state in Myanmar.
This World Refugee Day, I am reminded as a Singaporean of how close we are to forcibly displaced persons in our backyard. Many of my fellow citizens who throng the streets of Bangkok annually are probably not aware of the 5,000 or so refugees and asylum seekers living in and around the city, where they wait and hope to be resettled in third countries.
Closer to home, there are refugees of various nationalities eking out a living in Malaysia. They live in constant fear of raids by the local authorities; flashing their UNHCR-issued cards may not protect them from being hauled to immigration detention centres.
Thanks to the growth of the online fundraising industry, our NGO Relief Singapore (RSG) has been able to support refugees and asylum seekers in the region by inviting donors to give towards their needs, which have been exacerbated by the COVID-19 pandemic.
Solidarity Relief Fund campaigns were launched on GIVE.asia to provide financial aid for urban refugees in Thailand, and reusable masks for Rohingya children, youths and elderly in Bangladesh. These campaigns are organised under the banner of a new RSG initiative, SGAID (Singaporean Aid for International Disasters).
I am honoured to work with a group of refugees in Bangkok on Solidarity +66 Relief Fund. Led by Hadi, a young Afghan refugee, the group – which calls themselves Bridge of Light and Hope – comprises volunteers from Afghanistan, Pakistan, Somalia, and Palestine. Just this past weekend, the team made house visits to needy refugees and asylum seekers to distribute the first round of financial aid that will help the families cover their daily living and rental expenses for a month.
Over in South Eastern Bangladesh where close to a million Rohingya reside in 34 camps in Cox's Bazar district, the first COVID-19 case and death in the refugee community happened within the same month. The first positive case was detected on 14 May, while a 71-year old man died from the disease on 31 May.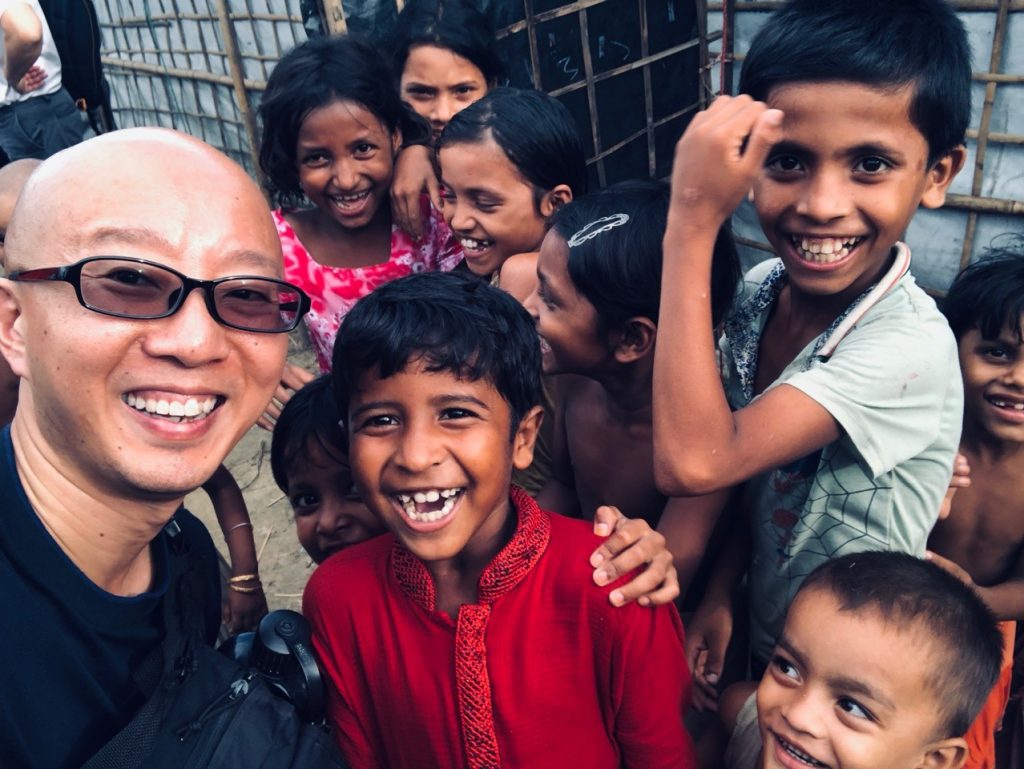 Inspired by my own government's efforts to protect all Singaporean residents with free reusable masks, I decided to do the same for the Rohingya in Cox's Bazar. I got in touch with the UN's Inter Sector Coordination Group to discuss possibilities, and we came up with a plan to procure and distribute reusable masks to children, youths and the elderly in all the camps.
While I eagerly await news of the easing of travel restrictions so that I can head back to the field to visit my refugee friends in Thailand and Bangladesh, I am acutely aware that it will not happen anytime soon. In the meantime, my RSG co-workers and I work remotely with our humanitarian partners to ensure our relief campaigns achieve as much impact as possible.
You can join us too, in helping our neighbours in refugee camps and urban homes. It is actually rather easy to provide humanitarian assistance from wherever you are. Of course, nothing beats the experience of participating in an overseas relief mission. But for now, there's always the online option.
To find out more about RSG and its work, please visit www.relief.sg. If you would like to help refugees in Thailand and Bangladesh, please visit www.sgaid.asia.
(Thanks to Jonathan for all the photos featured on this blog post)
---
About Relief Singapore
Relief Singapore (RSG) is a homegrown NGO and social enterprise that provides humanitarian assistance and disaster relief for communities affected by conflicts, calamities and climate change. Our mandate is to focus on humanitarian needs that are underserved and neglected.