Beacon of hope in Myanmar
Zaw Mar Wu's future shines bright with the help of Global Village of Hope who believes in the power of education.

Six year ago, educator Linus Lin from Singapore knew that starting Global Village for Hope (GVH) would see education pave a way forward for the youth of Myanmar, and shape the future of their country. The stars aligned in 2014 when Linus founded GVH with his Myanmar-based counterpart Joseph Bu Shwe and the organisation has since helped 350 children through its bursary and educational programmes.
Our Better World (OBW) published their inspiring story in 2018, which generated close to 899,000 views. "The OBW video was like nitro in a racing car," describes Linus, which he believes helped increase the awareness of GVH's initiatives.

Joseph quizzing young minds at a GVH foster home to assess candidates for their bursary fund. Photo courtesy of GVH.
Their first GVH bursary beneficiary — 21-year-old Zaw Mar Wu - is a testament to how that vision has started to take root. Currently studying graphic design at a private learning centre, whilst completing her final year at a local university in Yangon, Mar Wu's quiet confidence belies a journey through depression, illness and separation from her family.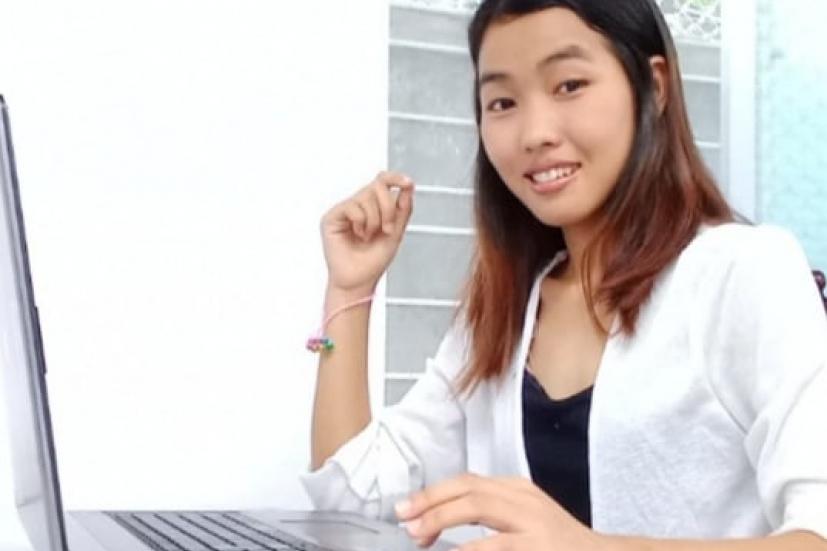 Mar Wu at her graphics design learning centre. Photo courtesy of GVH.
Originally from Northern Myanmar, she left her family at 13 years old, due to civil unrest, to travel to Yangon in search of a better life. She ended up at an orphanage on the outskirts of the capital. Her ambition to become a doctor and help her family drove her to study diligently for her high school exams, but she failed, despite her best efforts, much to the surprise of her foster family. Being one of the orphanages adopted by GVH in 2014, news of her plight alerted Linus that more was needed to help kids like Mar Wu.
"To me, she is someone who is willing to and will work hard. Her progress is just obstructed by some external factors that can be solved by us," he says.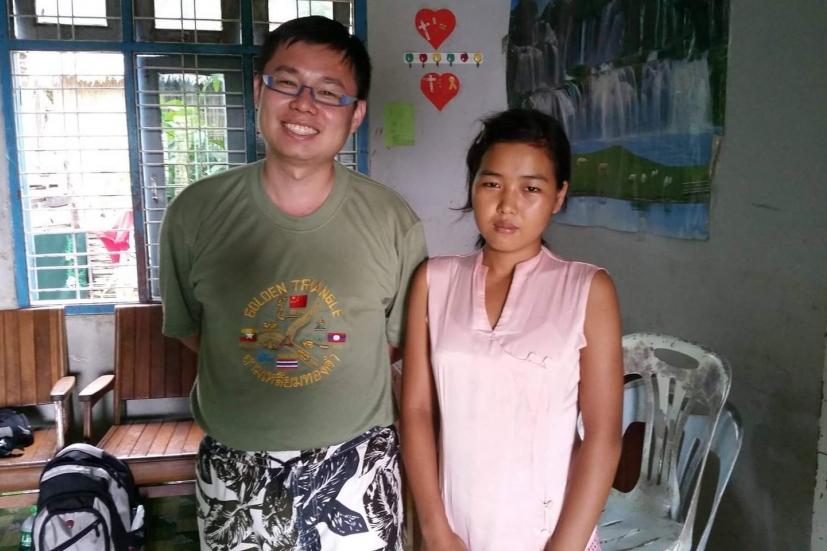 In 2015, when Mar Wu and Linus first met, shortly after her 1st high school exam. Photo courtesy of GVH.
Once Linus realised that financial and mental support, proper nutrition, and a conducive study environment were also factors that determined the success of a student, he raised funds to provide basic necessities like food and water, as well as a bursary for kids who showed promise. Linus raised US$370 for the first bursary fund that covered one year of Mar Wu's school fees, and for a bicycle to reduce her travel time to classes. She used to walk 45 minutes, often in the rain, to school, so GVH's assistance meant "she didn't have to worry about money and could focus on her studies."
The following year, she retook her exams and passed all six of her subjects.
Mar Wu will always be thankful for GVH's contributions: "Many doors opened for me because of this programme. Once I passed my high school exams, I managed to go to university and received many job offers."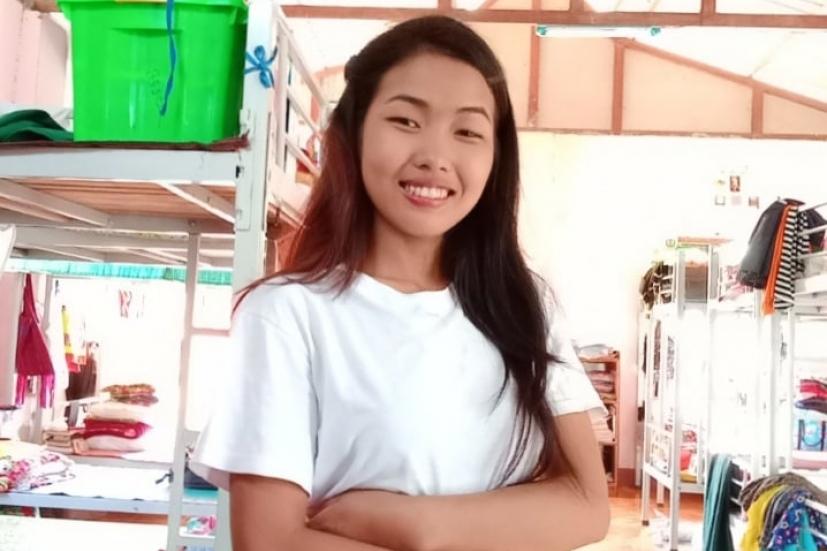 Mar Wu on one of her visits back to her foster home. Photo courtesy of GVH.
Encouraged by the success of their first bursary recipient, they started a yearly bursary fund which now includes daily tuition, books, stationery, and a set of school uniforms for one academic year. From supporting 30 kids in 2018, when OBW told their story, GVH has grown in strength the year after - funding 40 kids.
In 2020, the intention was to help even more youth. However, COVID-19 put a dampener on their efforts as funds have been harder to raise. Of the original target of US$30,500, GVH only managed to garner US$22,470 (from GVH's collective donation drive) as of August 2020. The temporary closure of schools also made it necessary for GVH to delay the 2020 bursary programme. They hope to obtain the remaining US$8,030 in 2021, in order to fund 60 kids through school.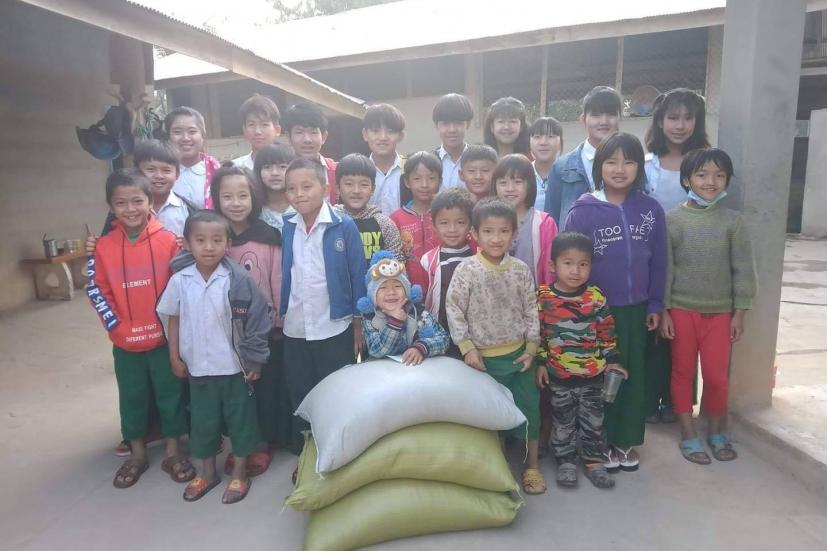 Kids in a GVH foster home receiving bags of rice. GVH provides 60 sacks of rice (or 3000kg) to about 350 kids on a monthly basis. Photo courtesy of GVH.
Schools have been closed since the pandemic started and come April, kids would have skipped almost a year of schooling as the government continues to debate the reopening of schools. Undeterred by this, GVH continues to provide assistance by delivering sacks of rice to 350 kids on a monthly basis; they even built a new well for a village, constructed a water tank for a children's home, started a music initiative to keep the kids enriched, and kickstarted a new skills development programme to help older youth who could not pass high school.

Joseph conducting a class for the next generation of Myanmar. Photo courtesy of GVH.
"Education is still a priority," says a determined Linus, "and everything we do goes back to that. I believe in the ripple effect, and that someone will be affected by that ripple. An educated person can feed a family of 10. It enables them to stand on their own feet. Many of these disadvantaged children we are helping are willing to work hard but circumstances limit their access to educational materials, school uniforms and tuition opportunities. By supporting their bursaries, it is to help them level the playing field by a little."
For Mar Wu, her future shines bright. She represents the hope for a new generation, especially for the kids from her previous foster home, whom she advises regularly.
"Study very hard. Be obedient, be smart. The world is open to you, so you must make the best of it."
About GLOBAL VILLAGE FOR HOPE
Global Village for Hope is a Singapore-registered philanthropic foundation dedicated to providing education support to children in Myanmar, with the help of local partners. Since 2014, it has supported more than 350 children in 21 foster homes on the outskirts of Yangon and in Chin State.
Contributors