2-minute read
What Ages Us
What ages us
There are times when I look at the elderly, and I wonder what they think about.
Do they think about what is to come, or what has passed? 
At 25 or 75, is it still the same person inside?
Last year on Grandparents' Day, I thought I might have a chance to find out.
At work, we had told a story about a thoughtful group of ladies who conducted free Zumba classes for the elderly on Saturday mornings. 
It helped add some laughter and fun to the old folks' lives.
In fact, it looked like so much fun, our whole team decided we would volunteer and dance alongside the old folks.
When I got there, I was excited! 
It was endearing to see grannies and grandpas dressed for a workout. They looked set to bust some moves! 
I thought about how it would probably be difficult for them to move about, but it would be adorable to see them try. 
I learnt one thing that day: some of those seniors still got the moves.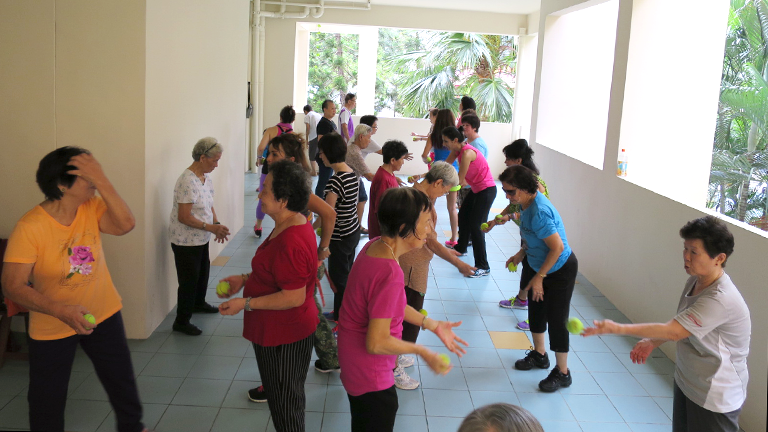 At one point, when my less-than-perfect coordination revealed itself, a granny tried to guide me through the steps. She was bright-eyed, rosy-cheeked and completed her cheerful look with a lovely red lipstick. 
She had a friend beside her and they'd occasionally laugh, giggle and crack jokes during the workout. It was like watching two teenage girls during a physical education lesson in school. 
Their laughter was infectious. 
For about an hour, we danced, laughed and moved as best as we could. 
We eventually got into pairs and tossed tennis balls to each other. This invoked some exclamations of "Aiya!" now and then, and also some instances of seniors chasing runaway tennis balls. 
When it was all over, we exchanged some hugs. 
As I embraced the petite and frail auntie I had partnered, my late grandma came to mind. 
The last memory I have with her was a hug and touching her feet (which represents both a mark of respect and seeking blessings in my culture). I think it was probably the first time I had done that to my darling grandma. 
And I never got the chance to do it again.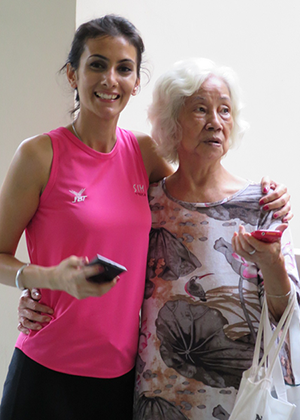 Back to the present, as we walked around thanking and commending each other, a granny said "let's take a selfie".
Clearly, she was way more with the times than I probably ever will be. 
She insisted that everyone get in the shot, but not everyone was responding quickly enough for her liking.
"Hello, excuse me, what is this? Come here please, I want to take a photo with you!" 
It was adorable to hear her annoyance with such politeness. 
We managed to take a few photos and then someone informed her there was going to be a Christmas gathering the following month.
Her response? "Who knows if I'll still be around?" 
A conversation between us revealed how she didn't keep very well, and how her son didn't speak much to her.
She spoke about a grandson she loved dearly, but who also seemed to be getting preoccupied as he grew up and whom she got to see less and less. 
We discussed family, health and God. 
I learnt something else that day: our human bodies may age and fade, but our sentiments don't. We still love as much and want to be loved as much, no matter how old we get. 
And young or old, we can fight battles when people stand with us, love us and support us. But if no one cares about us, it ages us faster than age itself. 
---
Read and watch Grandma's Got the Zumba Moves.