3-minute read
A Friendship Written in the Books
Books sparked the friendship between Abdullah, an Afghan refugee who co-founded a school for refugees, and Nila whose NGO creates children's libraries in remote areas in Indonesia.
A few years ago, a journalist from a leading magazine in Indonesia contacted me and asked whether I had English children's books to donate to refugees in Cisarua. "Refugees? What refugees? Where?" I asked. She said, "There are thousands of refugees living in Cisarua." I had no idea. I felt so ignorant. Where had I been these years, not knowing that thousands of refugees lived in Cisarua, Bogor, two hours from Jakarta?
I became curious and threw Eka, the journalist, a bunch of questions. She explained that there was a school in Puncak, Cisarua called Refugee Learning Center founded by refugees, for refugees. They needed all kinds of support, from funds to books. Eka approached me as she knew I had founded Taman Bacaan Pelangi (Rainbow Reading Gardens), a non-profit organisation nurturing the love of reading in Eastern Indonesia by establishing children's libraries in remote areas.
It was great that she contacted me, because we have thousands of donated English children's books that we can't use since we need books in Bahasa Indonesia!
Once our donor gave the go-ahead, we had more than 1,000 children's books and novels for the Centre! I couldn't be happier. It felt good to know these books would have a new home and refugees would read them.
I visited the Centre with Eka after the books were delivered. It was my first time visiting a refugee community with people from various countries. They introduced me to the Centre's headmaster and teachers. That's when I met Abdullah Sarwari.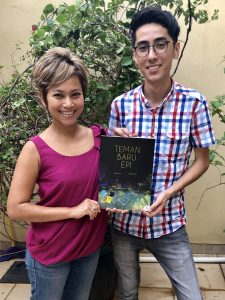 Abdullah co-founded RLC and also teaches there. Abdullah and most of the teachers looked so young. They spoke good English, a sign that they were educated.
I listened to their life stories, their struggles and how they ended up in Indonesia. Their stories struck me. I cannot imagine being faced by only two options: leave my country or die if I stayed. OMG. That would be terrifying! Looking at their faces and their almond-shaped eyes, I sympathised with what they had survived.
My first visit to Cisarua left me speechless. I was impressed by their indominable spirit.
Soon after, I asked my husband to visit Cisarua with me. We went one weekend and met with other refugees. We visited the other learning centres in the area and donated a box or two of books to each. Thanks to the people who donated books to Taman Bacaan Pelangi, we could share them with the refugees, who would have had difficulties buying English books due to limited funding.
Abdullah has become a dear friend of my family.
He has travelled to Jakarta - a four-hour journey by public transportation - to meet us. This good, genuine and sincere person has been to our home and has spent hours chatting with us. I am awed by his stories as I try to put myself in his shoes. I have no idea how he still smiles despite everything life has thrown at him. Being far away from home, having to live first on their family's savings, and when that ran out, waiting years for the letter from UNHCR, not knowing when it would arrive. Although Abdullah is smart, as a refugee he cannot access Indonesian universities and with no passport is unable to travel outside Indonesia.
My visits to Cisarua and the friendship with Abdullah inspired me to write a children's book about a refugee. "Teman Baru Epi" (Epi's New Friend) is the first of its kind in Indonesia that explores the topic of refugees.
The book is about a friendship between an Afghan refugee girl with an Indonesian girl. Of course, the setting is in Cisarua.
When I shared the idea with Abdullah, he was very excited. I asked him to help me understand his culture. During the writing process, I asked Abdullah countless of questions about Afghani food, their childhood games, and what people wore. We communicated via Whatsapp (thanks to technology!) and he would send me photos of the food and games.
I was so thrilled when the book was published and could not wait to show it to Abdullah! If it wasn't for him, this book would not exist.
Often times, when you think you are helping someone, they're actually the ones who help you. That is what I learned from my friendship with Abdullah. Initially, I thought I was helping them get access to books, but they inspired me, enriched my life and helped in many meaningful ways!
---
In 2015, Our Better World told the story of Taman Bacaan Pelangi, the non-profit organisation promoting literacy in remote areas of eastern Indonesia that Nila founded. In 2019, the story of Refugee Learning Center which was co-founded by Abdullah was one of the stories told by Our Better World in its ongoing series Refugees: Displaced, Not Discouraged.