3-minute read
A Mother Builds a Support Community for Her Son and Herself
A mother does right by her son who has schizophrenia by building a supportive community of caregivers and people with mental disorders.
My son, Satrio, was diagnosed with schizophrenia in March 2018 after a suicide attempt. At that time I had no idea about schizophrenia. I obeyed what the doctor told me: What Satrio and I had to do, such as discipline in taking medication, what to eat and what physical activities were suitable.
At the hospital, one day, I met an old lady when we were waiting for medicine at the pharmacy. She looked very sad and seemed sleepy.
I watched her and thought, "Maybe someday I will look like her, old and sad. She seemed like she had many problems, and so will I." At that moment, the lady opened her eyes and saw me. I was ashamed to be caught staring at her, but I smiled and asked, "Waiting for medicine, Ma'am?" "Yes, for my son," she replied, and added, "I am very tired."
She told me how worried she was about her son. She had a 50-year-old-son who has had schizophrenia for the last 30 years. Her husband refused to accept their son's suffering and that he needed regular treatment. Instead, the husband blamed her for giving their son a bad education and for spoiling him.  What she worried most about was what would happen to her son after she died. Who would take him to the hospital for treatment and take care of him?
OMG! What about my son? I had never thought of it — about my family's life after my death. But before I die, I had to face my own life. What if I had to take care of my son alone? I have to have friends to serve our families together. But, it should be caregivers. I had to build a community of caregivers.
In April 2018, I attended a presentation and the speaker was Osse Kiki, a schizophrenia survivor. He was with his father, Julius Yusidjaya. I wanted to learn from Mr. Yusidjaja how to be a good caregiver.
A month later, I met Agnes Winaryati, a caregiver to her son with schizophrenia too. She shared the same wish that there was a caregivers' community. After chatting with her, we invited Kiki to join us build one. But after talking to Kiki we learned that our knowledge of serving people with mental disorders were not enough.  Kiki advised us to join Komunitas Peduli Skizofrenia Indonesia (KPSI, or Indonesia Community care for Schizophrenia). We agreed, but the need for a community of caregivers could not wait.  So, we started Komunitas Rahmat Pemulihan (KRP, or Grace Recovery Community) to serve caregivers and people with mental disorders (PMD). KRP's objectives are:
Increase the knowledge, skills and attitudes of caregivers
Increase the knowledge, skills and attitudes of PMDs so that they can live independently
Enable PMDs to socially engage and to provide assistance to them
Through KPSI's Facebook page, I learned about PMDs and how to serve them. Until now, I'm still learning from KPSI. That's why I am so thankful to Mas Bagus Utomo and all the friends at KPSI who always support KRP.        
Feature photo credit: Tim Cooper
---
Margareta Ibnurini is a co-founder of Komunitas Rahmat Pemulihan (KRP, or Grace Recovery Community) that serve caregivers and people with mental disorders (PMD). The team at KRP continues to work with KPSI. Both organisations support each other.
This first-person story is part of Our Better World's series on Mental Health: Silent No More: Giving Voice to Mental Illness.
👋🏻 Have you ever felt guilty over a sense of duty to others?
How do you juggle the desire to care for loved ones and the need to care for yourself? Share your thoughts in our forum.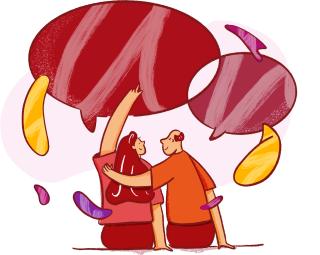 Join the conversation!