4-minute read
Am I a Caregiver?
A short quiz to find out if you're a caregiver to someone with a mental health issue.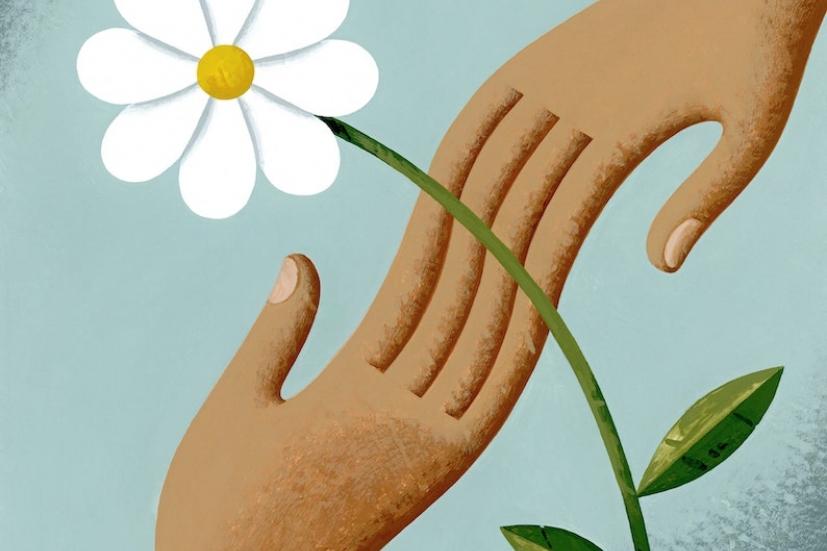 Illustration by Adam Niklewicz courtesy of United Nations on Unsplash
"When my older brother isn't doing well, he has suicidal thoughts. On such days, we lock the balcony doors — a sign that someone needs to be home with him," recounts Christine, who helps care for a sibling with bipolar disorder and social anxiety. She adds, "Caregiving takes up a lot of emotional energy."
WHO IS A CAREGIVER?
A caregiver has taken on the overwhelming responsibility of looking after someone unable to care for themselves fully due to illness, disability or a mental health issue. Anyone can be a caregiver and it is likely that most of us will be at some point in our lives. But while we know we are helping, we seldom think of ourselves as caregivers. 
Perhaps we see it as a natural and good thing to do for a loved one; perhaps we have not accepted a diagnosis; perhaps we fear the stigma of looking after someone with a mental illness; or perhaps we feel that our needs are unimportant. 
In addition to managing moods, thoughts and behaviours, a caregiver to someone with mental health issues may experience trauma, stigma, family conflict, social isolation, and emotions deemed 'unacceptable', such as anger, resentment, shame and guilt. 
IDENTIFYING AS CAREGIVERS
When we do not self-identify as caregivers and do not practice self-care or seek support when needed, we risk neglecting our own physical, mental and emotional well-being. This, in turn, affects our ability to care for our loved ones. 
As the saying goes, 'You cannot pour from an empty cup.' 
The first step towards better caring for yourself and others is recognising your identity as a caregiver and the value of what you do.
Are you a caregiver? Take this short quiz to find out.
ARE YOU A CAREGIVER TO A PERSON WITH A MENTAL HEALTH CONDITION?
Do you help a friend or family member:
1. with everyday tasks, such as personal care, buying groceries, cooking or buying food, providing transportation, doing household chores ?
2. by arranging medical appointments, accompanying him or her during appointments or discussing with healthcare professionals to understand what needs to be done? 
3. with monitoring medications at home or following up with therapy, counselling or rehabilitation?
4. to find out more about particular mental health conditions, treatment options or how best to interact with someone with a mental illness?
5. by providing companionship, or emotional or psychosocial attention and support?
6. as the designated 'on-call' person to handle a mental health episode or as part of a crisis plan in an emergency?
7. with finances, legal matters, communications needs, decision-making or other personal affairs?
8. by taking time off work or school, or to arrange for alternative assistance when you are unable to provide it?
Or, do you:
9. feel burdened by the additional responsibilities you've taken on to help a loved one? 
10. spend so much time, energy and resources taking care of a loved one that you neglect yourself?
If you answered 'Yes' to at least half of the above questions, you are very likely a primary caregiver who provides direct care on a daily basis. Even if you had answered 'Yes' to a few of these questions, you may be a secondary caregiver who helps the main carer.
SELF-CARE FOR CAREGIVERS
To sustain your own caregiving, try out some of these self-care tips*:
Protect your physical health — Eat well, get sufficient sleep and exercise regularly. Practise relaxation techniques, such as meditation and deep breathing.
 
Practise good mental health habits — Identify as a caregiver and appreciate the value of what you do. Notice your feelings without judging yourself. Set realistic expectations. Celebrate victories! 
 
Understand how stress affects you — Signs of stress include, headaches, low energy, loss of appetite, insomnia, a short temper and crying. Identify your signs and triggers, and be aware of how you cope. Look out for signs of caregiver burnout — do a quick self-assessment here.
 
Make time for yourself — Set personal boundaries and remove your caregiver hat every so often. Do things you enjoy, meet up with friends, rest and recharge! Even a mini-respite of 30 minutes can be healing.
 
Ask for help — And be open to accepting it. This can include delegating tasks, sharing your struggles, joining a support group or seeking professional help. Also consider getting trained to take better care of your loved one. There is a wealth of resources and networks available.
The better you care for yourself, the better you are in handling the challenges of supporting your loved ones.
Want to know more? Here are the articles we referenced to compile this resource:

Caregiving 101: On Being a Caregiver 
 
Self-care tips - Looking After Yourself
Self-care for caregivers of people with mental health issues
Looking after yourself while supporting someone

Family Members and Caregivers - Taking Care of Yourself
Step into the shoes of a caregiver
Explore our first multi-plot interactive video, A Quiet Ripple, that shows what a mental health caregiver might experience - from dilemmas, to a need for support. The choices you make will impact how the story ends. Experience it to better understand the lives of caregivers.
Your Support Toolkit
Your Support Toolkit
Helplines
I need help
Someone I know needs help
COVID and me
General info on mental health