Breaking the Silence on Child Sexual Abuse
A foundation in India is empowering children by teaching them what's an "unsafe" touch.
Every 15 minutes, a child is sexually abused in India, according to the National Crime Records Bureau.
A survivor of sexual abuse, Nusrat Khan Pahade started the Cactus Foundation to teach children the difference between a "safe" or "unsafe" touch, and raise awareness.
By urging the country to break its silence on the issue, Cactus hopes to give children a healthy and safe childhood.  
Lend your voice and help break the silence.
Read on for the full story.
"My uncle, my father and my grandfather keep shoving their hands into my private parts."
These are the words of a four-year-old.  
Every 15 minutes, a child is sexually abused in India, according to the country's National Crime Records Bureau. Yet, when it comes to sex and sexuality, "we just want to brush it under the carpet," shares Nusrat Khan Pahade.
Fighter, mother and a survivor of child sexual abuse, Nusrat is determined to ensure no other child experiences the physical or emotional trauma of such horrendous acts.   
Thus, Cactus Foundation was born. Waging a war against the silence and ignorance surrounding child sexual abuse, the foundation aims to raise awareness on the issue to create a safe and healthy environment for India's children.  
Run by volunteers, many of whom are homemakers, this NGO also consists of a core team that has supported Cactus for more than 16 years.
People like Rameshwar Madhukar Irabatti make up this team. He not only manages the photography, videography and social media for the foundation, but is also a key trainer. Even Nusrat's mother, Nafeesa, joins in during training, and sometimes advises Nusrat during discussions at home.
The foundation faces considerable hurdles — one of them being families who attempt to shush their children when made aware of such incidents.
"Since the perpetrators are usually known to the families, the members will urge to bury the issue," says Asif Iqbal, the principal of a school partnering with Cactus.  
"If it's a female child for example, the family worries about what the society will think, or whether people will look at her with the wrong intentions. But people should remember that it is not the child's fault. It is the fault of the cruel wrongdoer," he added.
Contrary to popular belief, boys have been found to be at an almost equal risk of sexual abuse.
In a 2007 report on child abuse in India by the Ministry of Women and Child Welfare, 52 per cent to 60 per cent of children who were sexually abused were boys.
Citing this figure in another report published in 2017, researchers found that boys were simply expected to outgrow the experience of sexual abuse due to their "superior" gender. This, they said,  was holding them back from receiving psychiatric help.
Forced to remain quiet by their own families, it is no surprise that boys and girls alike sometimes hesitate to come forward, and continue to suffer needlessly.  
This is also what gives perpetrators the courage to continue.  
GIVING CHILDREN A VOICE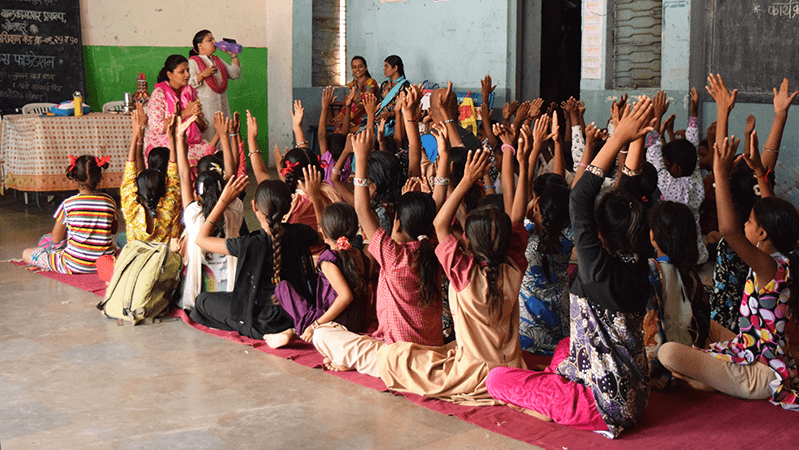 But by working with teachers, schools and parents, Cactus is allowing them to have conversations with children that are otherwise avoided.   
The foundation teaches children to tell the difference between a "safe" or "unsafe" touch, what is considered sexual abuse, and what they should do in case they find themselves in such a situation.
This can be tricky, since even adults can be unclear on what is sexual abuse - many assume it is purely a physical act.    
But the law states otherwise — making a child watch objectionable content, and making any form of inappropriate gestures or sounds with sexual intent, is a form of sexual abuse, according to The Protection of Children from Sexual Offences Act, 2012.
Educating children on this is an important first step to prevention.
Wahida Begum, a teacher with a partnering NGO, has noticed the positive results of such conversations.   "The children now know the difference between a safe and unsafe touch. They no longer feel shy or ashamed to share about the issue, and know what to do," she says.
She adds: "Now they tell us: 'We will tell our parents. If they don't listen, we will tell the teachers. We will speak until someone listens.'"
And that voice is growing.
In February 2017, 20,000 teachers, parents, children and other concerned citizens marched on the streets of Solapur to draw attention to the issue of child sexual abuse.
Calling for the suffocating silence to be broken, men and women alike came together to demand basic protection for the country's children, and collective recognition of what survivors went through.
"At the end of the day, it is just the first step we are taking to try to create this awareness," says Nusrat. "Maybe not this generation, but I'm sure the next generation will be bold enough, will be courageous enough to fight and stop child sexual abuse, and to talk about it."
It would provide hope that in spite of what they endured, these brave children are not only able to survive, but also bloom.  
Just like a cactus.  
---
Help create a safe environment by volunteering with Cactus, or simply by sharing and spreading awareness online.
About Cactus Foundation
Since it was founded over a decade ago, Cactus Foundation has reached out to over 120,000 children with its awareness programmes on sexual abuse, powered by a team of dedicated volunteers. It works with government schools to conduct these programmes, and also provides training for teaching staff.
Contributors