Dreams, dignity and a muddy Jakarta slum
Under a highway bridge in Indonesia's capital, you can offer children dignity, so they can dream.
I recently spent a Sunday in a Jakarta slum.
There had been heavy rain that morning. In fact, the plane that I arrived in had had a bumpy landing.
Rain means something different to those who live in a slum. It means flooding. And mud.
As a Jakarta novice I somehow found the right place. There was no address given. Slums don't have numbered street post-boxes. Or even street signs. The map I had been given as directions suggested my destination was on a highway.
In fact, it was under the highway.
Google maps doesn't show the entire community of people who live under highway bridges. There their homes are. Between the concrete pillars.
Under the bridge it was dark. Some men loitered. Water dripped from the highway above. Mud puddles complicated the access. Did I have the wrong place?
Then I found my friends. My friends run a foundation for the children of this particular slum.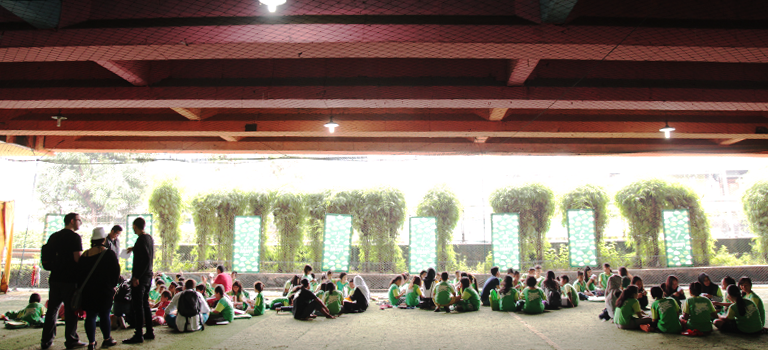 "Every child deserves a dream," my friend said.
The children who attend the foundation have little. Most have parents.
"Some of the fathers are missing. Some of the mothers work undesirable professions," my friend told me. One little child seemed to be more physically parented than he should have been.
The Inspiration Factory Foundation reaches out to 300 children who live under the highway. I could scarce believe so many stayed in such a cramped place.
Without any chance for school, the foundation and its volunteers give classes on a Sunday morning. Each child is given a brand new uniform—in bottle green. And a matching school bag.
Sunday admission to school requires three things: be in uniform; be on time; bring your good conduct badge (a sticker system to encourage proper behaviour). There was 100% compliance.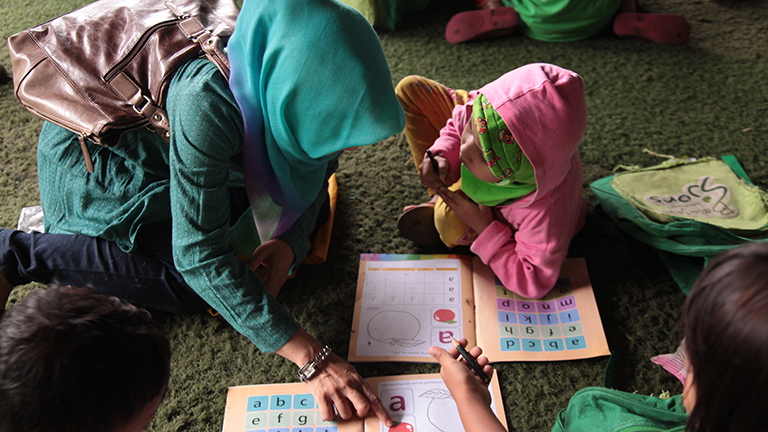 About 60 kids filed in. Happy. Laughing. Beaming. Despite the rain, 60 suns arrived.
I was struck by the order and the cohesion of it all. The school lined up. Then the portable speakers pumped out the national anthem. Sixty little voices chorused in unison - at the tops of their voices. Then the Indonesian flag was solemnly escorted and ceremonially raised.
Proud of their school. Proud of their nation. I was proud of them. In time, they will be proud of themselves.
Each child of the foundation gets issued with a "dream book". In it they write what they want to be when they are big. Their world starts at the highway and ends at the busy perpendicular road to the west. They know nothing else. All the professions they know belong to garbage men, small-time knick-knack vendors and sex workers.
At the school on Sunday, they get taught what other jobs exist in the world. Each week's lesson gets linked back to their dream on page 1 of their dream book.
How did today's lesson help me get to my dream? It's that question they have to answer in their books every Sunday.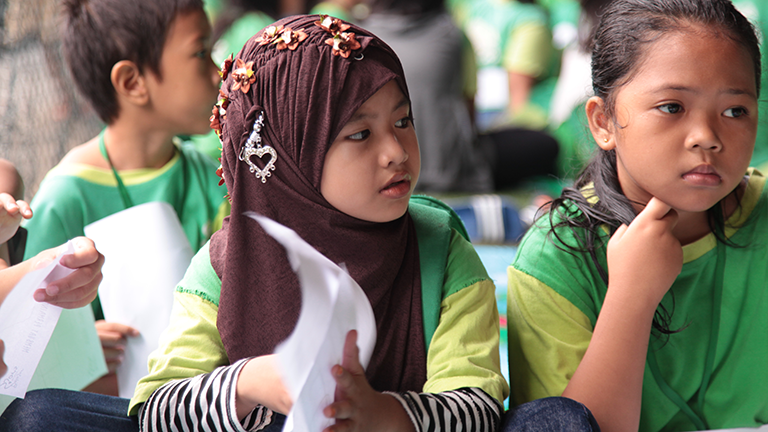 Next we broke into groups. Materials were distributed. The kids made their own board games; and dice - all to take home. Such enthusiasm and delight. Some English was taught.
We coloured. We laughed. They laughed at me (in Indonesian). They asked me questions (in Indonesian). I answered in English. They mimicked, desperate to learn a few phrases.
And all the while I could feel them absorbing something. It was like their little hearts were extracting something from me, as if I were a well that they were drawing from. I think they were drawing dignity.
School that day ended with a birthday ceremony. The last Sunday of every month all those with a birthday in that month get called to the front. Then they get given a gift. In most cases it's their only birthday present for that year.
"Some of the children don't know when their birthdays are. Their parents don't know either. So we have to allocate them a date of birth," my friend whispered to me as they were giving out the gifts.
I can hardly think of a more powerful gift than giving a child a birth day.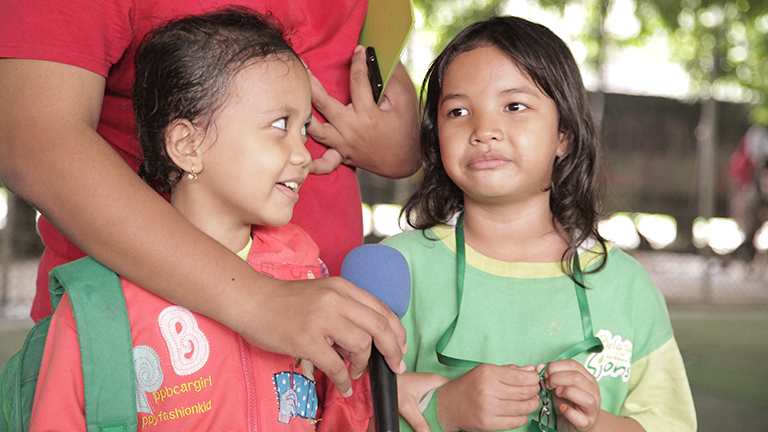 They don't smile when they get their gift. It's too big to smile. Something far deeper than happiness occurs. It's dignity. And dignity doesn't make you smile. It swells your heart, and gives you a certain kind of power, and makes you feel strong.
The lie exists that if you live in a slum you are not entitled to worth. A lie believed often enough becomes the truth.
But for every lie there exists an antidote.
The truth is that every child born to a slum has deep value and worth. The truth is that every child has equal importance in the world. And the truth is that every child born to a slum needs someone to tell them that.
Without agents of truth the lies are victorious.
Perhaps it should be our dream that every child sees the truth that they deserve to dream.
And to have a dream and reach up high for it, Hope needs to stand on the shoulders of its friend, Dignity.
---
Support the Inspiration Factory Foundation by donating, volunteering or getting your group or company involved.
About The Inspiration Factory
The Inspiration Factory Foundation has reached out to over 950 children that live under the highway in Jakarta. Providing them with education, skills and inspiration, this foundation believes every child deserves to fulfill their dreams.