Fluking Around India
Find out more about the charities Renyung and Adrien are supporting and how to get involved.

Jump down to a specific blog entry:
Fluk Fluk Run Day 14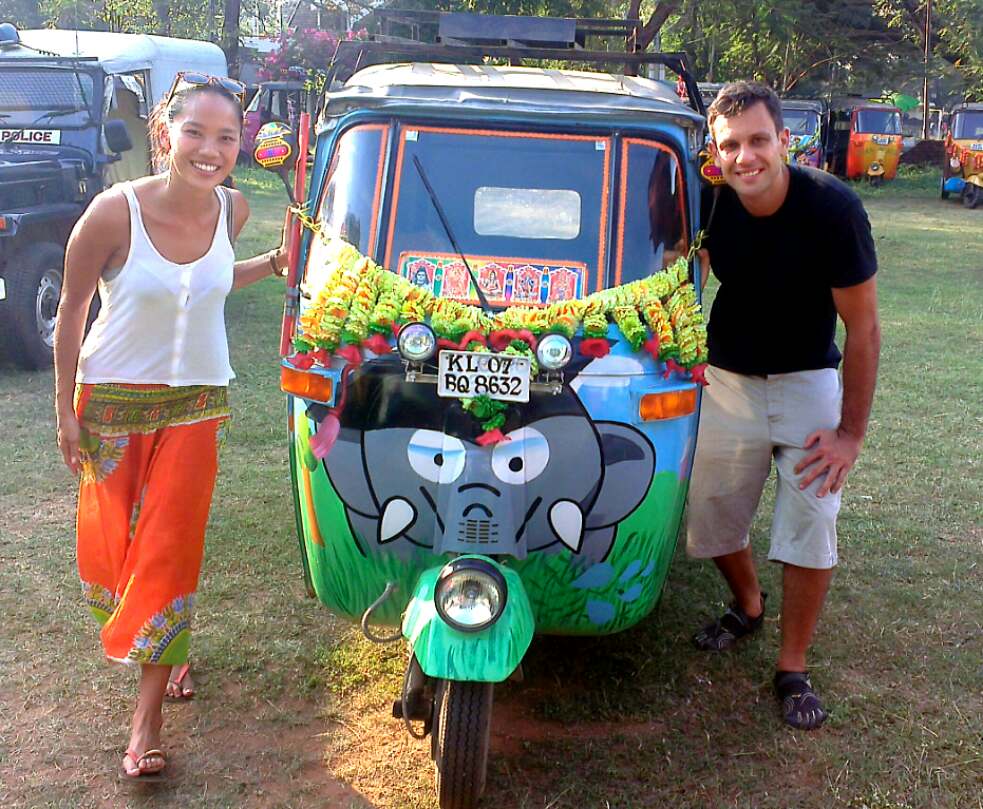 Fluk has made it! We have made it! 2,962 kilometres, 70 rickshaws, 5 states, 15 towns, 3 wheels, 2 of us.
At 4:01pm on Jan 14 2013, day 14 of Fluk Fluk Run, we rolled over the finish line into the paddock at Fort Cochin. We can scarcely believe it, and it's surreal as we sign all the papers, write down our arrival time and best tale on the arrivals board, and toast with celebratory chai.
It's been quite the trip; not the usual restful holiday but rather one which has truly taught us the essence of travel, where it's the journey and not the destination that counts.
The unpredictability of everyday navigation and steady whirr of Fluk for hours at a time combine to create a unique environment for road meditation. We have practiced patience, spontaneity, belief in serendipity, compassion, civility, discipline, stamina and that life-saving ingredient, humour.
Some tussling between us occurred, of course, and one of the biggest lessons taught was this journey's metaphor for life. It's a grand adventure, but it's not all going to be so exciting. There will be flat and even boring times, but also moments of great splendour that make it all worth it too. We tread a balance in our partnership — I push him out of his comfort zone and he keeps me in line for the big picture. We have learnt not to expect each other to be the same as ourselves, and it's the appreciation of our differences that makes us better people.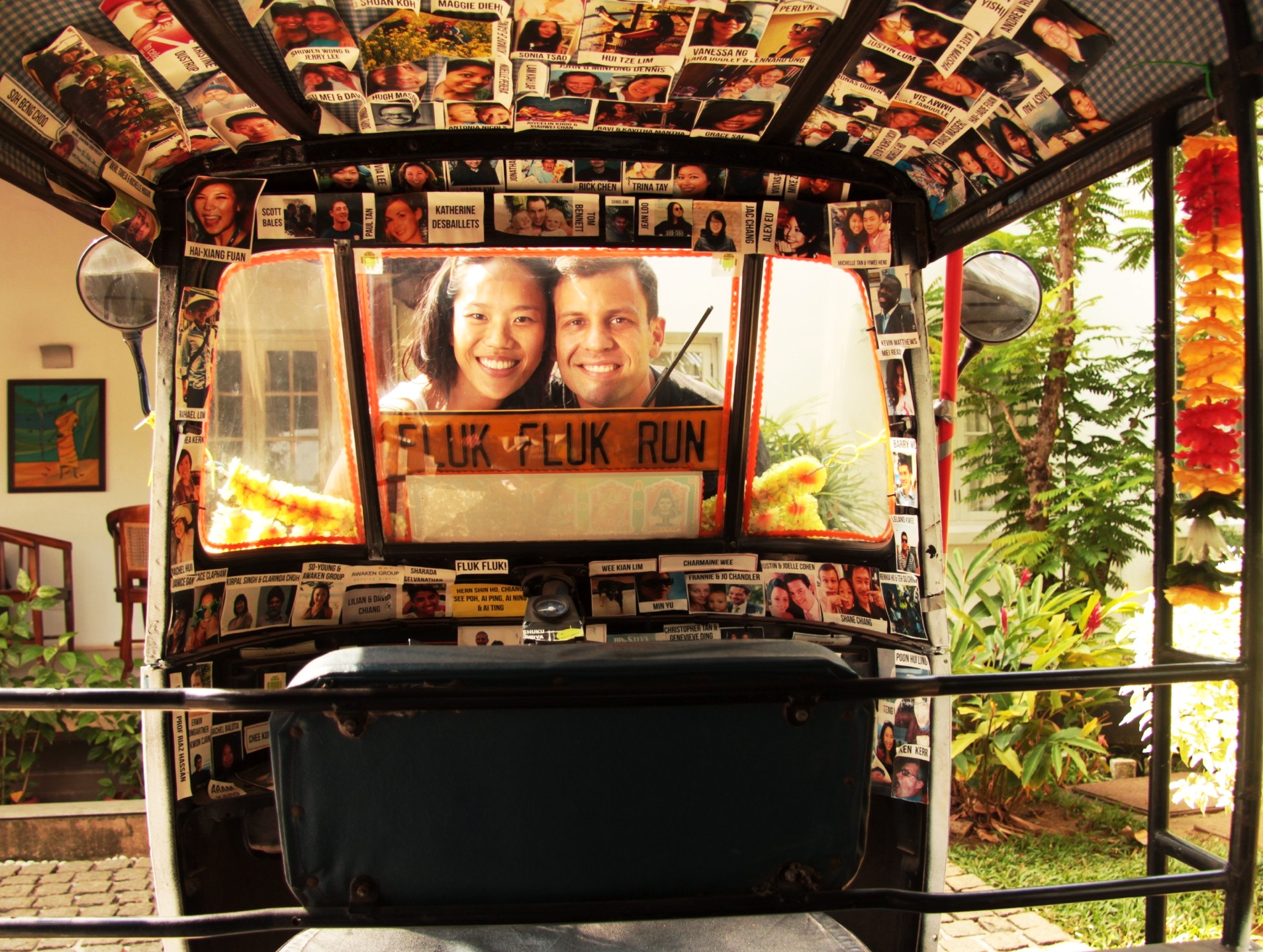 Driving in this mad, gloriously chaotic land has also taught us a bundle about road wisdom. Here are few lessons we will pack home with us for the rest of our journeys together.
9 Indian Road Rules for Life
RULE #1 Make yourself heard. It's better to say something than nothing.
The art of horning is exquisite. Every horn is different depending on when it's being used and who is using it. We quickly lost our shyness and started using it when overtaking, when something was crossing our path, when oncoming traffic looked like it hadn't seen you yet. Expressing yourself is essential for survival.
RULE #2 Disregard the straight and (sometimes) the narrow.
Lane use is not delineated by the white lines on the road. Sometimes two lanes become four, sometimes the shoulder is used for overtaking or for going against traffic. A smaller vehicle has the advantage of being able to squeeze out of tight spots, but follow Rule #1 at the same time.
RULE #3 There's no such thing as a stupid question, but stick to your own advice.
Even when the way forward looks straightforward, it is imperative to keep asking for directions. Cross-checking references is important, with different types of sources between maps and people. In general, taxi and truck drivers are most reliable, followed by men drinking tea at crossroads, followed by young guys on motorbikes, and last, groups of children. In the end, though, use your gut instinct to decide.
RULE #4 The road ahead is never flat, often in the most unexpected places.
Humps appear everywhere in the most unlikely of places, they never come singly and look exactly like the road, so being prepared is essential. The parts you expect to be easy or in good condition might be pot-holed to the extreme, and hills take forever to climb. It always takes longer than you think and what looks like a straight road on paper can be anything but in reality.
RULE #5 Trust your other roadies but stand your ground, too.
It may look like other vehicles are coming within a hair's breadth of you, like the cow is not going to make it across the road in time, but the key is to trust that they know what they're doing. Never hesitate, be constant in your own path, and make it known where you're going. The worst is to waver in indecision.
RULE #6 Actions speak louder than words, so look closely.
Sometimes the hand signal for straight looks like go back, right is said when left is indicated, a head waggle for yes can mean no. When there is no other intersection for miles around, it's imperative that you get this right. If you're not sure, remember Rule #3 and keep asking.
RULE #7 Give yourself a break before you really need it.
It's easy to run on adrenaline only and keep going, but this can cause overheating and your engine to make funny noises. Taking regular breaks ensures no breakdowns in the long run, something we avoided with pride. A general servicing every 1,000km also helps to keep gears running smoothly. Stick to your cruising speed of 48km/h or 52km/h depending on who's driving, and also take turns at the steering wheel to ensure constant alertness. This ensures that despite Rule #4, you'll still make good time. 
RULE #8 Life passes you by when you're counting kilometres, so look around.
Stop whenever something catches your eye and get into the heart of it, whether it's a passing festival, a game of cricket or a serene padi field shrouded in morning mist. It's tempting to let everything pass you by, thinking that moment will come again, especially when it takes considerable effort to get the gears going again. But most times special moments are special because they do not repeat themselves. Remember the little things.
RULE #9 Never become complacent, and stick to your own rules.
You could be cruising and have everything going well, but when you start letting your guard down and bending your own rules — like finding a place to bed down before dark – you could be stuck and lost in the woods. Literally. Follow your own rules and stick to them, and don't slack just because things have been going well so far. We drove over someone's foot on the last day because we had become so comfortable with proximity on the roads. Luckily, he's fine.
---
So that concludes our great big adventure. Travelling daily within such uncertainty and chaos has been a refreshing change to the reliable stability of life on the red dot, but going home is a wonderful feeling, too. Thank you all for supporting us along the way. We could not have done it without you! 
Namaste,
Ren & Adrien
Team Fluk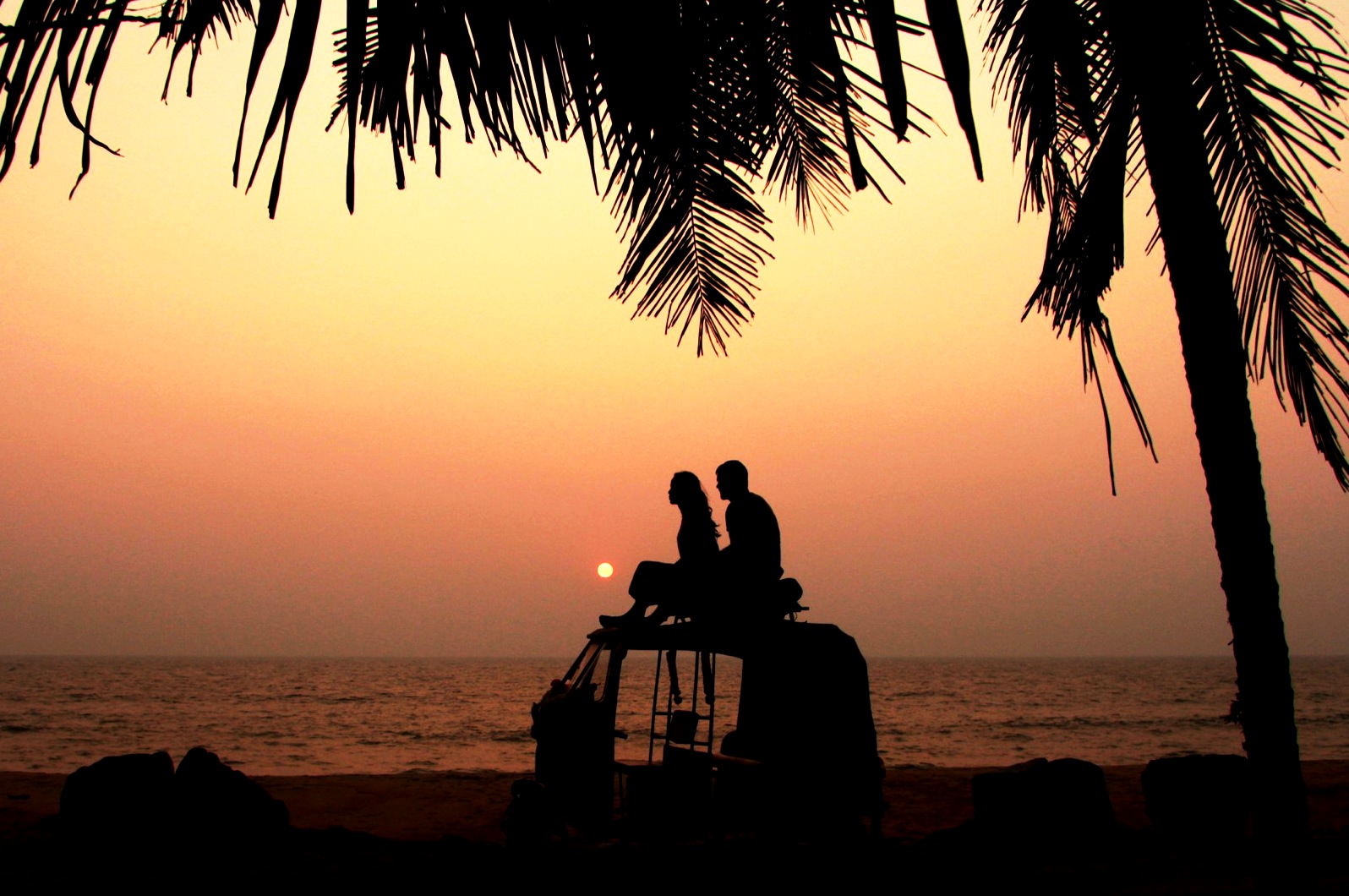 Fluk Fluk Run Day 13: Bekal to Ponnani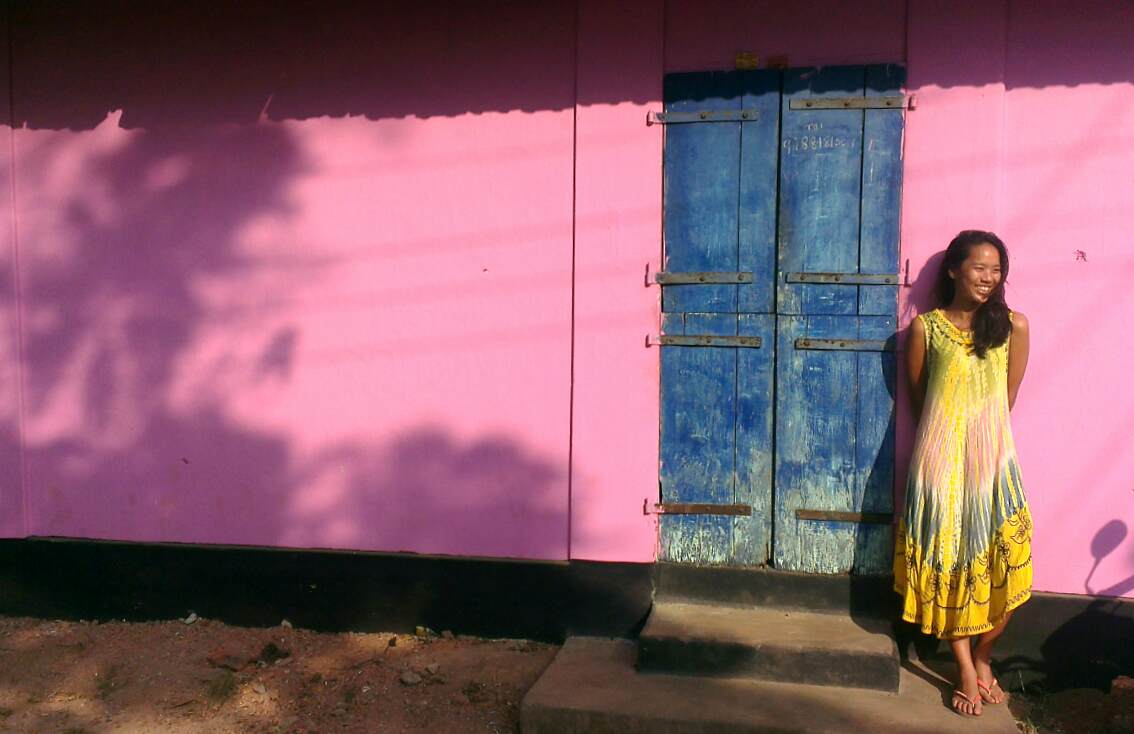 It's the second last day of our journey and although we're sad to end this momentous trip, we're also relieved to be spending the coming days walking instead of driving, and to be heading home and preparing for the year ahead.
Today was one of those days where things came together, and the highlight was Fluk's first ferry. A serendipitous series of events led us to a roadside sugarcane stall at the turnoff to a shortcut off the highway, where a professor told us where we could take the Jankar ferry to Ponnani, our destination for the evening. Because we are now versed in the art of Indian navigation, we asked him to write it down in Malayalam and draw a diagram. We have come to treasure the joy that comes when you are understood by others and things are easy. Not everything, when misunderstood, is as easy to rectify as today's barber giving Adrien a moustache just like his.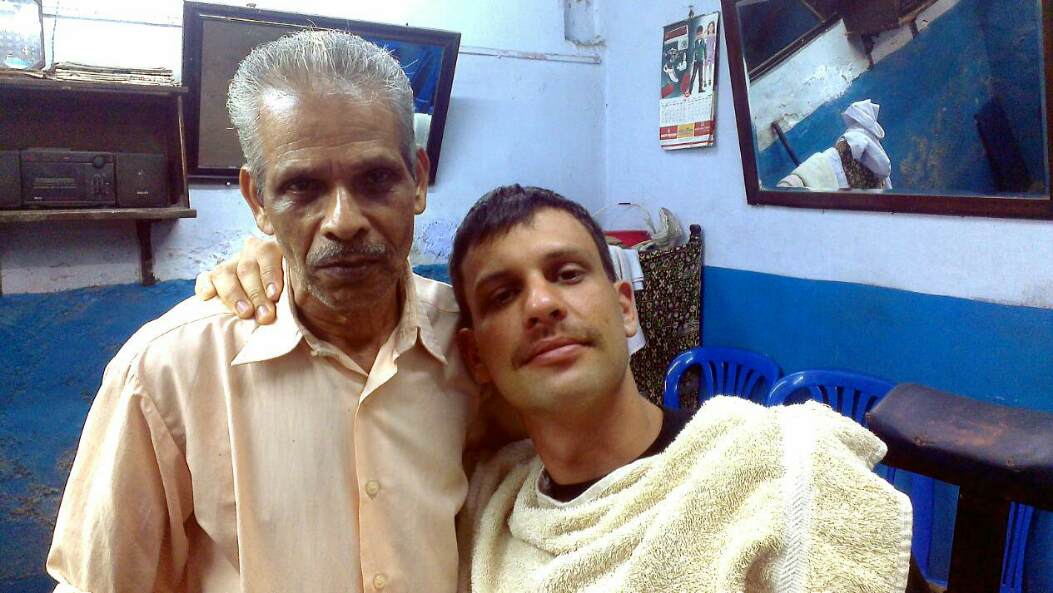 So now that we are leaving India, the conversation over dinner turned to what we've learnt from this motherland and what we didn't know before. For one, we definitely feel we would love to come back and drive (a four-wheeler) in India and take on the Konkan coast proper, and the coffee estates and highlands of Karnataka. We have the confidence of knowing what to expect from travelling here. Something else we didn't know was how gentle, friendly, funny and helpful people would be.
Some other things we think the world could learn from India:
Vegetarianism and the respect for life
Animals are largely pretty happy in India. The sacred cow is one obvious candidate, but everywhere we went, especially in the vegetarian, dry (no alcohol) state of Gujarat, the dogs, goats, peacocks, buffalo and sheep were definitely healthy, happy beings. When one of your major gods is represented as an elephant, it's not surprising. In addition, being vegetarian is more the rule than the exception. Being vegetarian in India for close to a month, we didn't miss meat at all. If the world consumed a little less of it, we would be able to feed more for less, and reduce greenhouse gases and deforestation considerably.
Spirituality and religious tolerance
Muslims, Hindus, Catholics, Methodists, Jews — all reside in harmony and one can usually find both a mosque and a temple or church in one village. Festivals bring the community together in riotous colours, and everyday rituals like the puja, prayer offerings to the gods, are carried out by every household faithfully. Rangolis, intricate auspicious symbols, are beautifully drawn on thresholds with rice flour paste at sunrise, such that little creatures might eat it, symbolising that reverence for even the smallest living thing. Sure, there has been and still is religious conflict that is deeply political, but for the everyday person, there is no need to fight about it. There is an unquestionable connection to the cycle of life, and the plurality of gods and beliefs is just a part of it.
Can-do attitude and enterprise
English is largely spoken here, but in places where it's limited (and we've travelled through quite a few), "no problem" and "thank you" were the main phrases we heard. That "no problem" is a widely understood English phrase reflects the great can-do attitude Indians have –  there is always a way for something to happen and they will help you make it happen, sometimes for a few rupees but most times just for fun. As one businessman told us, Indians are so enterprising that they would have overtaken China if not for their corrupt government. Never say never is a keystone motto.
Relax into chaos and enjoy the moment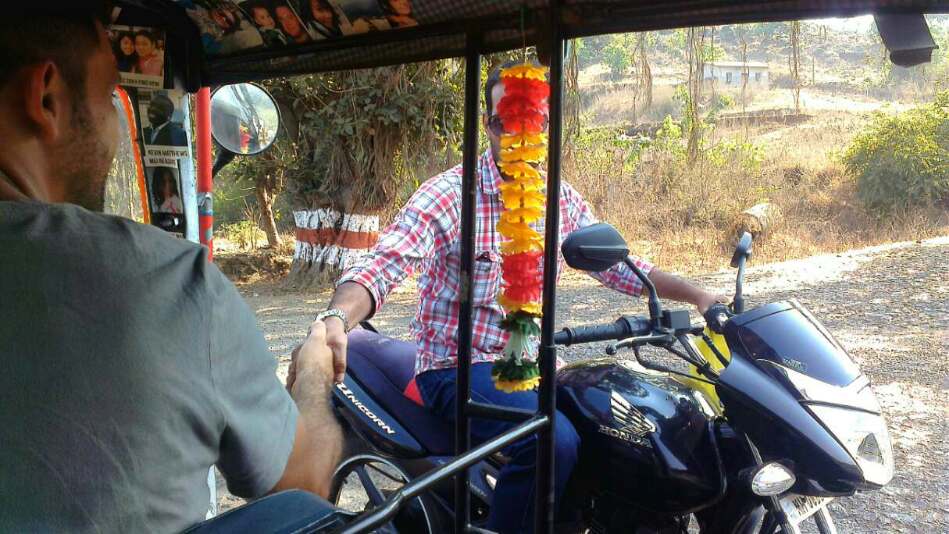 Given the amount of chaos, noise, hustle and bustle, we saw very little aggression or even annoyance. People looked incredibly stern and sounded like it, too, with their incessant horning, but we realised that it was just a look of consternation at two foreigners driving an elephant painted tuk-tuk. Once we smiled, they did too, and others laughed, cheered, ran alongside, gave us a thumbs-up, stretched out their hands for high fives. They always seem pretty relaxed no matter what is going on around, and quick to smile with a good sense of humour.
Open friendly curiosity
Once we got used to the staring, we stared back and smiled, too. People always asked where we came from, shook hands, took photos with us and offered their assistance. Funnily enough, they never asked us why we were driving Fluk (save for one college professor), just cheered us for doing it. The curiosity was almost always polite, and the hospitality we received always genuine.
---
Tallying our mileage and route on our map, it's quite amazing to see the ground we have covered in little Fluk. Little things indeed can go a long way!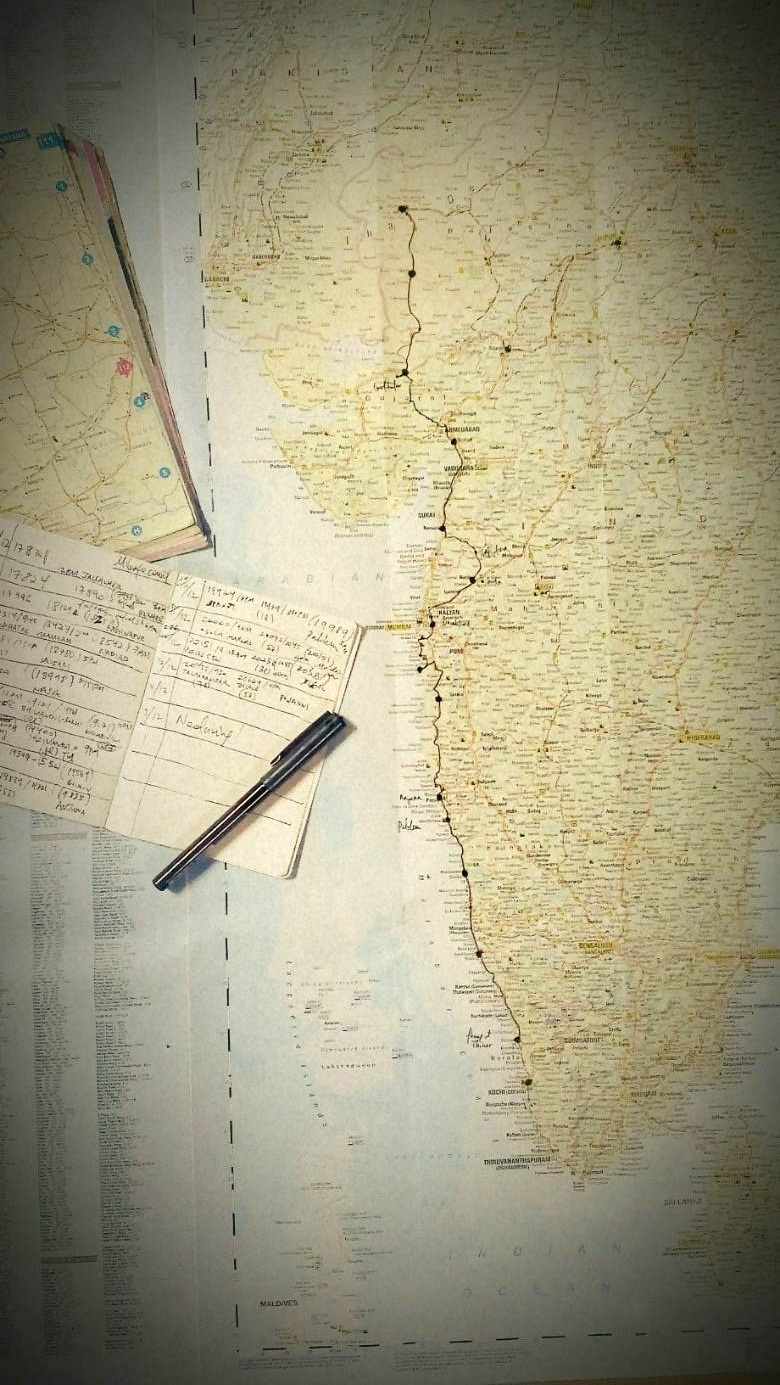 Fluk Fluk Run Day 12: Murdeshwar, Karnataka to Bekal, Kerala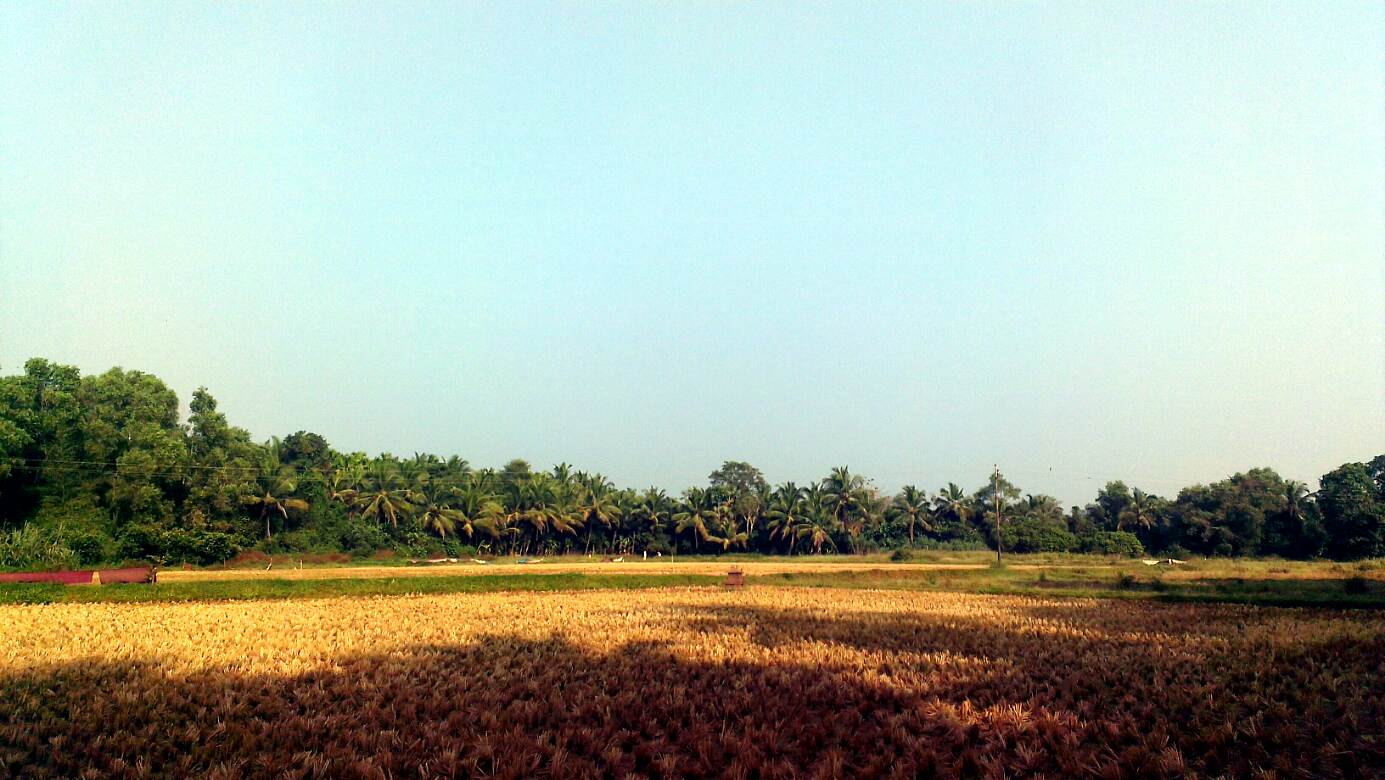 Today's best moment is a bit of a toss up.
Leaving Murdeshwar and seeing yet another full glorious sunrise above the fields, we made our way to Udupi. We were blessed by the holy elephant at Krishna Temple with a friendly thump on the head, listened to energetic drums and trumpeting as pilgrims streamed through the entrance. The music, while simple, seems to call to the gods in graceful prayer. That's the magic of music. We ended our visit with one of the legendary vegetarian thalis Udupi is famous for.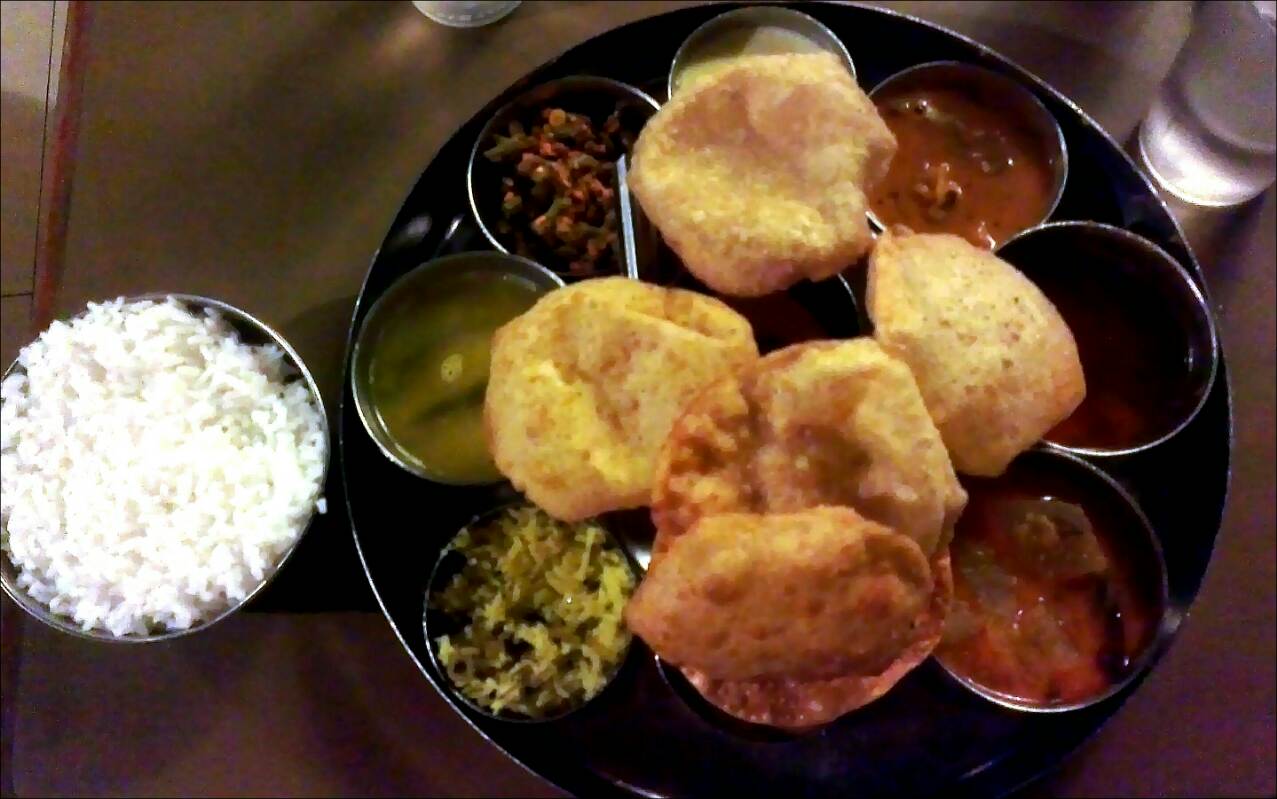 Walking through a padi field during one of our breaks, we were almost charged by a mother cow warning us away from her baby. On another break we found watermelon and happily realised we have crossed the border into our last state, Kerala. Finding secluded Kappil beach over tiny potholed roads with nary a person in sight is right up there as probably the best moment, sitting on the roof of Fluk as the sun slowly dipped down. Second best is probably this moment right now, lying in bed after the first hot shower we've had in days. Or maybe it'll be the moment just before we fall asleep as we think about tomorrow's sunrise.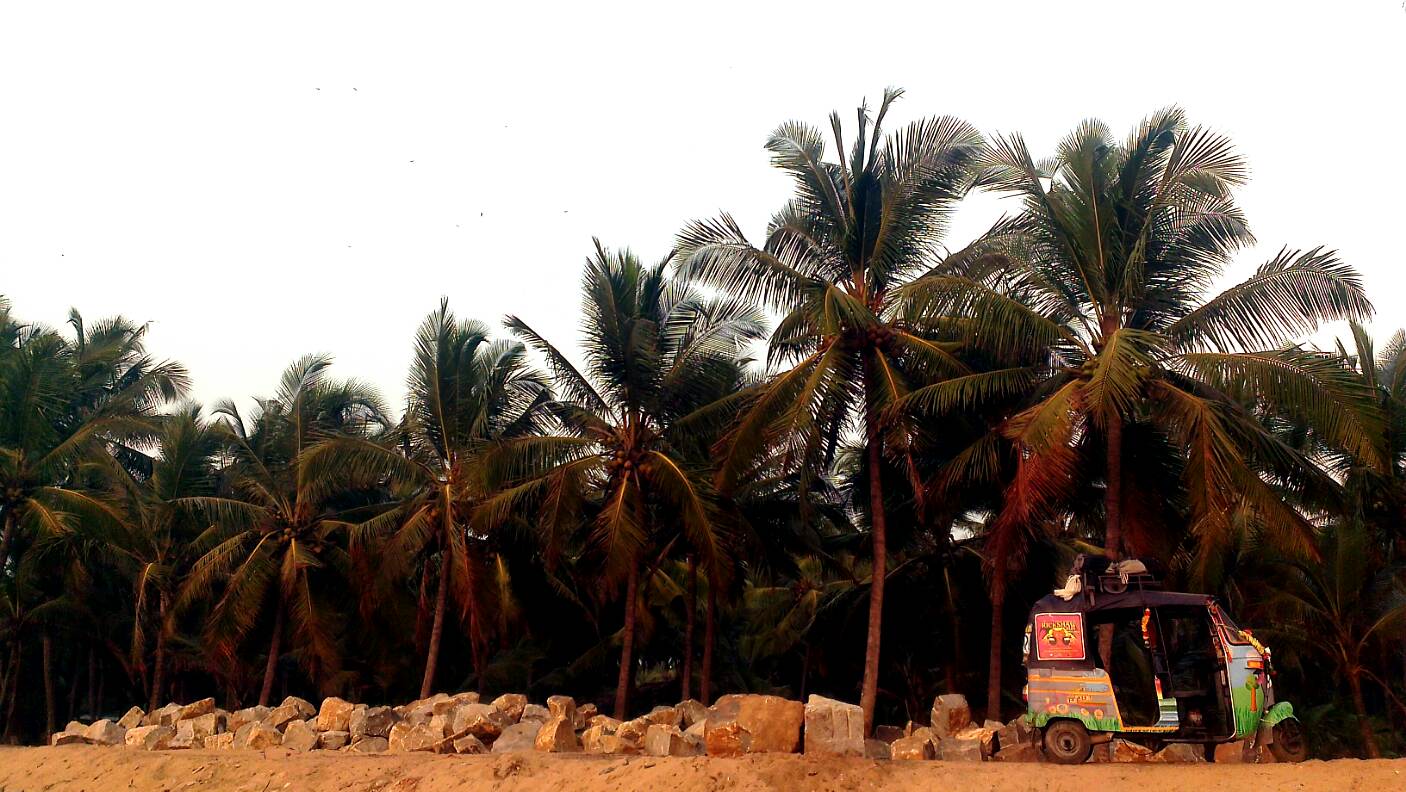 Fluk Fluk Run Day 11: Palolem, Goa to Murdeshwar, Karnataka
We are on the beach of Murdeshwar, where the town seems to be built entirely by one R.N.S., a man from Udupi for whom the hospital, college and hotels here are named. It's an interesting mix of Muslim and Hindu inhabitants with car racing on the beach, cricket kids jumping about, food shacks on the sand, domestic tourist buses, teenagers on jet skis, fisher folk and eagles pursuing their daily catch, all underneath the watchful gaze of the biggest Shiva statue in the world. Slightly surreal.
Down time
Today was the first day in the entire trip we've had the whole afternoon to ourselves with no revving engine beneath us. There remains about 800km of road to travel over 3 days, until we reach Cochin. That means we can take it a bit easy today. We cracked our books open (one historical fiction set in Royal and British India from 1900-1950 and the other about the future of the world in the next 100 years) and enjoyed the sun on the beach. Classic.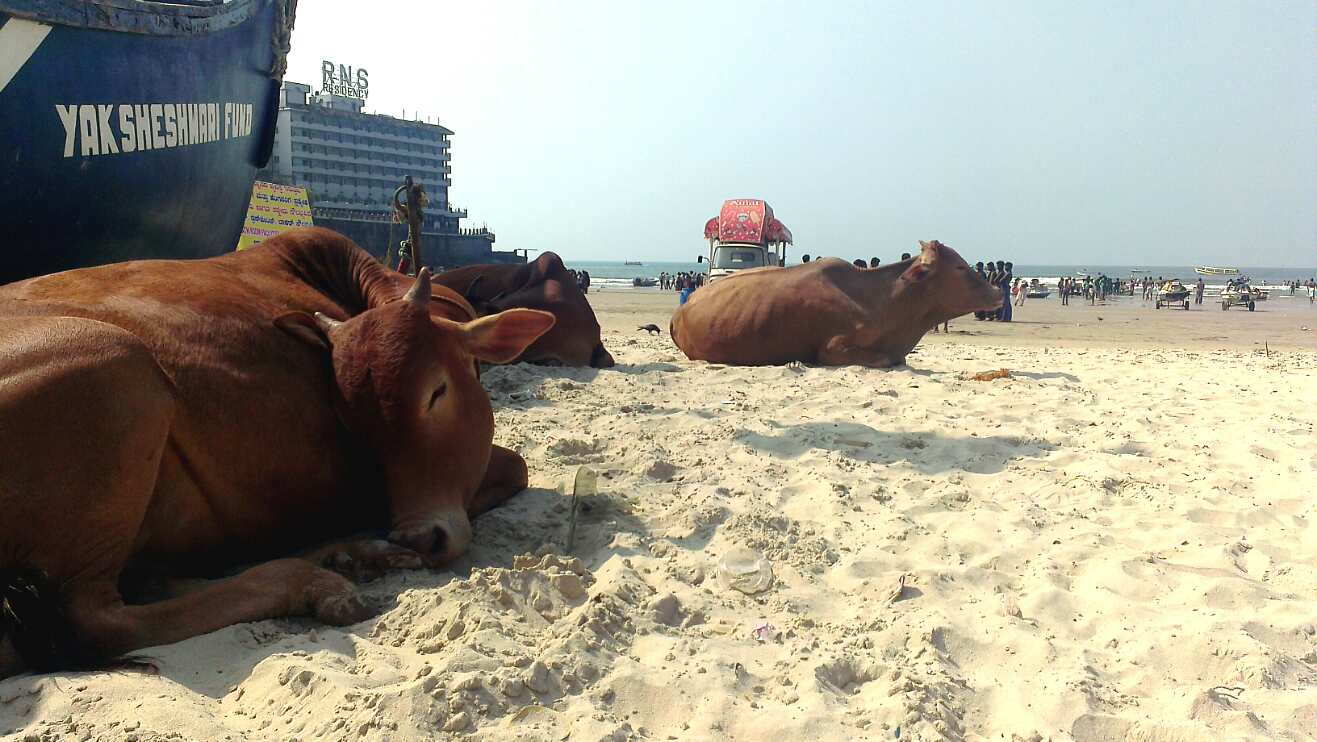 A day in the life
The down time also made us realise how much we do every day; despite being in different places for the last 20 days and nights, much of the way we operate has become routine.
This is what a typical day looks like for us:
0600 First wake up alarm
0605 Snooze, repeated three to five times
0630 Get buttered toast, coffee and chai. If not available resort to stash of power bars in Fluk.
0645 Move clothes bags out and install on Fluk's roof rack, supply bag of frequently used items behind seat
0647 Start engine to warm it up
0650 Get petrol cans from reception where they were stored the night before
0655 Ensure sufficient fuel, toilet roll and water supply before leaving
0657 Check last meter count and last fuel up, and note down with time and place
0700 Thank security guard for taking care of Fluk and move off
0701 Passenger bundles up in jacket, wool blanket and as many layers as possible, driver puts on gloves
0815 Break to cool engine. Open engine door and put hand in to test heat emission
0815 Hop around doing jumping jacks to keep warm
0815 Test heat around engine again. If cool enough, close door and set off. Driver swap
0930 Break again at a market and buy some oranges and bananas and roadside chai. Have a crowd gather to see Fluk and ask us questions
0945 Wave to all and leave. Driver swap
1015 Engine and toilet break. Hunt for suitable loo spot in the bush or by the road if you're a man. Driver swap
1100 Pass through a town and its many roundabouts and shout out name of next town to which we need directions. Always ask for directions even if it seems like a straight road. A combination of map reading and local reference works best especially if maps are dated before 2008.
1130 Engine break and check meter. Tank capacity is 7l with 1l getting about 25km. If mileage difference is >125km it's time to refuel. One holds makeshift Pepsi bottle funnel and other pours in 5l fuel container.
1145 Note down time and mileage and then move off. Driver swap
1300 Find a suitable lunch place. Try and look into the kitchen quickly. If no lunch spot exists, as is usually the case, dig into bars and bananas.
1348 Pull over when road police wave us down. Always greet with a smile and say Namaste, followed by Bhai (brother) or Boss. Show documents, answer questions and wave goodbye
1530 Engine break. Fix on GoPro camera for some footage and send a few Facebook updates about where we are. Driver swap
1535 Calculate remaining distance on map and cross-reference local opinion, recalibrate if necessary for a new location
1545 Check map and continually ask for directions to next major town. Snap a few photos on the go
1553 Passenger jumps out if Fluk stalls when going uphill and pushes until engine goes again
1645 Pull into gas station to top up supply. 1l of petrol needs 20ml two-stroke oil. Always watch the attendants as they mix it to ensure the right amount is in
1700 Note mileage, time and place and move off
1745 About half an hour before sunset, spot a decent hotel and passenger jumps out to ask about a room. Hotel is rated (in order of importance) on budget, cleanliness, dodginess of surrounding area, parking lot, security guard for Fluk, hot water, English speaking staff
1755 If ok, one moves bags up while other fills in masses of paperwork. Ask if buttered toast is available at 0630 the next morning and if the petrol can be stored at reception
1815 Shower depending on climate and water situation. If there is no hot water usually tap needs to run for at least 20min first. Or use waterless shampoo
1835 Head down with map and ask for a good place to eat and directions and information on our next destination
1840 Check out because no one will be awake when we leave the next day
1900 Go for a walk to dinner and explore the area to stretch our legs
1918 Find someone who is approachable and speaks English and ask them questions we need for our project. E.g., What's their basic essential
1930 Sit down at dinner and order familiar vegetarian dishes and lassis. Try and explain stir fried veg to the cook. Avoid anything labelled Manchurian or Gobi even though they try to push it if you look Chinese. Maybe have a beer too, preferably Kingfisher Premium
2045 Go to local grocery store to recharge our mobile credit and top up snacks
2100 Return to hotel. Plug in all battery packs to recharge.
2105 As one writes the blog entry for the day the other is on mozzie patrol, setting up the mosquito perimeter with coils and hunting down remaining offenders in the room
2130 Depending on climate, pile on all warm clothing, blankets and towels to keep warm through the night
2139 Congratulate each other on a good day and knock out for the next one
Good night!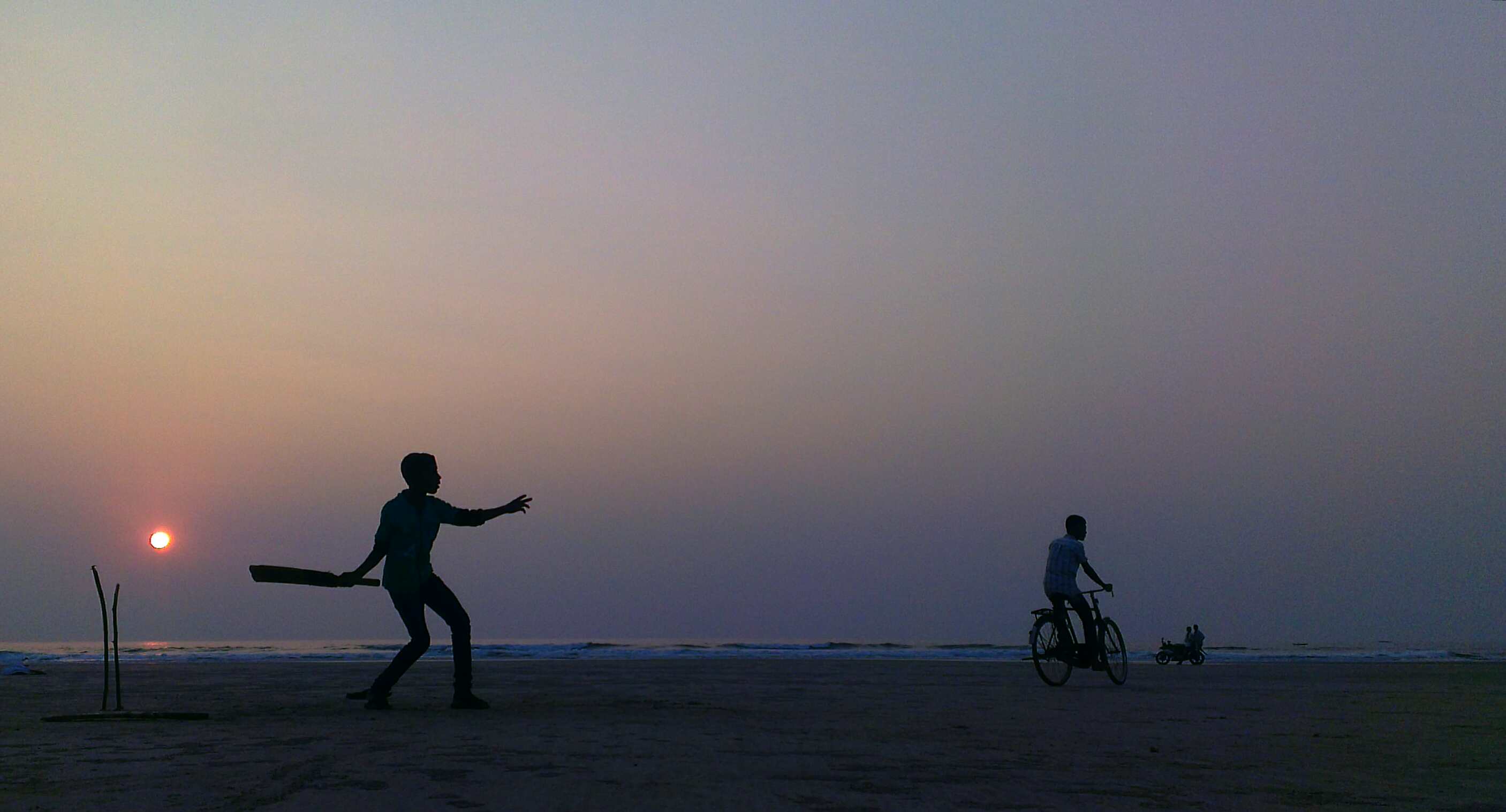 Fluk Fluk Run Day 10: Anjuna to Palolem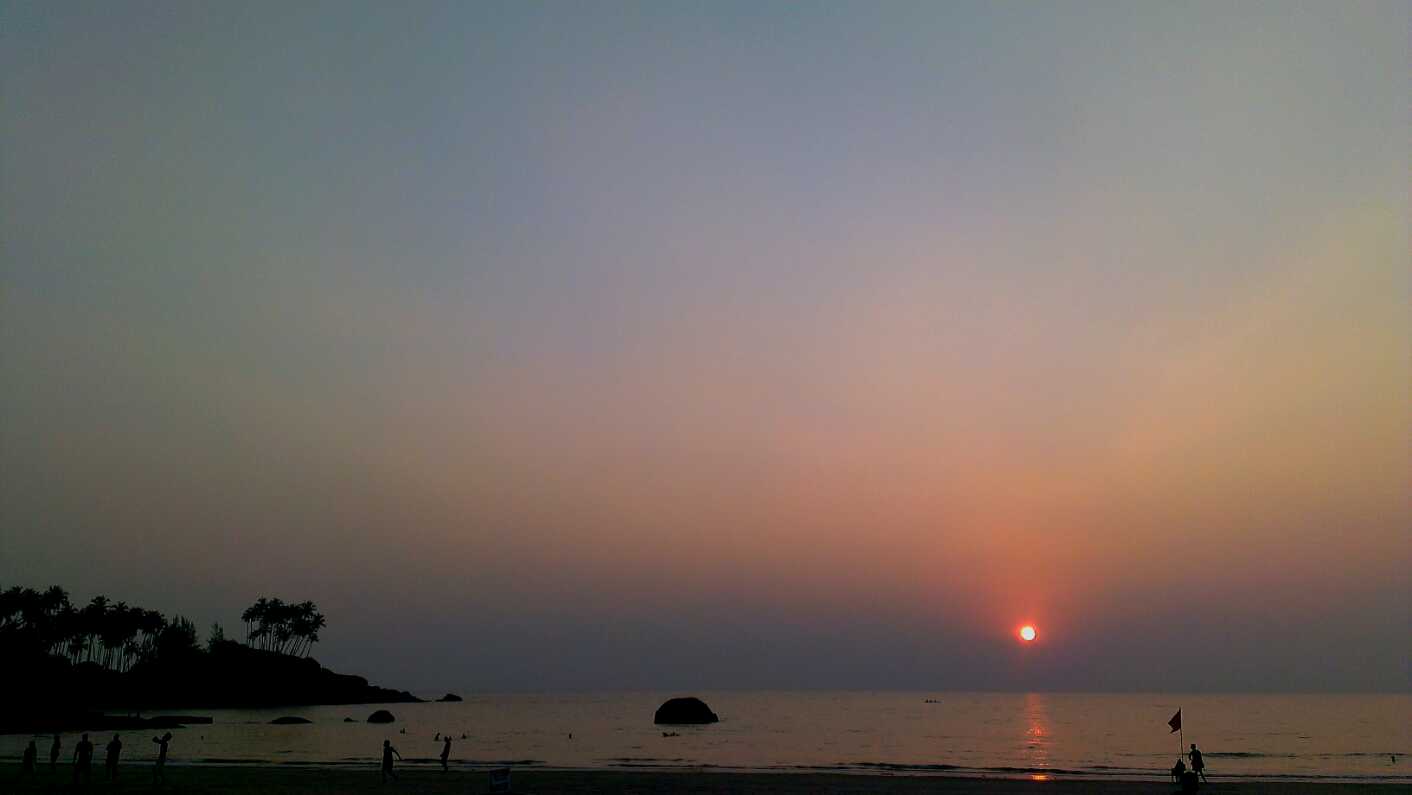 Arriving in Anjuna last night, we were overwhelmed by the sudden onslaught of traffic and tourists, specifically the sun-seeking beach-toasting kind. We had apparently arrived in party central on the busiest day of the week (Wednesday) where people come from far and wide for the daylong flea market. More than a little surreal, there were dreadlocks, tattoos, leather, punk rockers, motorbikers, some trance addicts and a few weed-smoking hippies. 
Coming this far through India this was definitely something we hadn't expected, and even though we are in famed Goa, we hadn't expected this kind of development. On one hand it's been incredibly fruitful for the locals, with Goa having one of the highest per capita incomes of all the states. On the other hand, incidents of rape, crime and drug trafficking and abuse have also gone up together with the environmental degradation that comes with such rapid and intense growth of mass budget tourism. It's hard to say what the right path should be.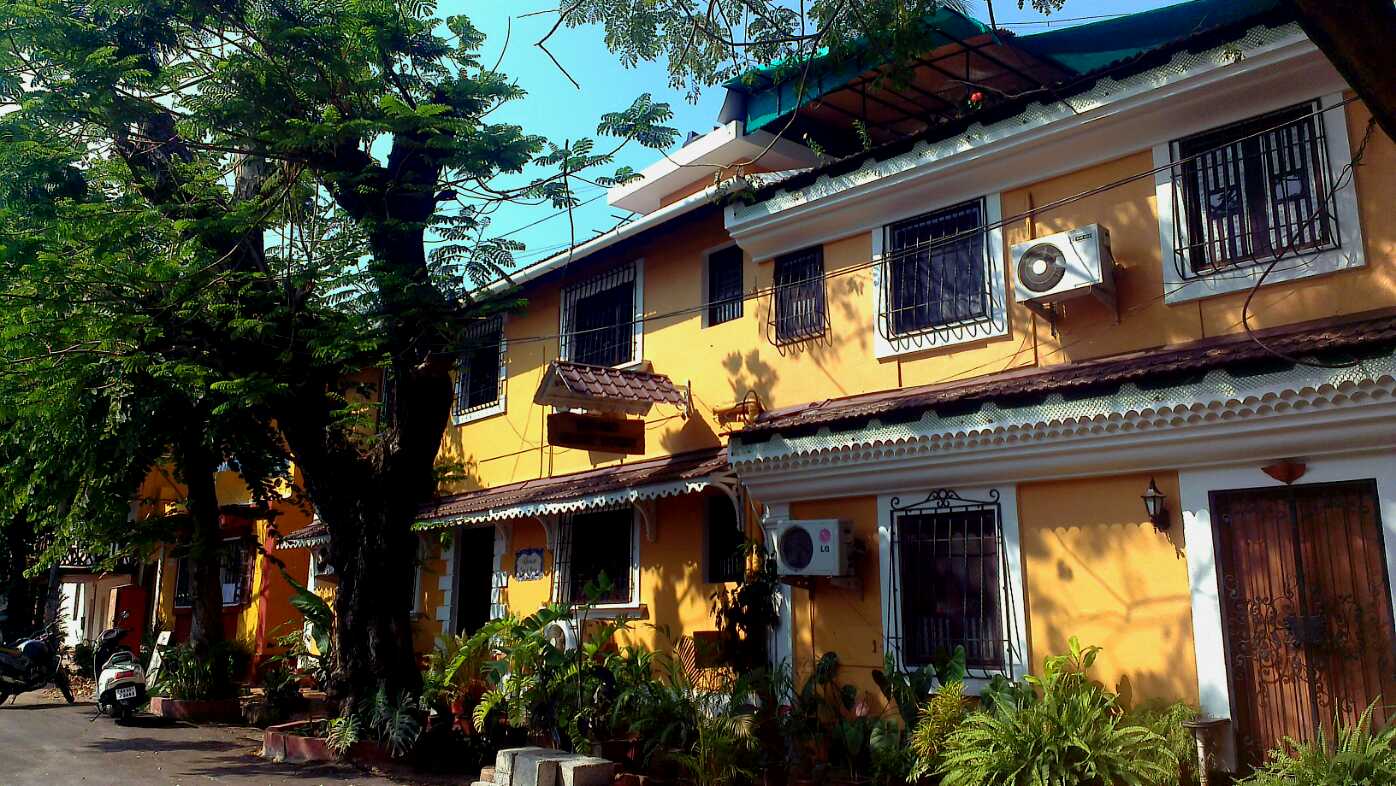 We knew our path — to continue down South as quickly as possible. We had Fluk serviced in Panaji, capital of Goa, and wandered around the streets of its old quarters, Sao Tome. The Portugese occupation of Goa lasted all the way until 1961, and perhaps some of Goa's embracing of the Western world comes from this recent history. It's left many beautiful old mansions in its wake, a scattering of churches every 10 kilometres, convent education and, in some places still, the Portugese language.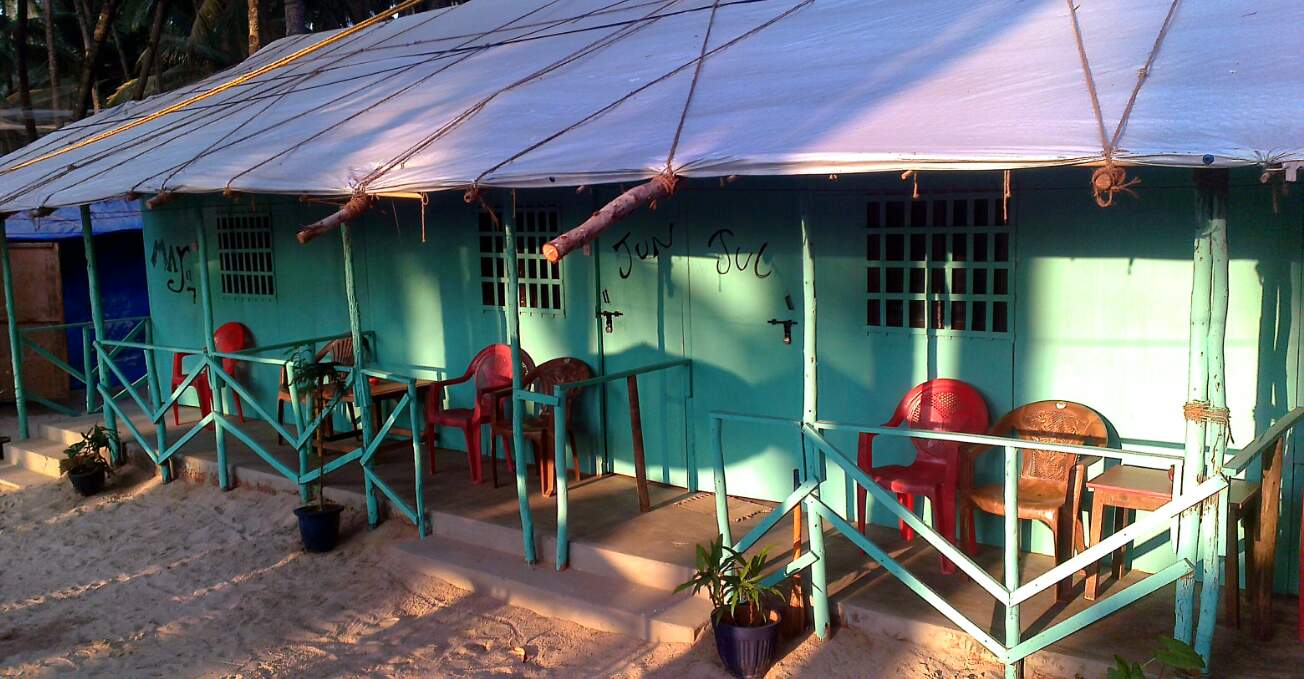 We arrive just before sunset at Palolem, some 70km down south. It's a wide swathe of beaming white sand and finally we have that long-awaited sunset beer. We are surprised by a sudden explosion of fireworks into the night sky and even into the ocean. It's a wonderful display of spontaneity and the laidback Goan attitude to "Life is Happy".
Fluk Fluk Run Day 9: Chiplun to Anjuna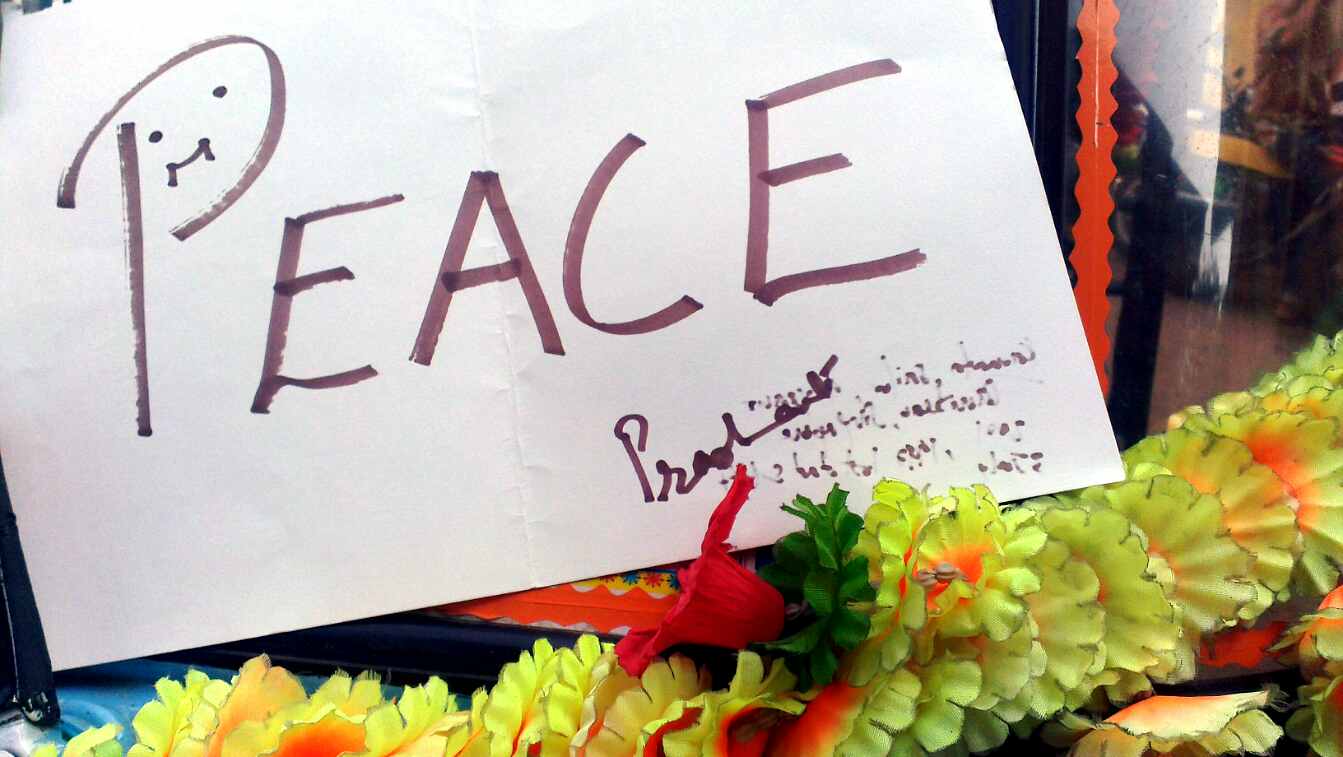 When we first started thinking about this trip we knew that we wanted some kind of record of a North to South journey like this. After an inspirational coffee with old friend and travelogue Jean Loo (thank you!), we decided to focus on people's basic essentials, since that was what shaped the selection of our four causes – water, education, play and nature.
So over the last two weeks in different towns and cities we've asked people these questions: What do you need the most? What is most important to you in your life? 
We've asked the young and old alike, across varying professions and castes, boys, girls, men, women, grandparents. It's been quite a privilege to have an excuse to walk up to people and ask them such a deeply personal question. Most of the time they laugh first with a little bit of puzzlement. Sometimes they know the answer immediately and write it down without hesitation. Other times they scratch their head and go, "Hmmm, that's a good and difficult question."
Here are some of the answers so far:
DADA (father) – Kairvi, 6, student, Jaipur
APPRECIATION of my work – Pankaj, 41, artist entrepreneur, Udaipur
GOOD KARMA (and friends and family) – Sodha, 48, jeep driver and guide, Jaisalmer
HONESTY (in business) – Jitendra, 30, businessman, Barmer
TOYS AND FOOD (chicken specifically) – Roshni, 8, student, Barmer
FILLING (feeling) – Hiral, 27, teacher, Viramgam
CAREER (police sub-inspector) – Omka, 16, student, Nasik
MY NEPHEWS – Jeeva, 30, goggles (sunglasses) vendor, Nasik
PEACE (from corruption) – Prashant, 32, manager
And our latest and one of our favourites,
BEING HUMANITY – Nadeem, 28, manager, Shirwandan
---
We've experienced an India that is spiritual, thriving, rich, poor, industrial, smoggy, dirty, pure, green, simple, and chaotic. Everyone we met, even in a short conversation, was eager to learn our story and tell us theirs, much like the many pilgrims in Nasik who asked us to take their photo – a record frozen in time for this momentous occasion, of their presence in a holy place. The best storytellers show us humanity's commonalities in our differences, and show the breadth of the human experience within the tale of a single person.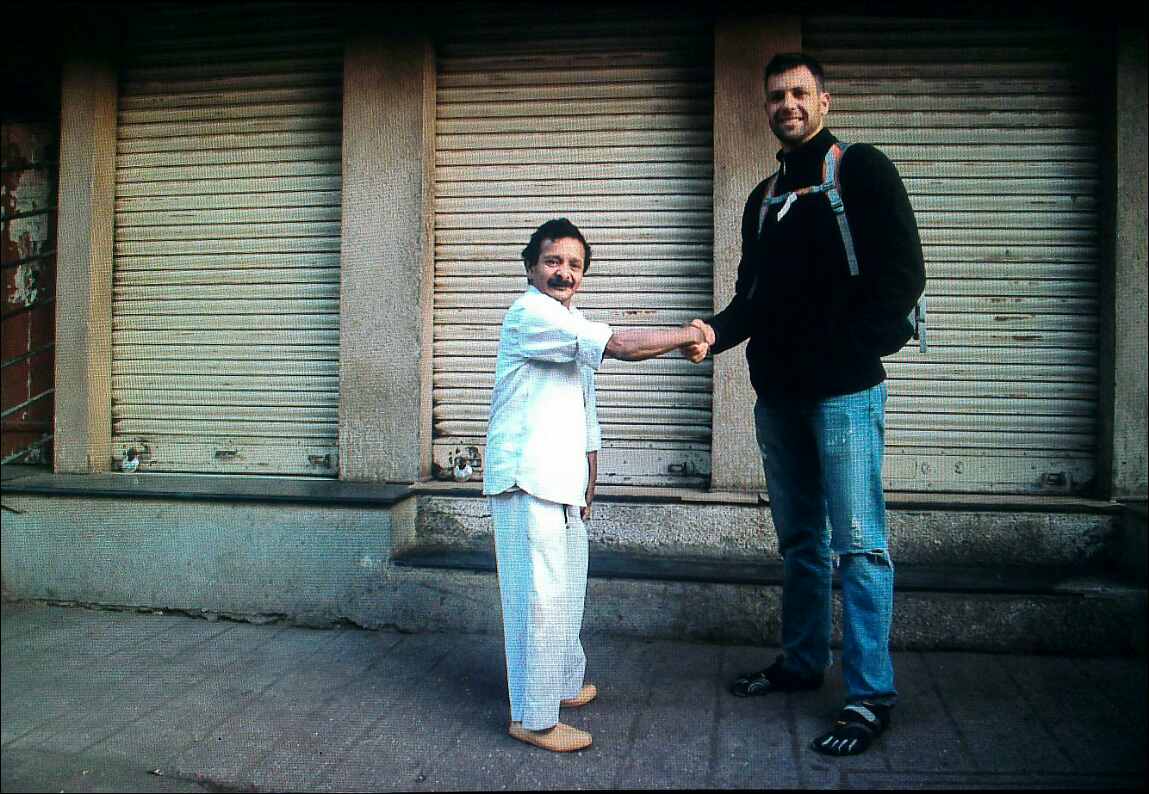 Fluk Fluk Run Day 8: Shrivandan and Chiplun
We needed to enjoy some quiet time, and so this morning, for two hours, we did just that. We walked hand in hand through coconut groves and onto the iron flat beach of Shrivandan, where the water of the large bay lays so still that locals told us we would probably see dolphins swim by. We walked and just savoured the simple pleasures of sunshine on skin, peaceful quiet, and the warmth of someone you love.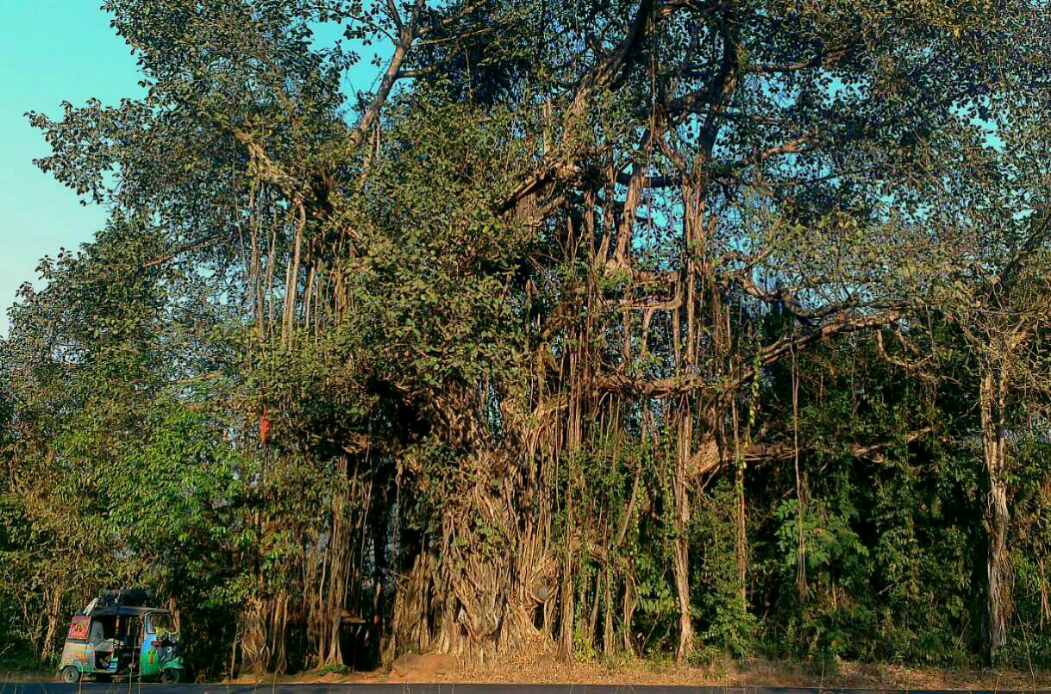 We are starting to get tired, though. Amazing, deliciously serendipitous moments punctuate the days and beautiful scenery abounds, but still there are long bumpy rides, odd cases of the infamous Delhi belly, stalling uphill, being lost, shifting gear constantly in heavy city traffic, mixing oil and petrol, and constant planning sessions about where to go next that have to take into account personality differences, however slight.
We're also starting to talk about Fluk like he's our child:
"He looks so cute like that in that light."
"Let's take a photo of him with that background."
"You think he's okay? He doesn't usually make noises like that."
"He's been so good the last few days."
"I bet all the other tuk-tuks are having more problems than he has."
"We should take him to see someone."
"Maybe he just needed a rest."
"Please don't push him so hard."
---
Our friends joked about this being a test before marriage to celebrate our engagement. If this is what going through life together is going to be like, then we are in it for good.
Fluk Fluk Run Day 7: Dhombivali and Shirvandan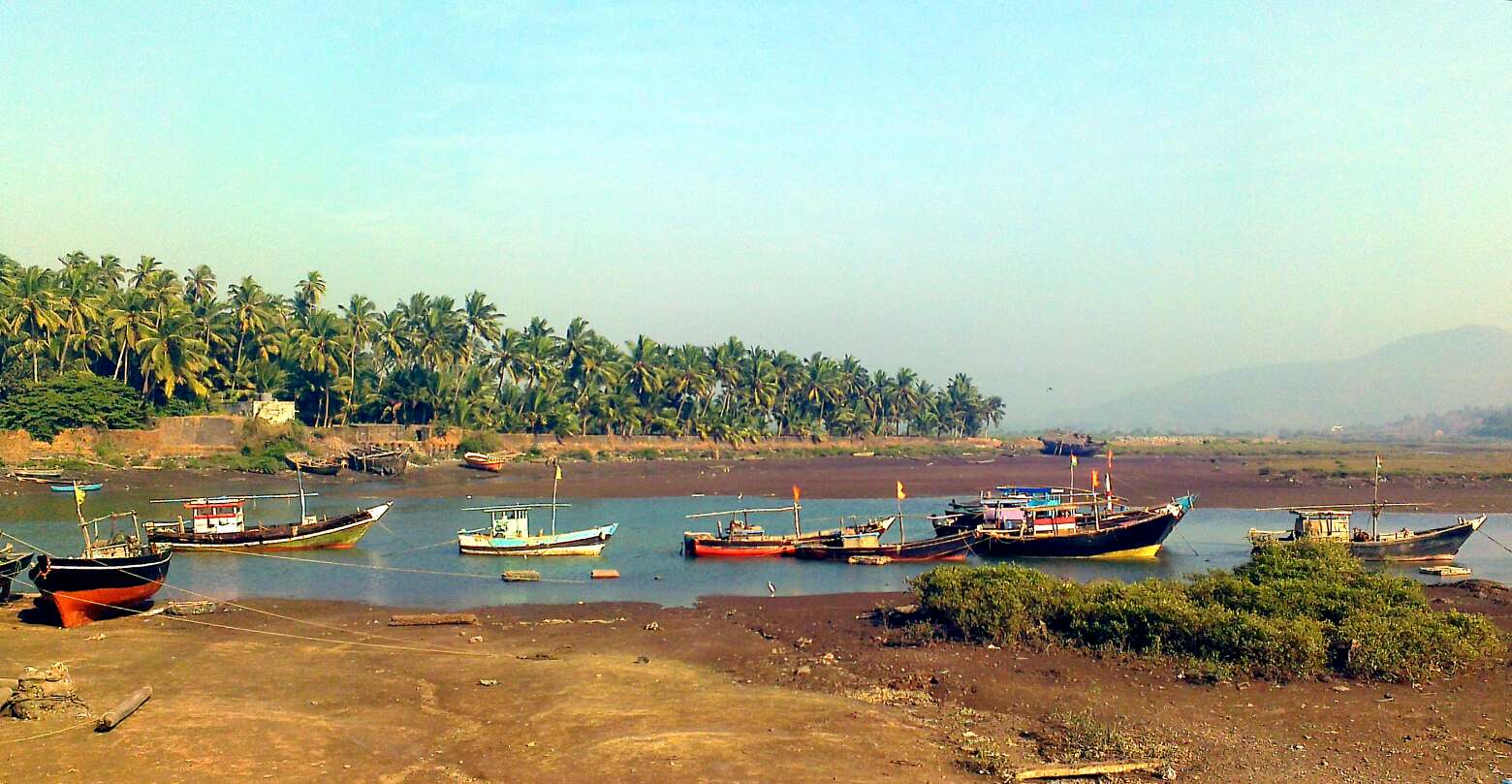 Every day is composed of a series of decisions that really are difficult to judge good or bad until the end. These are today's choices that led us to the serendipitous cottage by the beach 13 hours after we set off this morning.
Good: Leaving a bit later in the morning — 8.30am — for an extra two hours of sleep so we could have a chilled and restful day
Bad: Taking a wrong turn on the highway and having to U-turn and hold up Monday traffic at the toll
Good: Taking the Konkan coastal road instead of the highway; we drove past palaces, the majestic island fort of Janjiri at Murud and some of the most beautiful beaches and headland we will ever see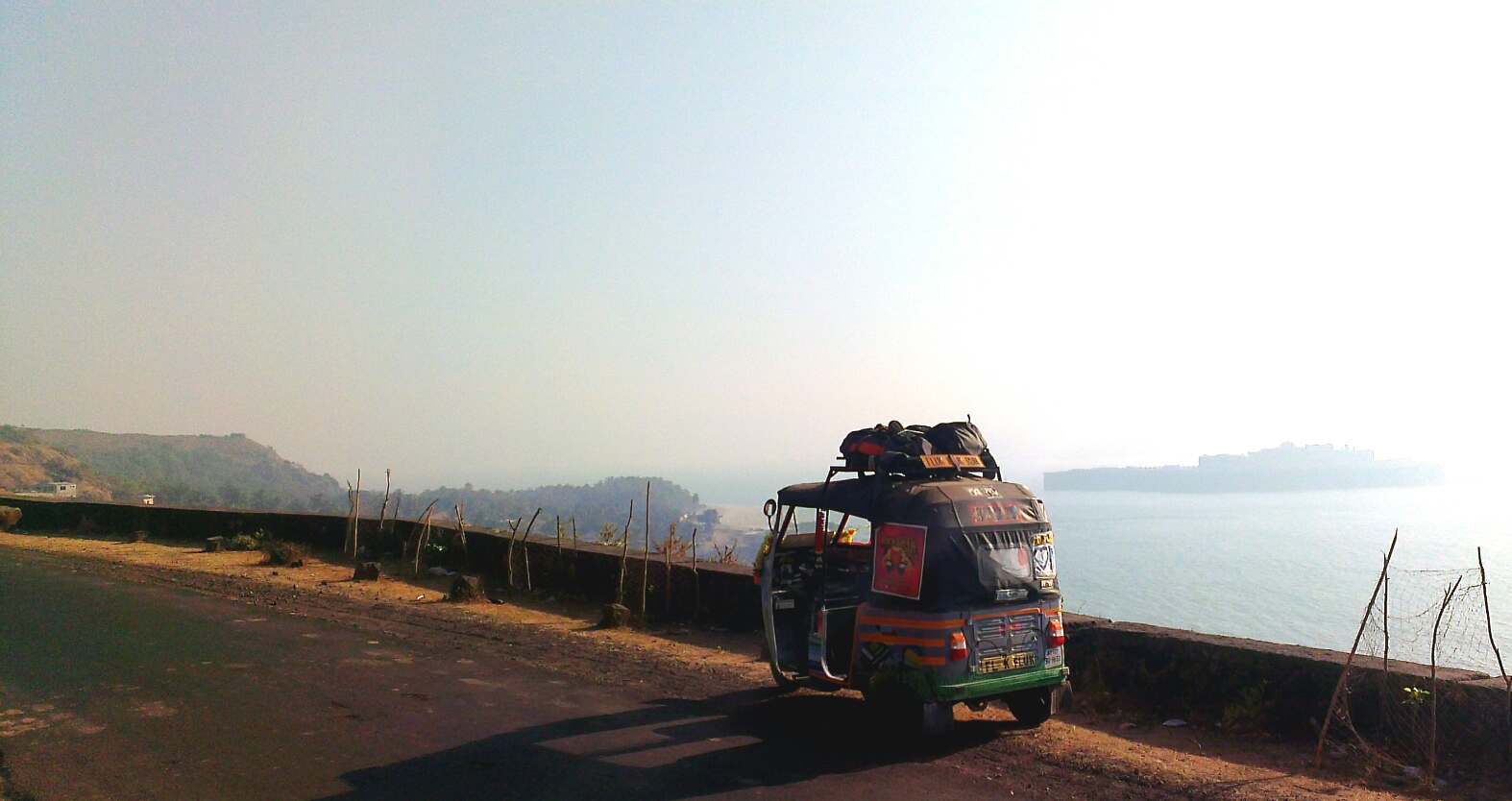 Bad: Not staying in Murud and taking six hours to cover 60km because the road is so potholed and poor Fluk stalls quite a lot on hills
Good: Not staying in inland Masla even though it was getting dark because we had the idea of waking up at the beach
Bad: Forgetting to ask for directions every 20 minutes, breaking our cardinal rule of not driving after dark and getting lost in the pitch-black potholed hill roads for hours driving in the wrong direction
Good: Waving down a truck and asking one of them to ride with us; we followed the driver back to the right road which took us to Shriwandan, our destination by the beach
Bad: Arriving in town with no idea of where to go or stay and seeing no signs for hotels, which we'd assumed would be ubiquitous
Good: Waving down a taxi tuk to show us a place to stay and having him introduce us to someone who owns a little hotel by the beach with huts on the water where we can now hear the ocean from our bed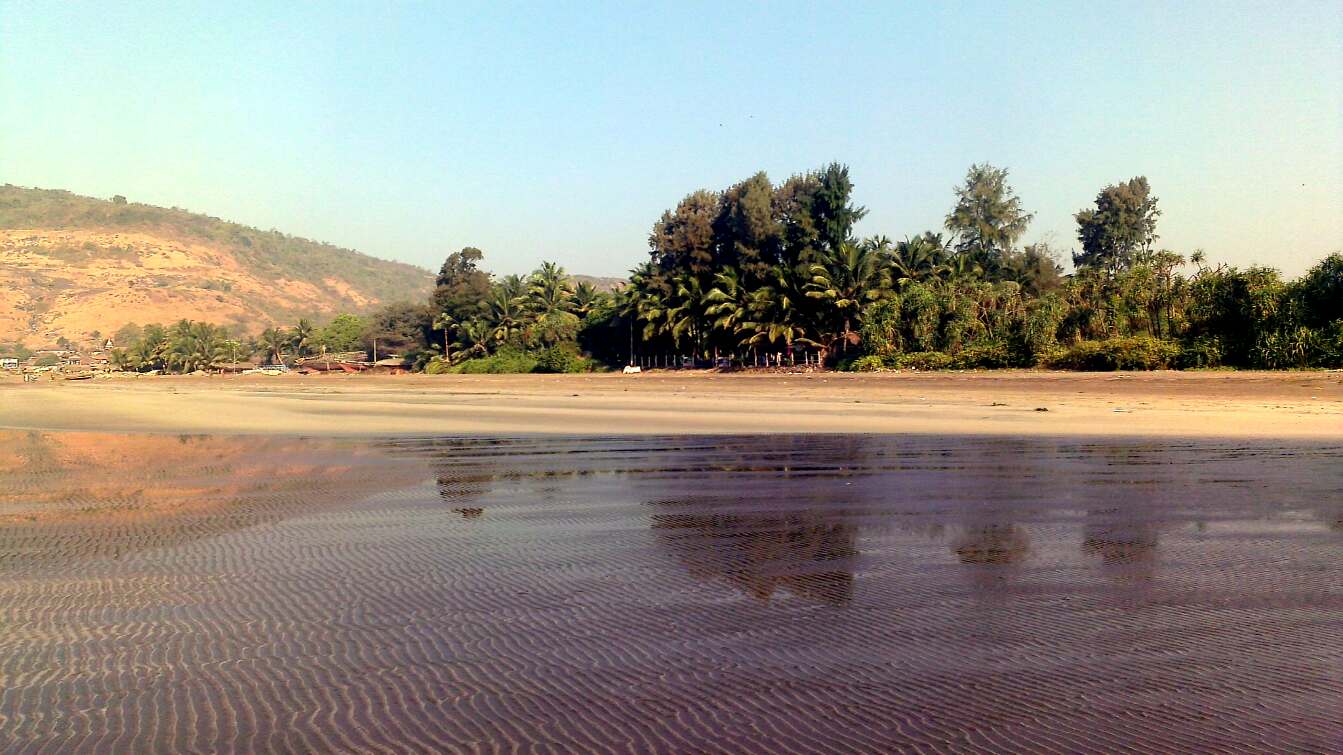 And it turns out that of all the people we could have met, this one just happens to be the vice president of the municipal county of Shriwandan, and owns a cluster of five cottages on the beach within over 600 coconut trees and betel nut groves.
We're sleeping in tomorrow.
Fluk Fluk Run Day 6: Nasik and Dhombivali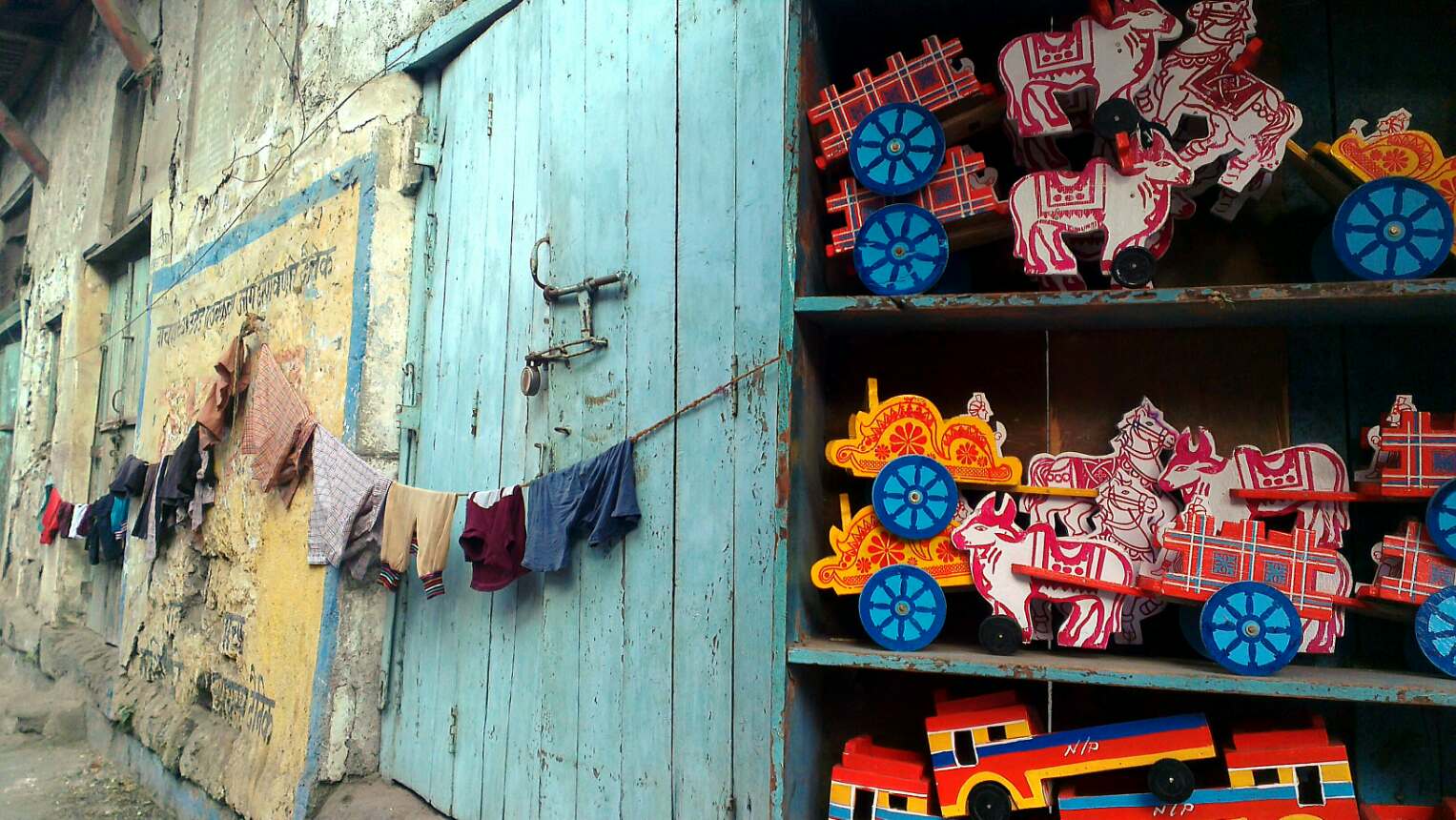 Almost halfway through our journey and this day has been one of the most intense, partly because we took a half-day out to be in Nasik instead of on the road. What a difference it makes to be able to wake up in the morning and walk instead of drive in the cold!
In the short time we were there, Nasik — true to the legend behind its name – truly enchanted us. Walking the streets the evening we first arrived, we found multiple balloon sellers walking along the narrow market lanes. Adrien bought a heart-shaped red one (who says romance is dead?), on which we wrote a note ("little things go a long way"), and gave it to a toddler in red. It's also the first town where we came across toycarts and stores with colourful wooden delights.  Nasik is the first place in India we've seen toys sold on the streets, a sure reflection of the happiness of its people and its position as a major holy centre. When a city treats play as a given right for its children as one of our chosen charities, Toybank, believes, you know they're doing good.
We picked up a few for Jeewa's family; we met them early that morning as we were walking to visit the holy temple of Kama Ram.
Little home, big hearts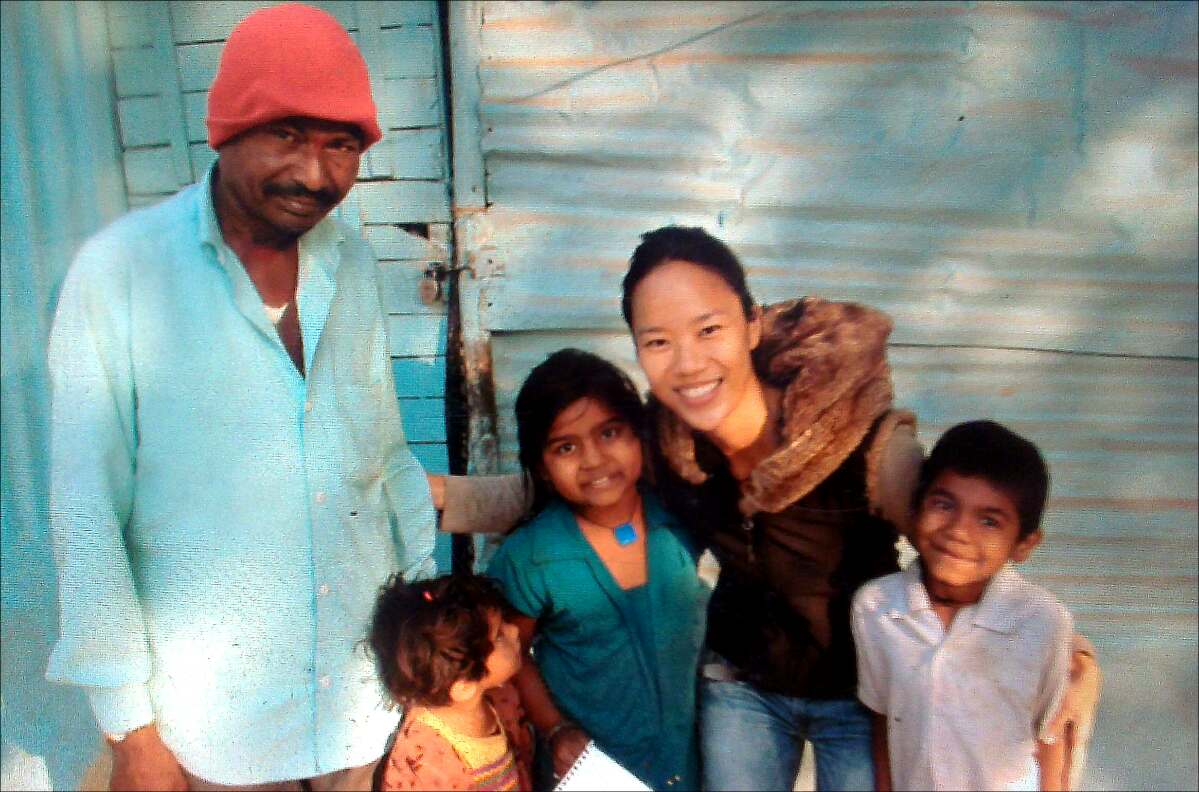 We were so touched by this family. They called out to us to take a photo of them (many people asked us to snap photos of them, as the act of being recorded is enough) and then invited us into their tin-roofed home by the river. Small with a sand floor and crumbling walls, it was impeccably clean and the children – Sapna, 8, and Durgesh, 6 – were wonderfully curious and polite. Their mother had died seven days after Durgesh was born because she "went septic", a high possibility since she had given birth right there in their home. Hospitals wouldn't take them, Jeewa said. His father washes cars in the nearby river to make a living, and Jeewa sells "goggles" or sunglasses to help. When we bought a couple he even wanted to gift them to us as "memories of their family" because they were "so happy to have met us today". Just as we leave, Chandabai, Jeewa's aunt, reminds me that I am not young, that Sapna and Durgesh's mother would be 27 now. She invited us to come back to their home when we have children and she would help take care of them. When we dropped off the toys later, the children had left for school and only their grandmother was there to receive them. We left with full hearts, but not without first fulfilling her request to take her photo, of course.
A holy gathering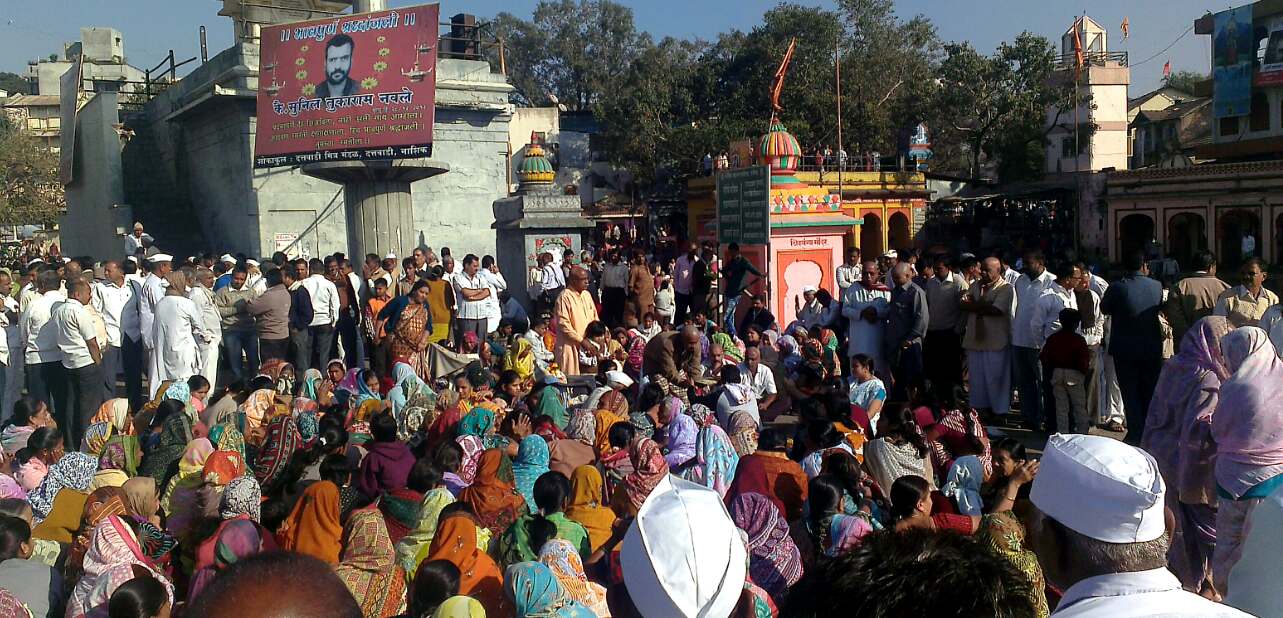 The holy waters of Nasik culminate in Ramkund, where thousands of pilgrims come daily to wash themselves as well as to immerse the ashes of loved ones, since these waters provide moshke, liberation of the soul. Crowds gather around photos of their loved ones and grieve in public unity alongside other mourning families, while just upstream is a colourful fruit and vegetable market. Beggars and wandering gurus congregate within this holy crowd and a few times we gave packets of food away and some rupees. It broke our hearts to see and feel how grateful they were for so little. Perhaps they were more grateful simply to not be ignored and treated like nothing, and to be looked at in the eye. I wish I could have understood their stories.
Contrarian colours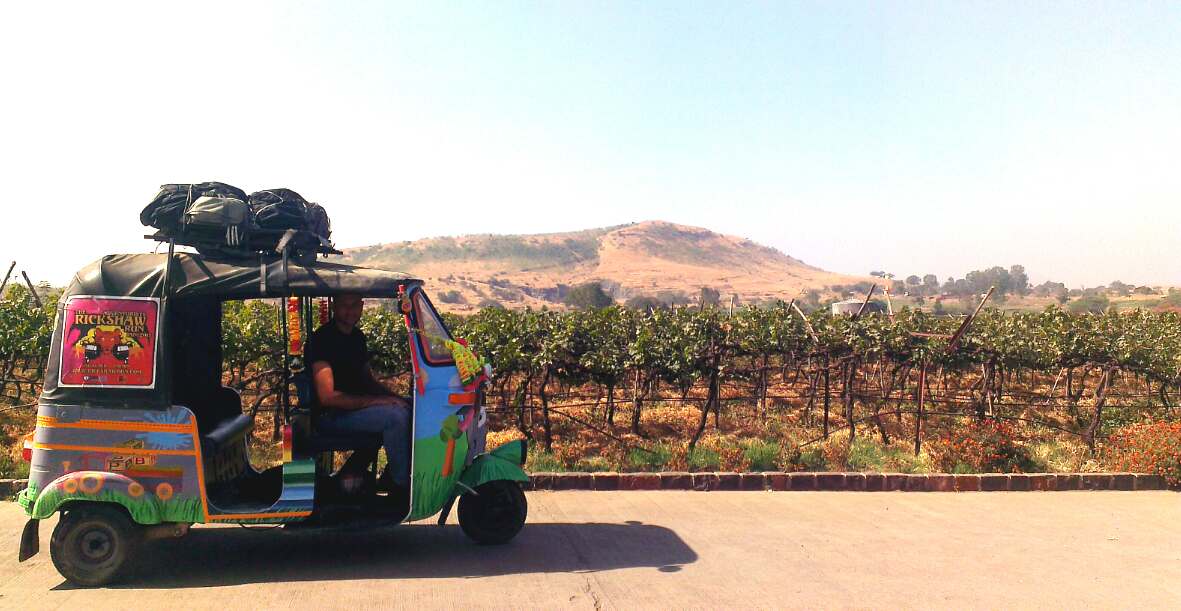 We left the temple town of Nasik and drove to its biggest winery – Sula winery – a stark contrast to where we had just been. Twenty minutes away and you have rolling fields of grapevines with a winery playing music by Abba and providing tastings of Merlot, Zinfandel, Chenin Blanc, the works. This is New India. Founded by a Stanford grad whose dream was to begin the fine wine industry in India, he started with his family plot and put Nasik on the world map.
Besides all this, we also went into a hole in the wall under a bridge for Adrien's Indian bad boy shave and haircut, encountered a jamming session of ten drummers on the bridge at night, picked up an elderly hitchhiker, saw hundreds of walking pilgrims on the highway, used our compass for the first time and faced full-on traffic down a stretch of lady bars to find lodging for the night. All in one day.
Tomorrow we head from here, Dhombivali, to Pen and then down the little explored Minoan Coast from Mumbai to Goa. We are looking forward to some sea breeze.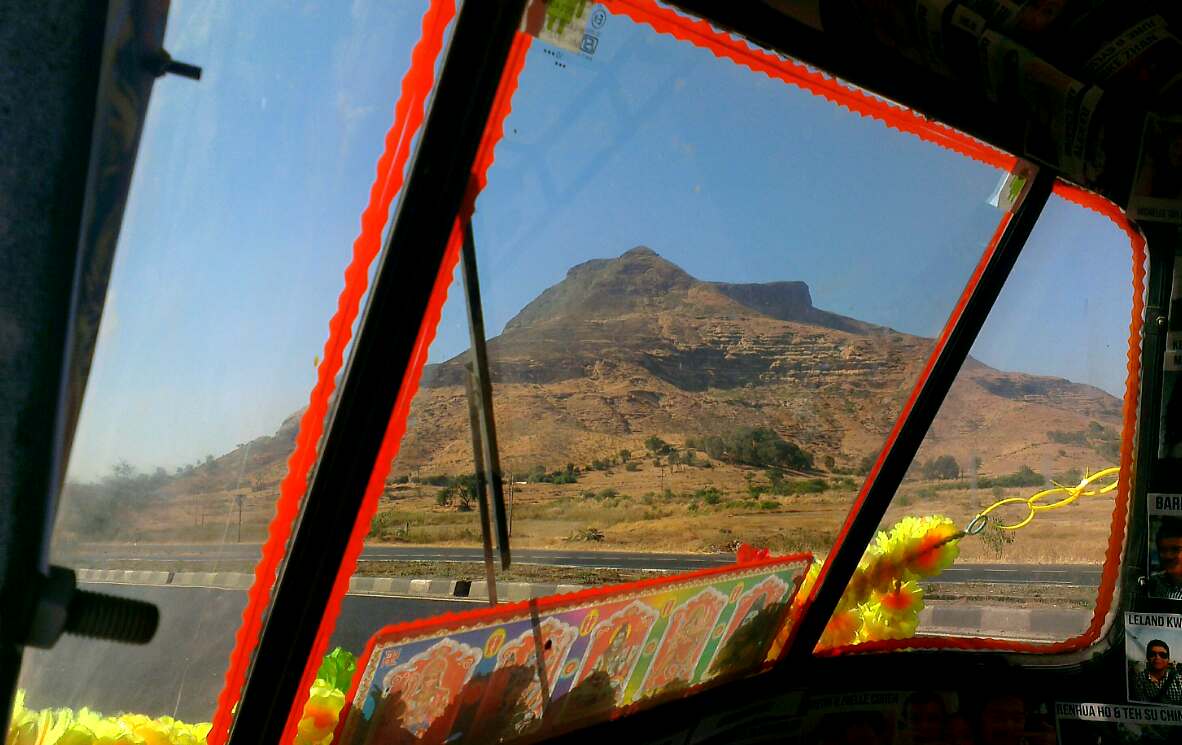 Fluk Fluk Run Day 5: Nasik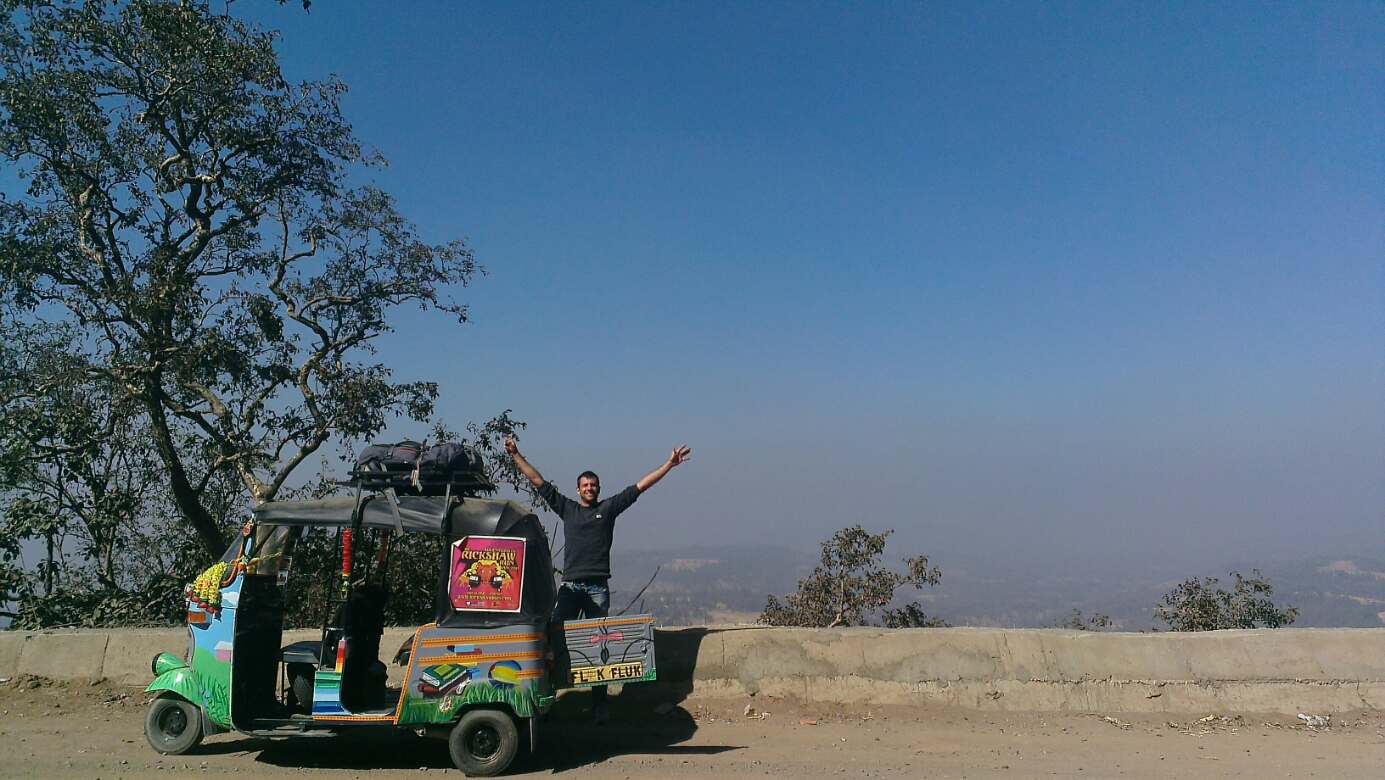 The beauty of India never fails to astound us. One of the things we were looking forward to was seeing the landscape — natural and human — change around us as we trundle down south. From the arid desert to today's forested mountains, we've observed the air changing in humidity, differences in the intensity of dew and fog in the mornings, the colour of the sunrise and sky, the types of agriculture in patchwork fields, the spiciness of food, the friendliness of people, the arrangements of settlements and even the way traffic makes its noise.
Driving uphill to Saputara today, we were glad to have stalled fewer than ten times and that our little Fluk never overheated. We are quite proud of its achievements today. Surrounded by rivers and craggy mountains that could have been in Nevada or Tuscany, we were also accompanied by all of you – our sponsors, donors, friends and family. Team Fluk. We put stickers of your faces all around us inside Fluk and it has worked so well in making us smile in boring or scary moments, as well as distracting the crowd that invariably gathers around us when we pull into new towns. Our strange faces can only entertain them for so long!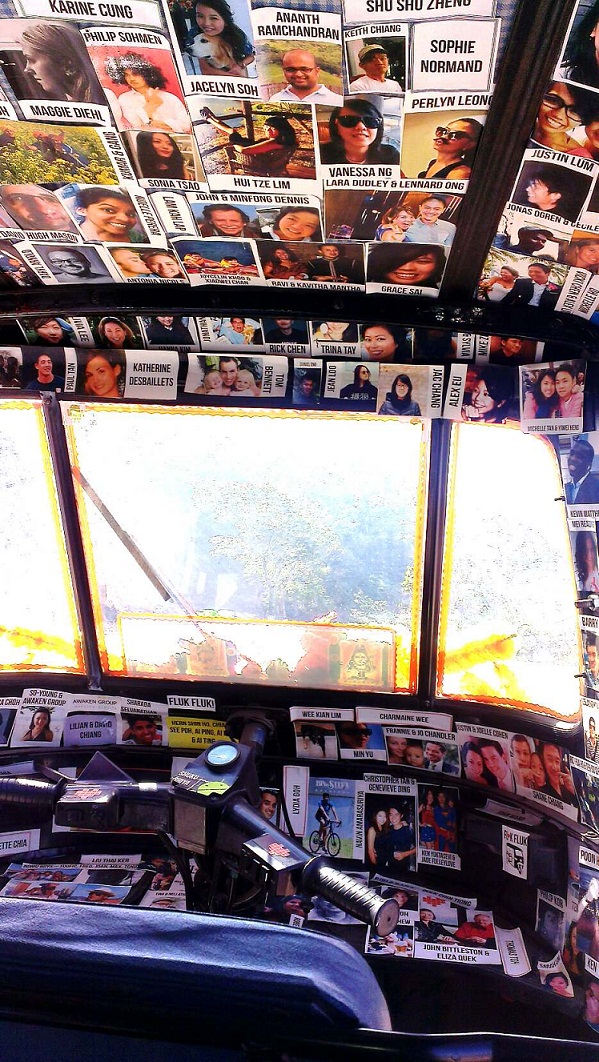 So thank you everyone for supporting us so far. We have thanked you before but it's never enough. Through this journey, we are learning and also proving with tough Fluk that little things can go a long way – all your smiles, hugs, letters and each dollar donated has made a big difference to us.
Now we're off to explore the town of Nasik, with its holy temples, ancient bathing ghats and, of course, the wineries that surround it. Having just left the non-alcoholic state of Gujarat, we're looking forward to a nice cold beer.
Fluk Fluk Run Day 4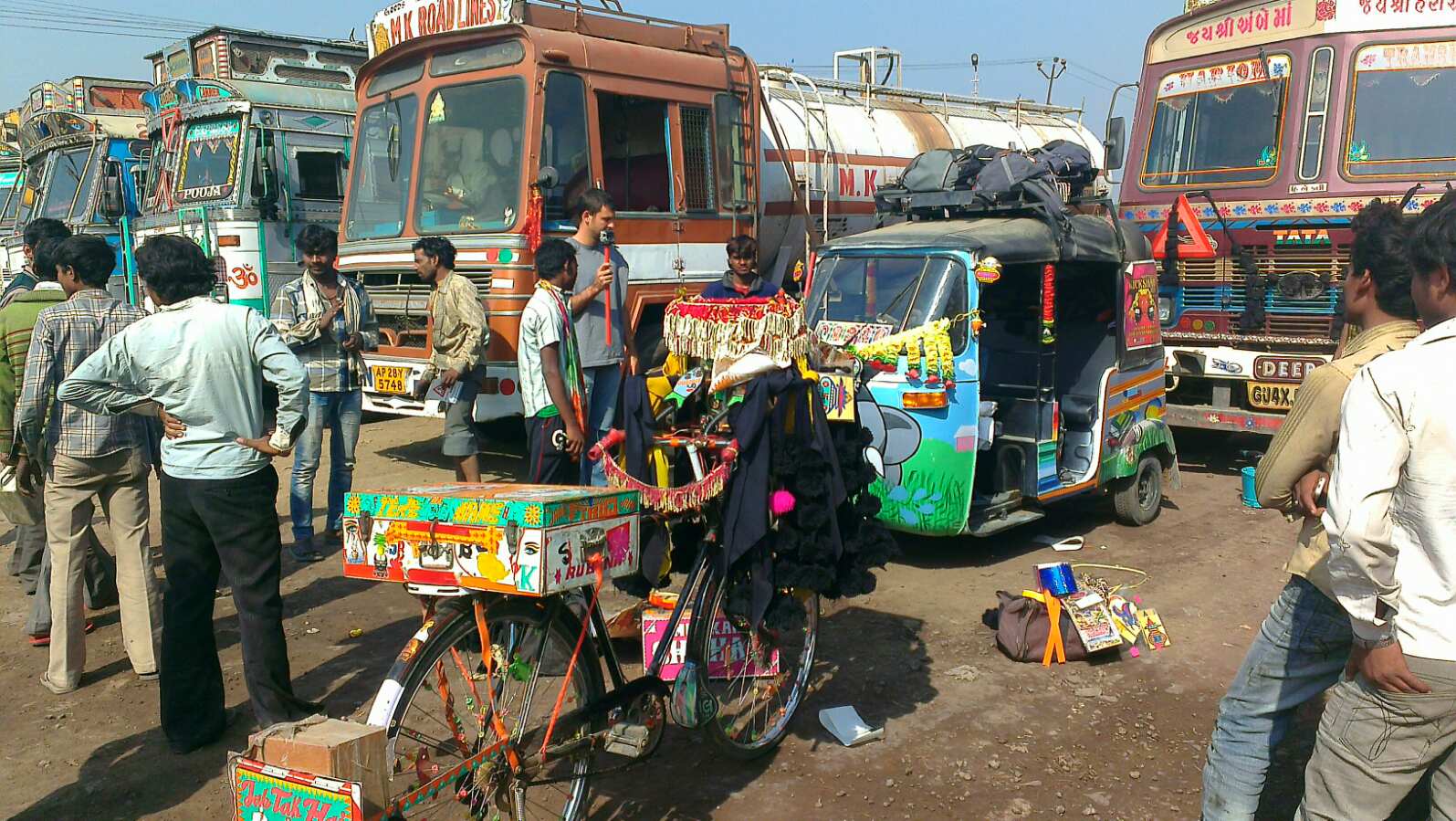 Top 5 moments of today:
Serving hot dhal and rice to the homeless on the streets of Vadodara
Having Fluk Fluk pimped up Indian-style by the trucker station sticker boys
Receiving a fresh roasted lentil snack as an unexpected gift and sharing it with the toll booth collector
Being surprised by a motorist pulling up beside us and giving us a free Indian calendar for good luck
Getting Fluk Fluk serviced for the first time and feeling it purr smoothly on acceleration
We decided not to go to the UNESCO World Heritage Site of Pavagarh because any sights we go to will just be us checking boxes. This trip is really about moments like the ones we had today: everyday experiences meeting people from all walks of life.
Tomorrow we head up to The Dangs, the hill station of Saputara, and we'll end up in Nasik. We're looking forward to some change in the horizon with forests and peaks, and seeing how Fluk handles going uphill!
Fluk Fluk Run Day 3: Virigam
The benefits of being lost should not be underestimated. Today we decided to venture a little off the route and take a small, more indirect road. If the map was telling the truth, the road would lie next to the ranns of Gujarat, flat salt plains that are home to blackbuck, wild flamingos and the state's famed wild ass.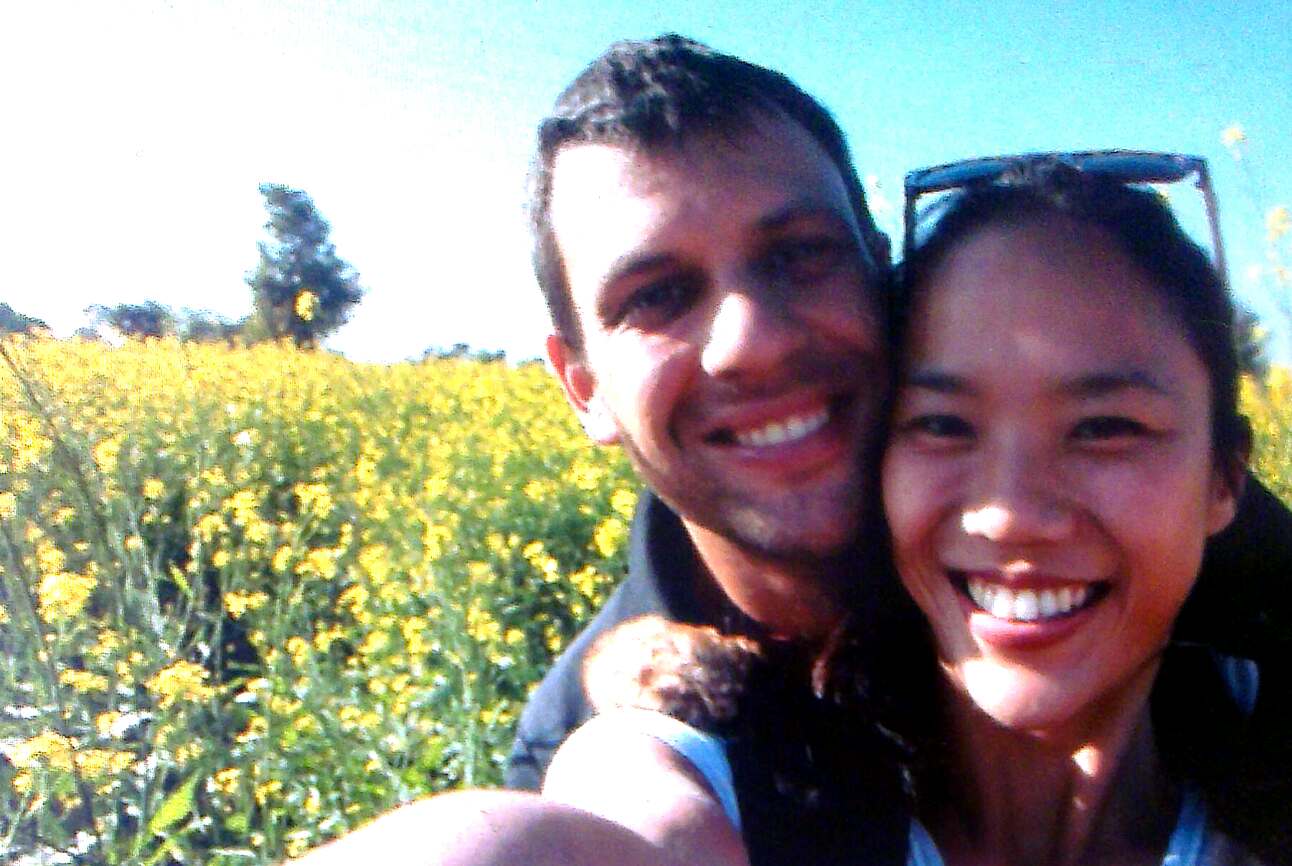 Pick up some of the local language
We set off early because we anticipated some rerouting. We had found our 2008 Indian road atlas – the most updated we could find in Mumbai – to be trustworthy with some deduction, but not totally reliable. Sure enough, after 20km we stopped for directions. Experience has taught us to cross-reference directions, but in this case we found all to be contradictory. We did, however, learn the words for straight, left, right and go back. Getting these right are crucial.
Avoid leading questions
It's tempting to ask "Jinjuvadhah that way, right?" or "Gonkharat only 20 minutes?", but these forms of leading questions – while hopeful – almost invariably yield wrong answers. People intuit that you want to hear a yes, so they kindly give it to you.
Develop new forms of communication
Hand gestures and charades go a long way in making up for a lack of vocabulary in Gujarat, a state that doesn't have many English signs. Animal signs are fairly easy to do, and so are signals for toilets, food and hotels. Enacting them brings you back to functional basics.
Experience stranger kindness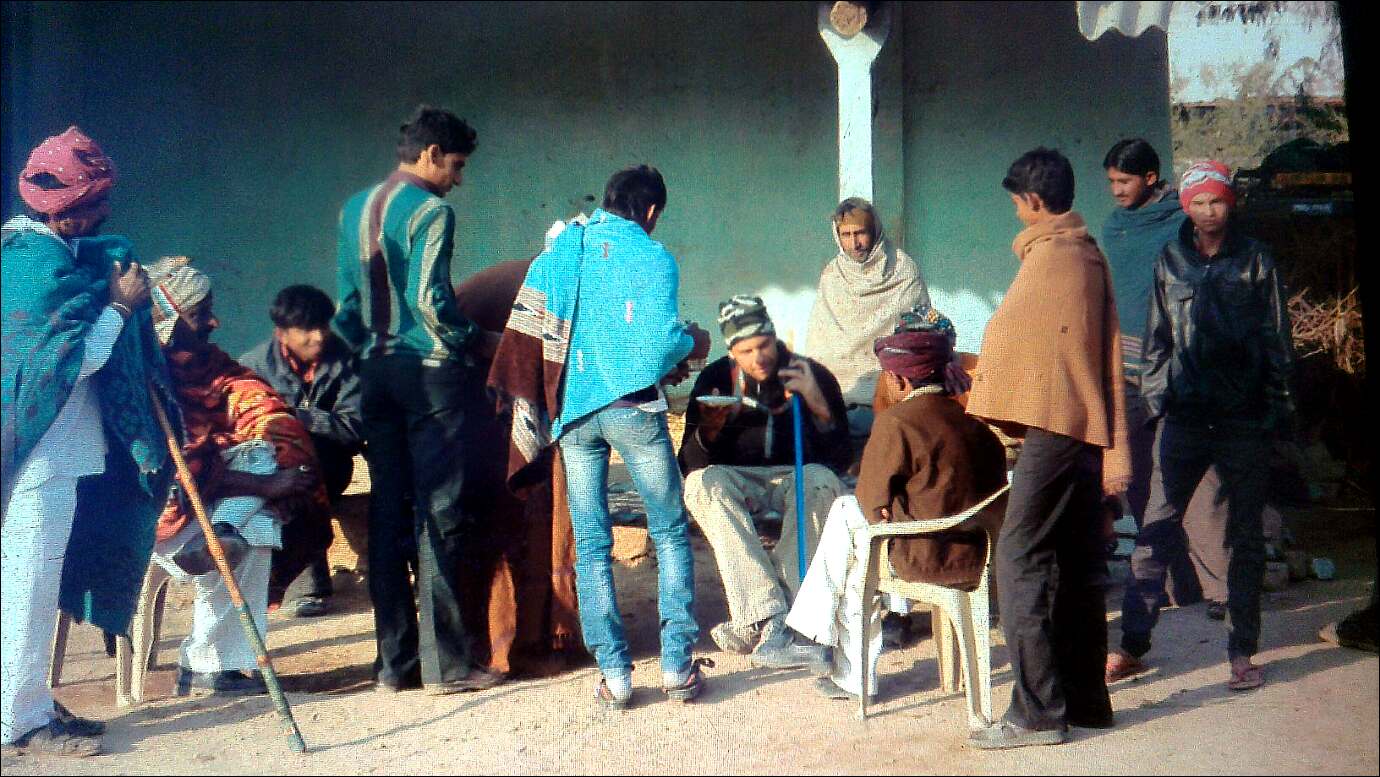 As expected, the road we wanted to take no longer exists. Maybe it did in 2008, or maybe it was never completed. We travelled 10 bumpy kilometres until it ended at the village of Gonkharat, which seemed to be a mainly cowherding settlement with many magnificent buffalo and horned bulls. The elders emerged and slowly there gathered a crowd that trailed us as the village chief brought us to the mosque, beamed over their sixty or more majestic buffalo, proudly showed us the resident peacock on their water tank, bottle-fed their baby lamb and invited us into his home for some charades, laughter and hot, steaming chai that warmed our spirits.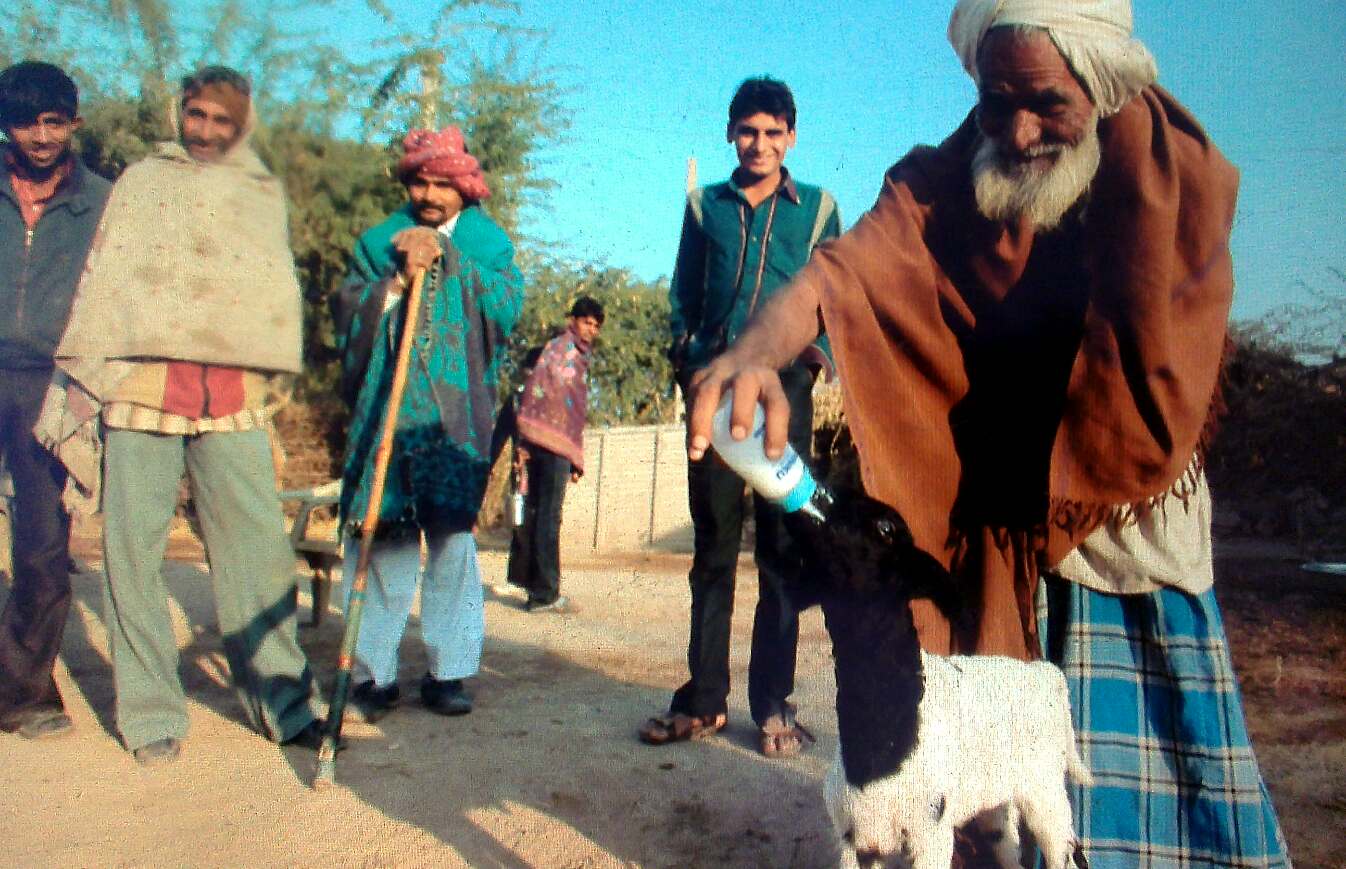 Get a change in scenery
So we never got to the ranns and never saw the flamingos, blackbuck or wild ass but we did see and experience new landscapes, spent time laughing with some very kind strangers and provided a local village excitement for the day. Two very different worlds collided for a while and the marks left were magical.
Fluk Fluk Run Day 2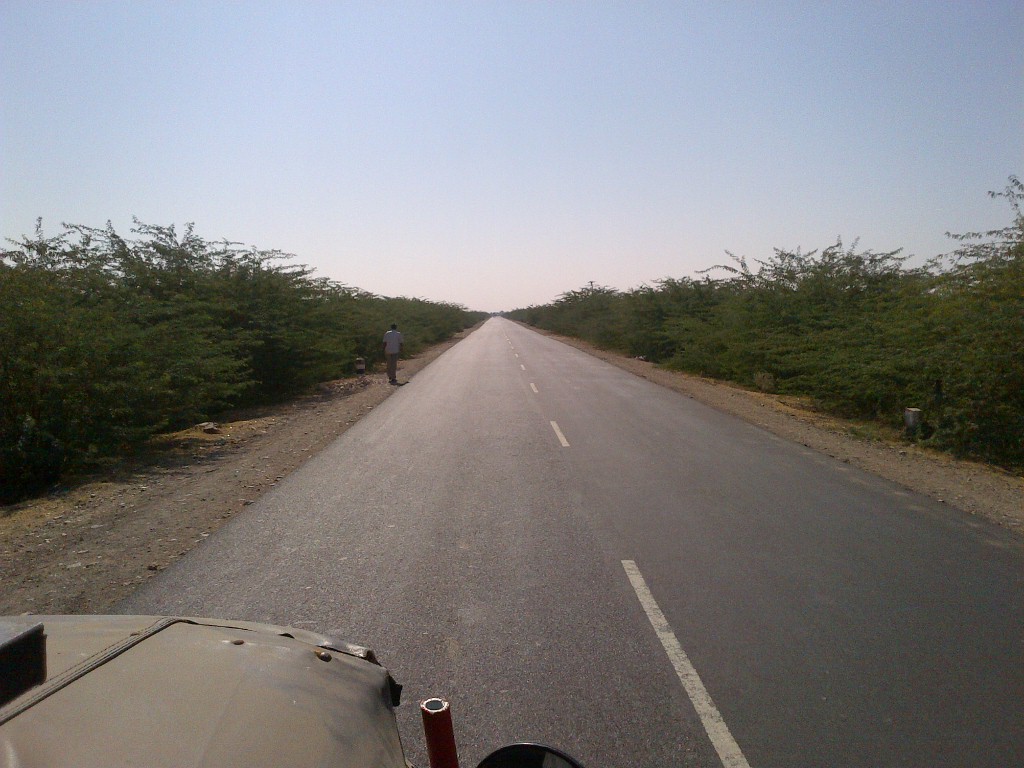 It's 9am and you're 1.5 hours behind schedule. Your spare tyre needs repairing because of an unexplained rupture the day before. You are in the biggest town around (supposedly) and the next one could be 60 to 120km away. You're not sure and everyone says something different. You've been to a few tyre repair shops before but none could help. This could be your best bet at getting it fixed, but few tyre shops are even open. From experience, trying to get something simple done always takes much longer than expected. You should really get on the road as soon as possible to avoid driving in the dark later. On the other hand, if you get another flat and don't have a spare, there's a lot of pushing to do.
Your options:
A: Take the risk of getting back on the road to save time, and count on getting to the next town to get the spare fixed.
B. Play it safe and hunt for a place to get the spare fixed in case you don't hit another town in time, and don't risk being stuck in the middle of nowhere with two flats. 
What would you do?
Ren and Adrien agreed to disagree.
Fluk Fluk Run Day 1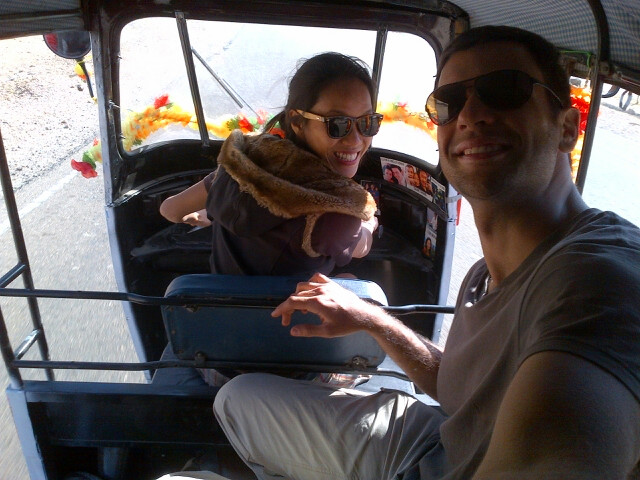 Mental preparation
We've been reminded of a crucial difference between Adrien and I: how we prepare for new experiences. He needs time to visualise what a new experience will be like, how to prepare for it, contingency plans and backup logistics. This visualisation means he goes into his own world and stays quite quiet and focused until the beginning of this new event, which is when he relaxes. I, on the other hand, don't pre-think new experiences very much, tending to do minimum preparation and make decisions when required. This is why we make a good team.
Kick-off parade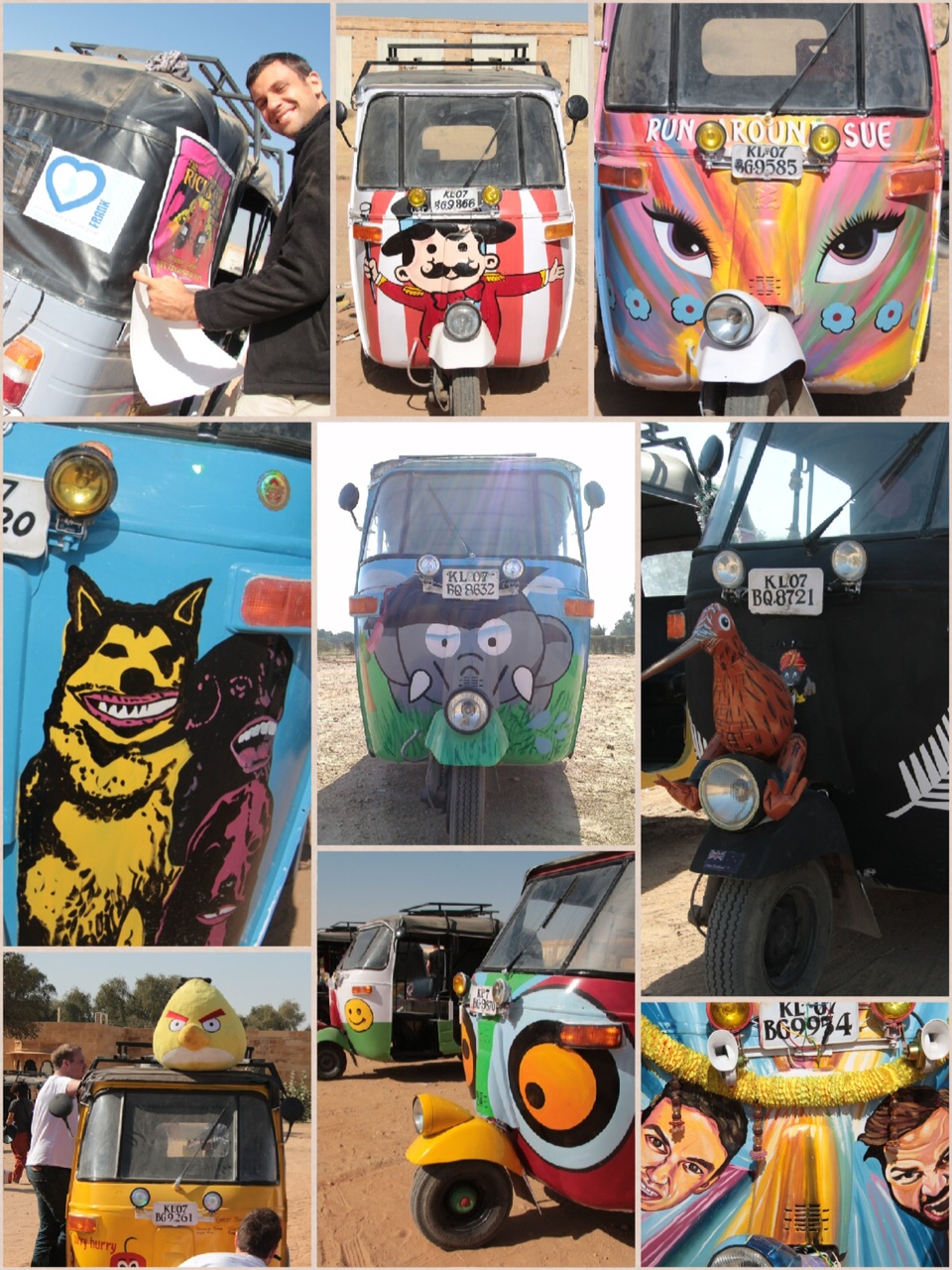 Seventy auto-rickshaws lined up on the morning of New Year's Day, blessed by a prince and headed by camels. We each received a garland of orange blessings before setting off one by one into the bright noontime dust. It's a parade of zebras, maharajas, giraffes, safari kings, hippie flower power and spandex ninja turtles. Spotted: an inflatable T-rex, an inflatable kiwi for the New Zealand team and even an angry bird stuffed toy. People have gone all out in their decorations and as we roll out onto the streets with kids chasing us and high fiving us, with locals waving and laughing at these strange foreigners who intentionally do silly things, we feel quite exuberant.
Murphy's Law
Until 28 minutes later, when we realise we've got a flat tyre, which explains the skidding of our Fluk: we thought was just how it was supposed to drive.  We are rejected by several shops that keep pointing us forward (our tyres are too small for them) and as we trundle along we pass other tuk-tuks that have broken down or overheated. We keep in mind the advice to take a break from driving every hour or so to make the long haul possible. It hits us how much driving there is actually going to be.
Changing the tyre is a big event with about 20 people crowding around us to see how it's done.
We realise now that crowd-gathering will become normal. The next time we are surrounded by a crowd is when a policeman pulls us over to check our documents and, of course, give us a fine. When we explain that we would be happy to help him have a good new year but that we need to take down his name and department, he happily asks us to move on. We've learnt the way of saying yes to say no, much like the famed Indian head waggle that can mean yes or no, depending.
Home sweet home
After bumping a truck and a side curb, front-ending a barricade and parking in someone's living room, we touch down at one of the few hotels licensed to home foreigners. Few because of the proximity to Pakistan – all foreigners are treated with suspicion. We lay out our map and consider tomorrow's options, deciding to try the 274km to Radhanpur. Another day awaits!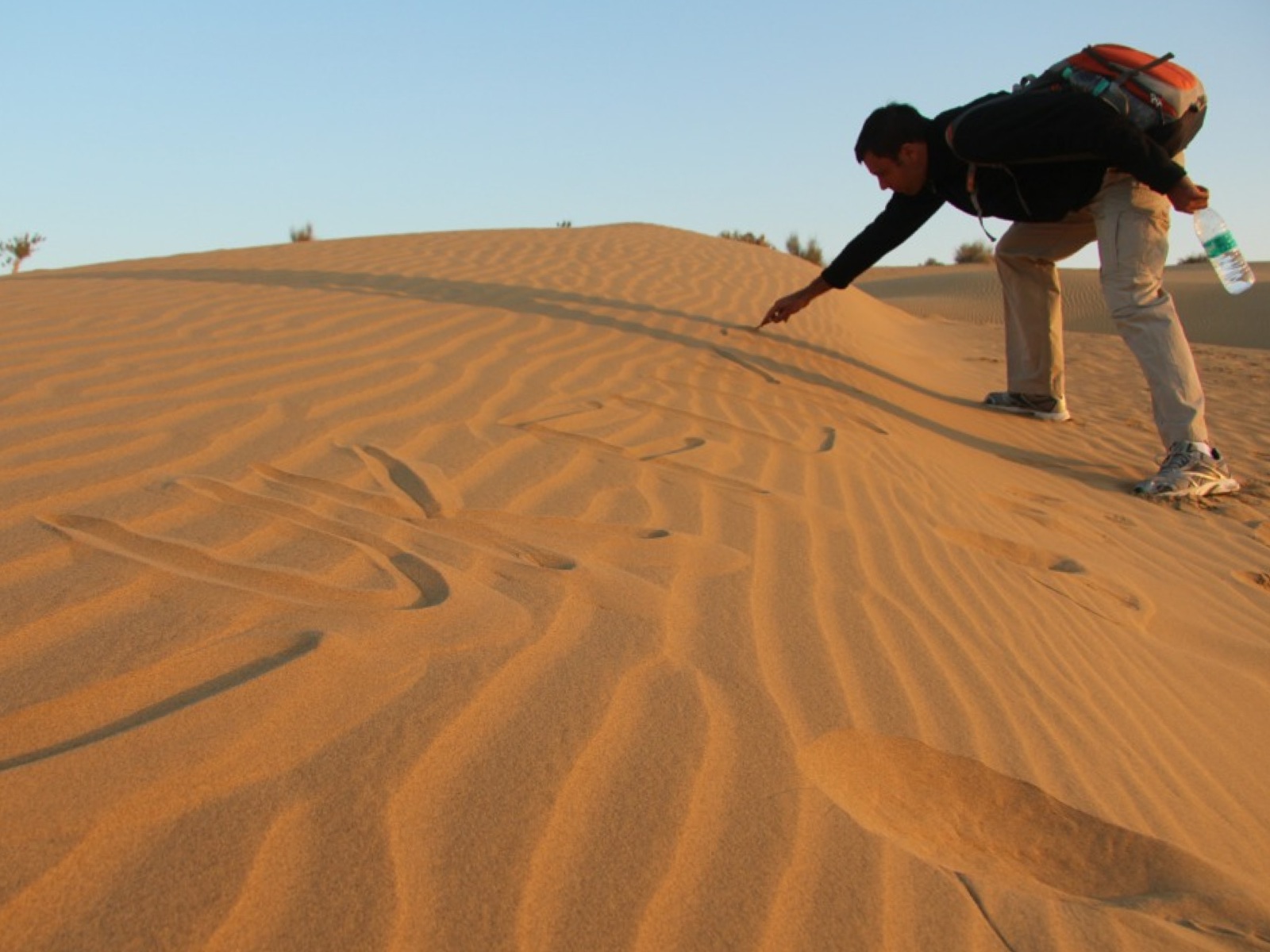 ---
Pre-fluk – Jaisalmer
High: When we realised our sleeper bus had railings on the top bunks so we didn't need to tie ourselves down.
Low: When the window opened every time we went over a bump and freezing cold air blew in.
Really Low: When Ren stepped into a foot-deep latrine of mixed excrement at 5am. Twice.
Kind of Low: When Ren learnt that bus stop dhal and lassi maketh the tummy cramps.
Higher: Getting to Jaisalmer two hours earlier than expected because of a speed demon bus driver.
Super high: Meeting Fluk Fluk for the first time and seeing our elephant painted well.
Even higher: Test driving Fluk and realising for some reason it starts only with both of us working at the same time — one on the accelerator and the other on the start lever.
Sweet High: Adrien putting on woolly socks for Ren as she napped, and him on the roof for a sunset over the desert.
Within the chaos of India there is a kind of complex charm that reveals itself to an open spirit. It's the unexpected, serendipitous occurrences that give this place its unbeatable vibrancy. You get the sense that the Indian way of life follows a series of implicit rules privy only to the community it applies to; the secret to its organised chaos is a common understanding between individuals that has been established only through trust and direct experience. As an outsider, it can seem like a great big mess but this is often a gross misjudgement.
At our briefing last night, Matt from The Adventurists gave us the key to enjoying the next 14 days on the road: don't get angry with India. Respect it, respect the people, be nice, and polite. And you'll have a great time.
Pre-fluk Udaipur
I love notebooks. The blank pages of notebooks, preferably cloth- or leather-bound, speak of yet unwritten and unlived promise, beauty and possibility. My travel companion has always been a notebook, and wherever I go I find myself picking up a hand-bound journal as record keeper, dream weaver, and reflective mirror. Individual conversations and impressions melt onto the pages.
— Ren
I love talking to people. The pulse and evolution of a city are best discovered through talking to its tuk-tuk or taxi drivers, small retail owners, restaurant folk – people for whom the daily ebb and flow of the city, its visitors and inhabitants, are part of their livelihood. I always ask what has changed, where they think it's going, where they come from and how they got where they are now. Personal stories illuminate the landscape of how they came to be.
— Adrien
You find out a lot about another person when you travel with them and see how they interact with others. How they speak to them, the questions they ask, their sympathies and expressions. Our love for meeting people and talking to them, learning their stories, has drawn us closer together.
People told us to be careful in Udaipur, that people would be out to scam us and we should be careful whom we speak to. Prices are marked up four times and no one should be trusted. Jaipurians gave us this advice, so we took it to heart. To be sure, we met a few like that, but we also met genuine, honest artisans who lived and worked from the heart.
Eight generations of bookbinding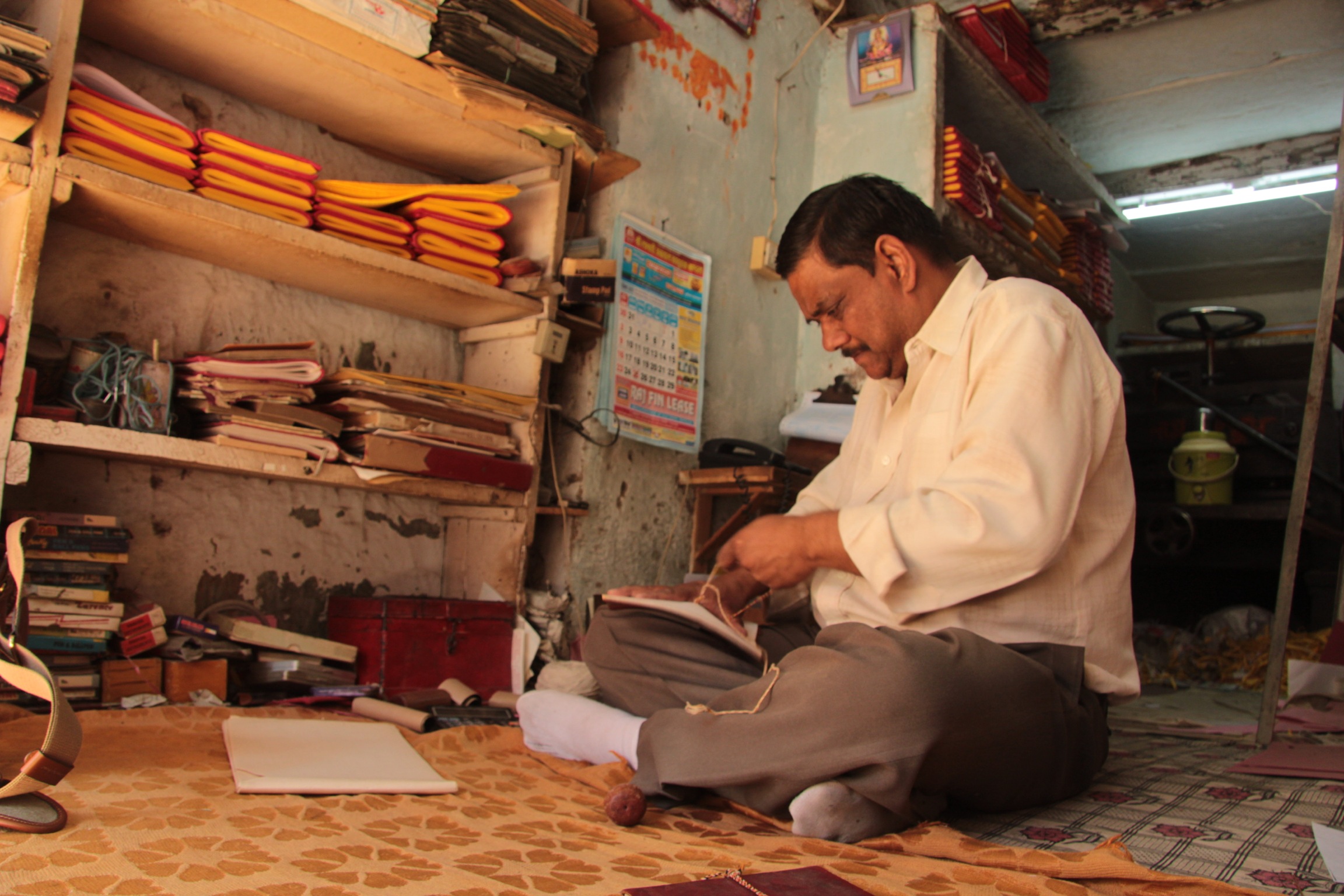 Prayod is a bookbinder, and has been his entire working life. We are drawn into his dusty, carpeted, sunlit space and pore over his numerous notebooks, some of which have been there for years. He has conscientiously written the prices of each book at the back, as he strongly believes prices should be tied to the quality of the book, not what the customer can pay. He primarily makes accounting books in red and yellow, with a smattering of journals that are hand-cut and sewn in a combination of different papers.
He learnt the skill from his father, who learnt it from his father before him. Eight generations have been in this store in the old city of Udaipur, with a great big manually operated paper cutter in the back. 350 years they have been there. He tells us, not without some pride, that you can't find machines like this anymore and that his is 90 years old. He shows us the pictures of his father and grandfather hanging on the walls, and there is a tinge of bittersweet regret as he talks about his only child, a daughter, who is just graduating with an MBA. Prayod has done well in providing her with a better education than he had, but his shop will close after he grows old. There is no one to take over.
The businessman and the artis
Pankaj is an artist who is also a businessman. His father before him was a famous sculptor of teak wood, and Pankaj began learning the skill from him when he was nine. He shows us worn albums of his father's work, with beautiful deer and graceful Ganesh gods taking shape from nothing. It was hard, however, working in his father's shadow — it seemed like what he did was never good enough. So he took on a separate vocation within artistry – miniature painting, the birthplace of which is Udaipur. He draws an elephant quickly and gracefully, describing how his training began with his father telling him to draw a thousand elephants, without ever using an eraser.
His store is a cooperative, where prices are fair and fixed. He proudly shows us both his first proper work at the age of 16, as well as the work of 20 other artists which he helps to sell, in order to cut out the middleman's price slashing. He explains that his father needed appreciation of his work and public applause more than wealth, and that their family suffered because of it. Learning from this, Prayod set up his own store, which he can pass onto his son – business is a longer-term benefit while art is only temporary. He loves it, and it absorbs him and gives him energy, but it is not something he wants his son to hold onto. At the same time, when we ask him what is most important to him in life, he ponders for a while and says appreciation of his work. To be recognised as a famous artist will give him the most satisfaction.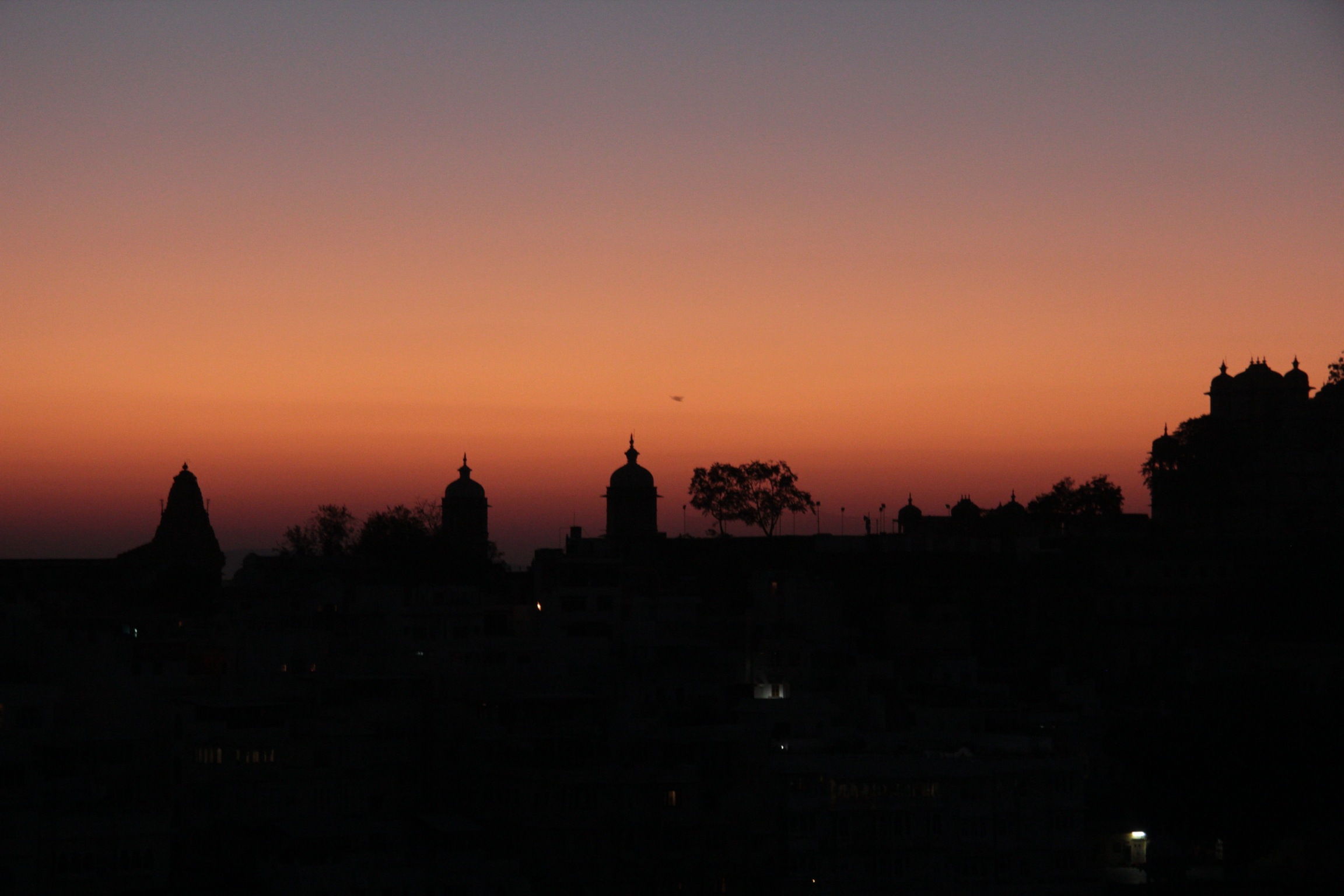 Pre-fluk Jaipur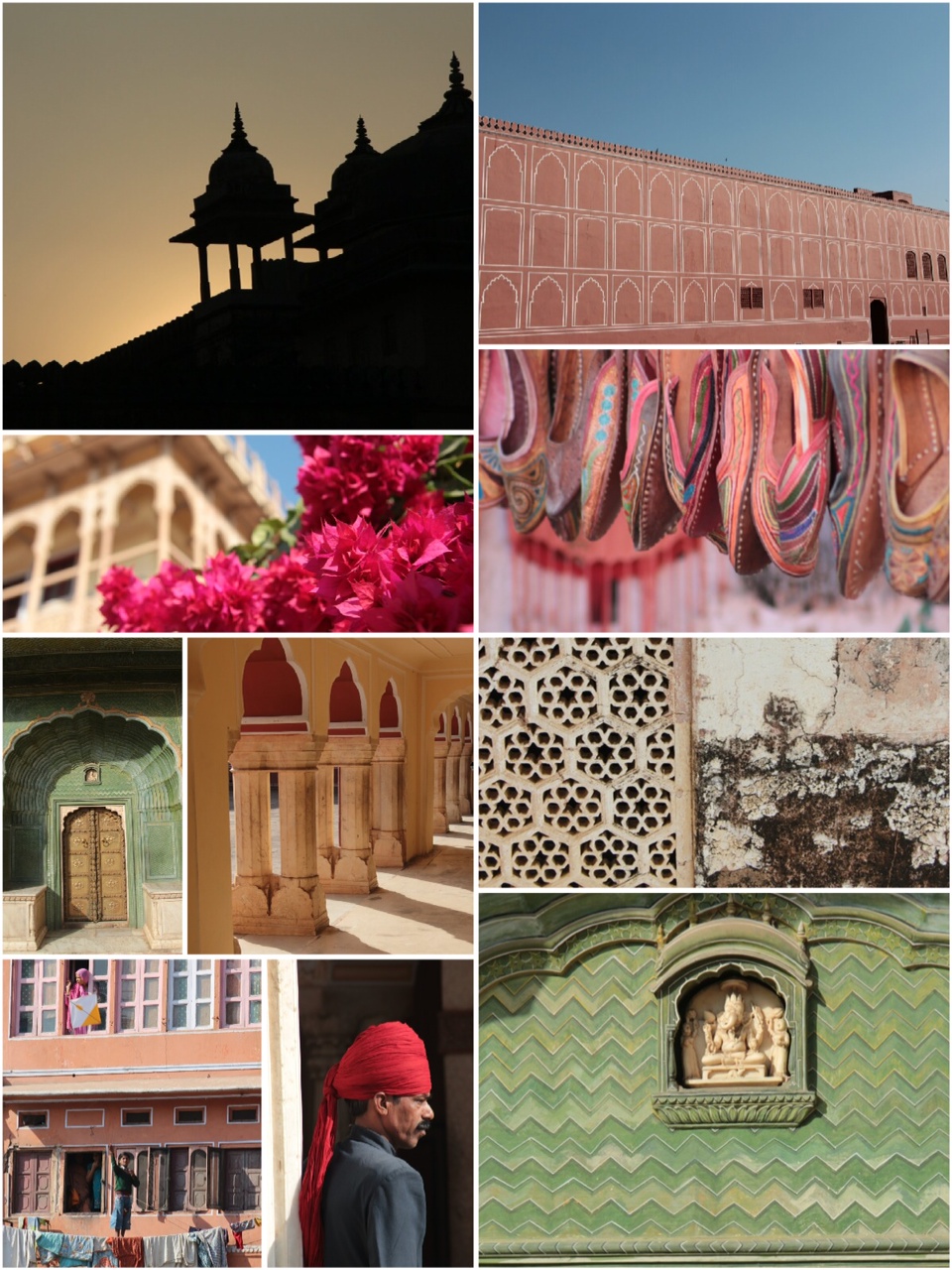 Things we were surprised by:
Our unlimited data package running out in one day, and how the positive one in this scenario was Ren: it's usually vice versa.
The amazing freshness and quality of fruits and vegetables, particularly tomatoes, pomegranates, snap peas and aubergines.
How close life and death are to each other, witnessing a policeman save and revive a drowning, unconscious child from the river.
The night bus to Udaipur being late by a yet undetermined number of hours, and Adrien falling asleep first while waiting.
The ability of street dogs to lie in the middle of the road and snooze deeply amidst honking chaos.
The existence of a dwarf dashchund cow — exactly the same size as a regular-sized one from head to tail, but only 20cm tall.
Adrien's increasing inclination to arty shots that are all about composition and less about actual location: again, it's usually vice versa.
How Lonely Planet guidebooks are really no longer about going off the beaten track, but have become the mainstream choice.
How the founder of Jaipur was only 11 years old when he ascended the throne and continued to expand his empire.
How cold it can get when you're riding on a tuk-tuk after sundown.
Pre-fluk Mumbai
We've been on the move for the last 14 hours, with five more to go until we get to our bed for the night in Jaipur. It's only Day One but it feels like a microcosm of what this trip will teach us — transit in Mumbai is an experience that could rival Lost in Translation. Through this one day and brief time in this city of great contradiction, there have already been people to thank for their unasked for help, people we would have loved to sit down with and get to know, people we wish we could do more for and people who have unapologetically tried to scam us (almost succeeding) — lessons best learnt on our first day.
What you see is not what you get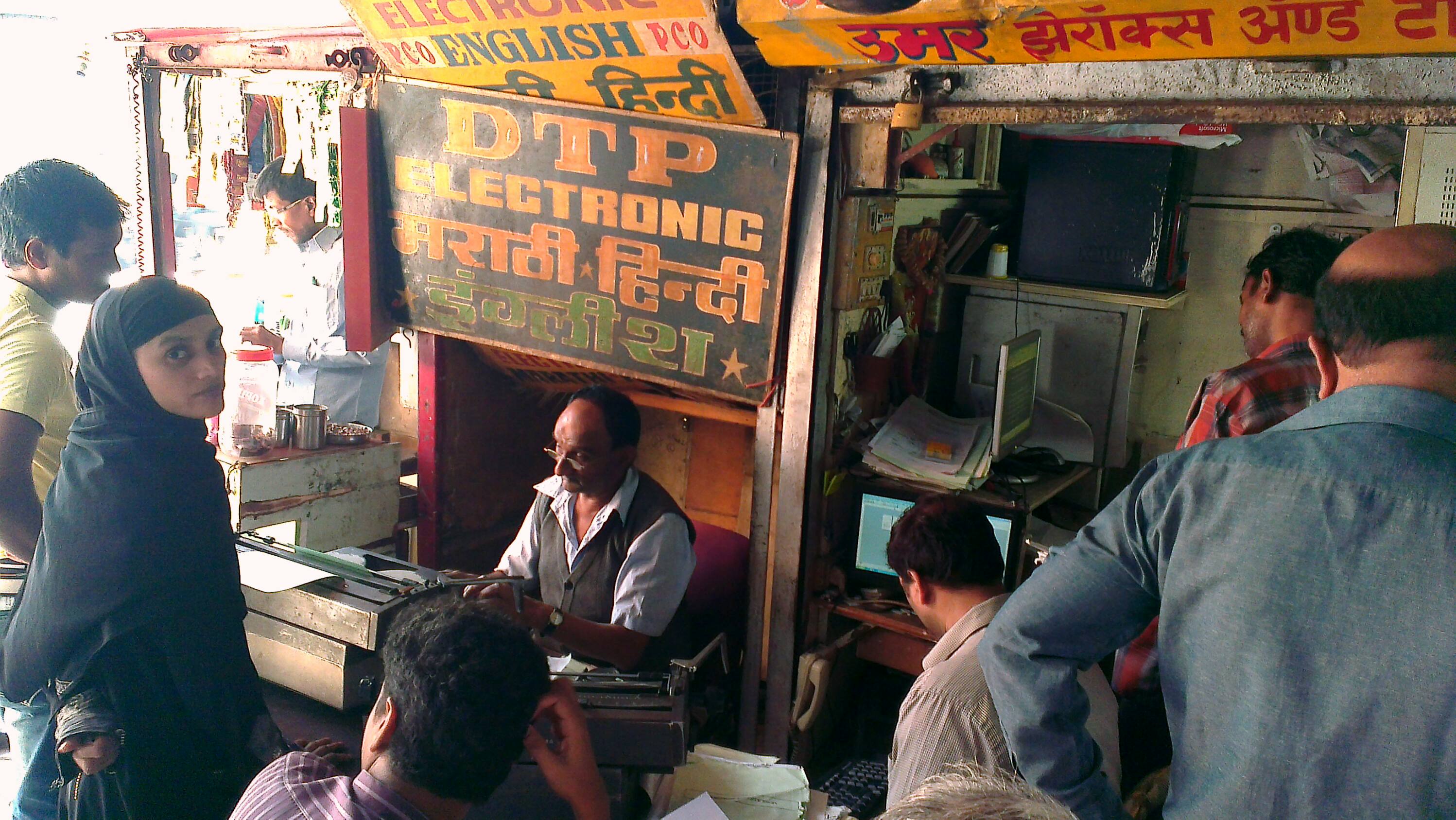 We expected to walk into Mumbai airport arrival and be able to immediately procure ourselves some micro SIMs to stay connected. With India being massively connected and there being more mobile phones than toilets in this land, we assumed the ease of this task. Twelve referrals and three hours later, we find out from a very helpful Pradeep in Vodafone that we need a local reference, their scanned ID, registered address and authentic signature in order for us to obtain any prepaid SIMs. We needed someone to vouch for us. A scheme that started just one and a half months ago, it smacked of the same time-consuming bureaucracy that required any customer to have an Indian mobile number in order to buy rail tickets online. Bureaucracy was expected, but to encounter no corruption that enabled us to just buy some SIM cards off the street? Strange.
We moaned and groaned and got into the car for another two-hour drive into town to meet our trusty local contact (what wise advice to amass this small network of second- to third-degree friends) who, after helping us obtain the SIMs, explained the rationale for this strict crackdown.
Over the past few years, India's massive communication infrastructure has become something of an Achilles heel when it comes to terrorists. Anonymity within this network is dangerous, and the advancing threat of terrorist groups coupled with a growing population without individual IDs prompted the Indian government to force every mobile provider to ensure that each and every one of their customers is legitimate, or at least provides enough information to be tracked down. Imagining the Herculean logistical task of pinpointing 929 million existing mobile phone users and each new one is mind-boggling.
What you hear is not always gospel truth
An obvious fact if you think about it, but this was an especially important lesson because it applies to distances, directions, time taken to get anywhere and traffic conditions at any particular time. We thought that given the objectivity of geographical conditions, these estimations would be fairly similar. No. Being part of one of the oldest democracies in the world has bestowed most Indian nationals with overriding opinions that they will give you with utmost confidence. This, however, should be tempered and cross-checked with others, and every estimate of time taken to get somewhere should be multiplied by approximately 1.6.
What you give should be what you feel
Traveling by taxi through Mumbai – a city of 16.4 million people, with one of the largest slums in Asia and one of the biggest entertainment industries – is a revelation of chaotic humanity.
As we stopped at the few traffic lights that did exist, children, mothers, youths and handicapped elders approached the car to peddle various wares or to ask for money.
Our first purchase was a magic children's book of holograms, simple black and white animals that ran when you waved the pages, from a boy of about six.
Then a handicapped man asking for money. Then a mother and her baby. What do you do? How do you help? Is giving some money now making the problem worse in the future? Are you simply contributing to an endless pattern of need? Is it right to give and perpetuate this? Is it wrong to ignore another in need? 
We can think and ponder and intellectualise the goods and bads of every action, but at the end of the day the only thing that resonates with me is to do what you feel – look someone in the eye, acknowledge them, and if you feel so inclined, give; if not, say no with respect.
I can't think of any right and wrong judgment that does not preclude some assumptions about a stranger whose life you do not know.
The most important thing, I feel, is not to treat another with faceless anonymity; but to recognise and see them with open compassion, with the knowledge that in another life, this could have been you.
We are born into this world with a basket of luxuries and misfortunes we do not deserve – what we choose to do with it is what matters in the end.