'Football Really Changed My Life'
Tough footballers who give everything on the field inspire others with cerebral palsy to join them.
Update January 2016:
After many months of tough training, Shafiq, Peter and their teammates played their hearts out and clinched the bronze medal at the Asean Para Games in December. 
They continue to train and compete against regional teams, inspiring more people with cerebral palsy to join them.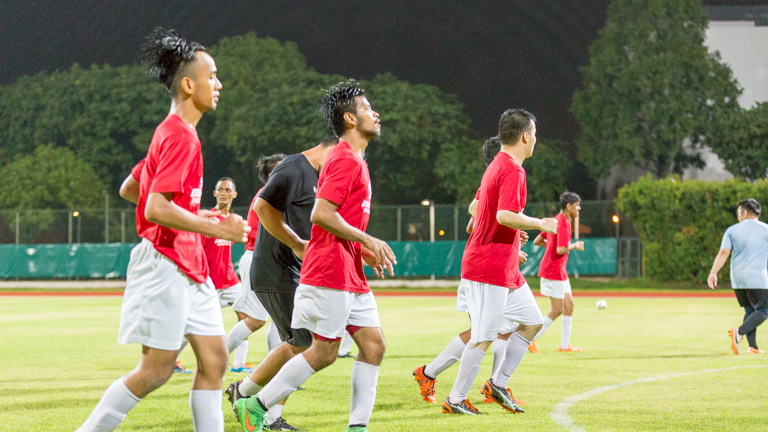 ---
Let's get this out of the way: these guys have cerebral palsy.
Now for what's important: they play a serious game of football.
It's a sweltering hot Sunday afternoon when I first meet the team at the Singapore Khalsa Association, where they train weekly.
The sun is relentless. The guys are seated on the edge of the pitch, their coach Mohammed Zainudeen holding court with a pep talk.
Today, they face another team in a friendly match. The game kicks off soon enough, and I am introduced to the world of cerebral palsy and sport.
For 60 minutes I see running, kicking, dribbling, passing, deft touches, shooting and scoring.
The common term is disability. But on the pitch, the truer words are talent, passion, teamwork and determination.
Off the pitch, they come together to celebrate another weekly game wholeheartedly executed. The camaraderie is apparent in the easy smiles, chatter and jokes.
Speaking to them  and listening in on their conversations, I immediately catch on that they want to talk about football, about school, about plans, about sport, about girls, about futures.
Not about their muscular condition.
They are footballers. There's no place in their lives for self-pity or resignation.
They are liberated, full members of society. And by the way, they bagged Singapore a silver medal at the 7th Asean Para Games in Myanmar.
They didn't choose to have cerebral palsy, but you can certainly tell when these footballers are on the pitch, that they've chosen to live life large and full.
Keep living it large, Bala, Firdaus, Harun, Hitesh, Khairul, Nizam, Mubarak, Peter, Shafiq, Shahidil, Suhaimi and Taufiq.
---
Take a closer look at the CP football team and follow their Facebook page to find out when you can head down to support their next match.
About Cerebral Palsy Football Team
The Singapore national cerebral palsy football team has represented Singapore in various international tournaments, including the ASEAN Para Games, driven by their passion for the game.